On-Site Haiti: The Spellbinding Thursday Night RAM Vodou Rock Party at Hotel Oloffson
All over the United States tonight, and in various other parts of the world, ever more epic Halloween parties will be held at hotels, restaurants, bars and clubs, each trying to outdo the other to make "hottest party" lists like this one. It's Thursday night, though, so really they have no chance of surpassing the spellbinding Vodou Rock party that goes down just about every Thursday night at the Hotel Oloffson in Port-au-Prince, Haiti.
No, this isn't another sensationalized misrepresentation of Vodou like the ones we discussed a couple days ago. This, for me, was an otherworldly nightlife experience on a level I'd never experienced before; one blending traditional Haitian religion, music, and spirituality with rock and roll, love, rhum, and a positively thrilling "devil may care" vibe that suggests anything, A-NEE-THING might happen.
Hotel Oloffson was the last stop on my surprising intro to the Port-au-Prince party scene, courtesy of my new friend Bobby Chauvet. He played it up earlier as the centerpiece of the night, but as we walked up toward the property I couldn't readily see how the party here could be better than the ones we'd just left at La Reserve and Brasserie Quartier Latin.
It was just after 11pm and people were streaming into the place, though from outward appearances it was tough to see why. Originally built as a private mansion in the 19th century, Hotel Oloffson looks every bit its age, especially at night when its semi-crumbling Gothic facade embodies the type of haunted house aesthetic you'd think would have people streaming in the opposite direction.
Inside at the bar, however, it's a different story…
There were piles of people crammed in here from all over the world. Aid workers, UN personnel, politicians, businessmen, regular tourists, and locals, all of them drawn together here for an amazing musical experience like none other: Vodou Rock 'n Roots as performed by the Hotel Oloffson house band, RAM.
The band is the creation of Richard A. Morse (R.A.M.), a Puerto Rican-born Haitian-American musician who grew up in Connecticut, eventually finding his way to the land of his mother's birth and assuming the Hotel Oloffson lease in 1987. Three years later, RAM was born after Morse successfully converted a local folkloric dance troupe into a band, installing himself as the lead singer and songwriter.
He still wears all the same hats today, though I suspect that at his core Morse is all about the music. You can see, hear, and feel it in RAM's performance – a whirling, tempestuously sublime cacophony of horns, strings, percussion, melodies, shouts, and screams that somehow flows beautifully together.
The whole time I was there, and for many days after, I remember thinking that I had never heard anything quite like it before. And the more I heard it, the more I wanted to hear it again and again and again!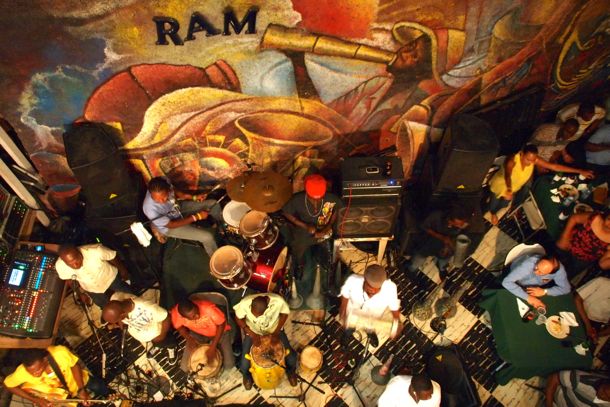 RAM's intoxicating musical style is born of the mizik raisin movement that emerged in Haiti in the late-1980's when musicians started combining elements of traditional Vodou ceremonial music with rock and roll much in the same way Ray Charles fused elements of gospel music with rhythm and blues in the 1950s.
Also like Ray Charles' soul music, RAM's Vodou Rock will make you get up and dance, guaranteed! So much so, in fact, that it's said party-goers often "catch power," succumbing to power of the Vodou chants that comprise elements of the songs.
I didn't see or experience any of this during my visit to Hotel Oloffson, but I did succumb to the dance floor, with some kind assistance provided by my friend, Barbancourt 5 étoiles with lime on ice.
It was amazing. By 11:30, I had no idea where Bobby was. Another new friend from Cuba, Rodolfo, was nearby, but I would've been just fine on my own as making new friends among the crowd was easy.
Some spoke English and Spanish, but many more spoke languages we didn't – French, Dutch, Italian, Portuguese. Communicating was no problem, though. The music did all the translating…
No trip to Port-au-Prince would be complete without taking in the amazing Thursday night RAM Vodou Rock party at Hotel Oloffson. To get in on the action, check with my buddy Bobby Chauvet at info@agencecitadelle.com, or call him at 011-509-2940-5900.
Related Posts