Buying Fruit With a Side of Gibberish in Martinique
People are strange, when you're a stranger…
It's no surprise that we run across more than our fair share of odd people, places, and things along our uncommon travels. We're generally a bit off the beaten path after all, a realm where eccentricity reigns, where up can just as easily be down…
It is here that I came to know Dominique.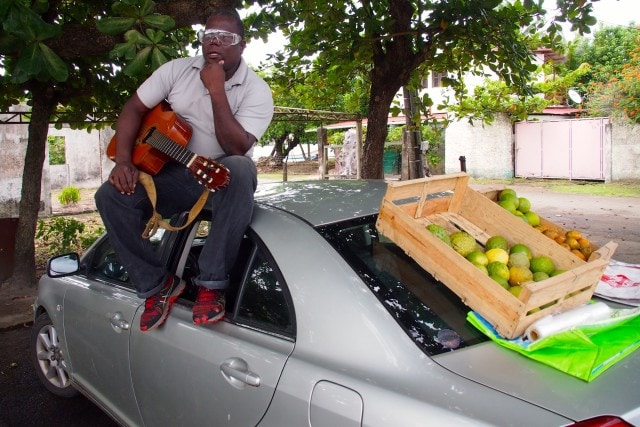 Okay, technically I met him in a small parking lot next to gas station in Tartane, a tiny seaside enclave set within the Caravelle Peninsula in northeastern Martinique.
He speaks no English. He wears safety glasses and a sweet pair of Asics running shoes. He sits atop a silver sedan parked under an almond tree astride the main road in and out of town, a beat-up old six string by his side.
His job? Fruit salesman.
His pitch? Well, let's just say it's unique…
Blahbluebeybah, blahbluebeybah, blahbluebeybah… Blahbluebeybah, blahbluebeybah, blahbluebeybah…
On and on and on he sang and strummed, the indecipherable gibberish becoming all the more enchanting (and humorous) the longer he persisted.
Indeed, we were compelled to buy a few oranges and a sour sop.
Method to madness and another unforgettable encounter in Martinique.
Related Posts