Le Petit Marché de Sainte-Anne, Martinique
For a laid back photo adventure, try skipping the Marché Couvert and head for Le Petit Marché instead.
Camera-shy Marché Couvert
One of the most popular attractions in Martinique is the Covered Market, or Marché Couvert, located in the heart of downtown Fort-de-France. It's a sprawling, incredibly lively place that bursts with the vibrant colors of all the various spices, fruits, liqueurs, jams, arts and crafts available for sale from local Martinicans just as they've always been since the place opened in 1901.
All of this makes the Covered Market a uniquely rewarding spot to capture great photos of the real Martinique. Only problem is, the whole place is generally camera-shy.
More to the point, the people that work in the Covered Market are camera-shy. If you think about it for half a second, it's easy to understand why. I mean, if hordes of strangers from all over the world kept sticking cameras in your face every day at your workplace, you'd probably get pretty tired of it pretty fast too.
It would be a mistake to take this camera-shyness for rudeness, though. On the contrary, the people I've met here over the years are among the nicest I've come across anywhere. They're always quick to smile and laugh over my persistent infatuation with bois-bande, or my fumbling French. They're just not big on pictures.
Le Petit Marché is a little different
For a more interpersonal photo experience, I recommend heading south and checking out the petit Marché de Sainte-Anne.
Here, the setting is less hectic, more quiet, and laid-back. The whole market could fit in a tiny corner of the Marché Couvert. So, it's easy to see everything, sample a lot of things, and really meet and interact with prospective buyers and sellers alike. People like Jany (below). She patiently waded through my soggy attempts at French to tell me about her special spices, liqueurs, and other products.
Try before you buy at Le Petit Marche
The wild colors and exotic flavors here are the same as you'll find in the Covered Market. There are various exotic mixtures combining passion fruit, guava, mango, papaya, coconut, cacao, and other locally-grown produce with the famous Martinican rhum to create truly one-of-a-kind treasures.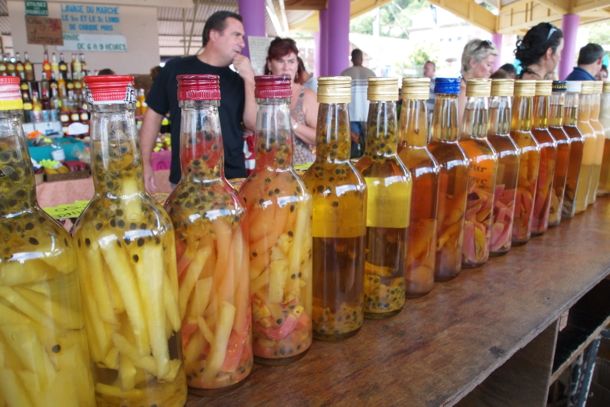 These bottles were as pretty to see and photograph as they were yummy to taste. Even in such a petit place, though, there was no way to sample it all. This guy, though, did a good job trying before finally making a purchase from Monique, who was also very patient with me.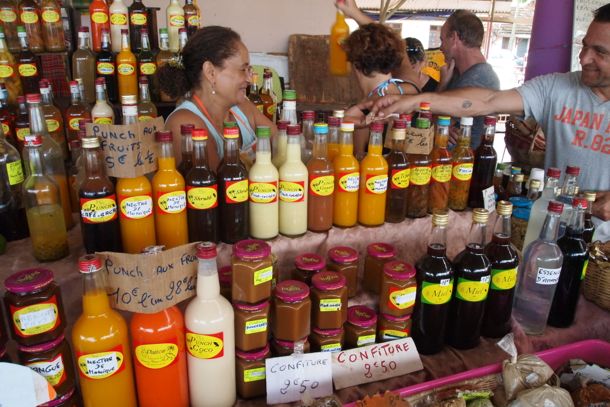 In the end, I bought a bottle of homemade Shrubb from Jany, some local coffee from Monique, and a few other things from another stand. This was in November. The Shrubb didn't even make it to New Year's Eve! It was that good, just like my little morning photo-op in this special little market.
A note on photos in the Caribbean
Now, whether you're keen on taking pictures in Sainte-Anne, Fort-de-France, or anywhere else in the Caribbean, it's always a good idea to ask people that might appear in your pics if it's okay first. Here at Le Petit Marché in Sainte-Anne, they were okay with it, but I doubt they would've been so cool if I hadn't asked.
The Marché de Sainte-Anne is open daily from 6am to 1pm. It's located right next to the sea along the main road that cuts through the town, just a few blocks south of La Notre Dame de la Salette. If you go, please say hello to Jany and Monique for me!
Related Posts