Saint-Pierre Wreck Dives Offer Undersea Journey to Martinique's Storied Past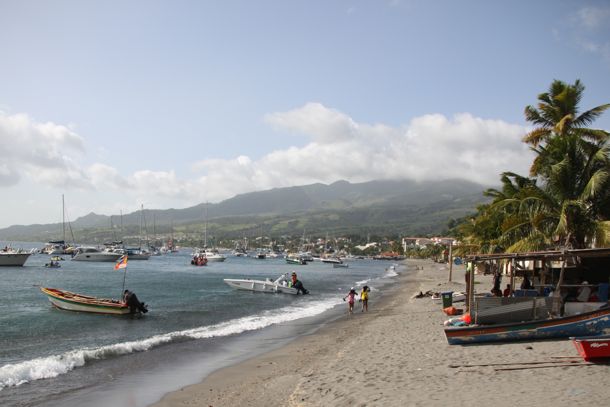 Every time I find myself in the historic seaside town of Saint-Pierre in Martinique, I take special note of the myriad of boats that always seem to be anchored here. Calm waters amid low winds, manageable depths and a charming, quiet town bursting with art, history and a nice collection of seaside bars and restaurants make this an ideal anchorage spot for local recreational boaters, as well as those passing through on sailing adventures.
However, it's not the things you can see above the surface that really draw my attention here. I'm actually more intrigued by the boats beneath the water… and the tragic circumstances that landed them there 100+ years ago.
As we've noted before, nearby Mt. Pelée blew its top on May 8, 1902, wiping out the entire town of Saint-Pierre (save one or three survivors). So strong and sweeping was the destructive force of the volcano that day, that just about every ship in the Bay of Saint-Pierre was destroyed; crew and contents forever lost to the sea below.
Out of this destruction an amazing collection of wreck diving options has been born. More than 10 turn of the century ships lay scattered about the sea floor of the small bay in depths ranging from 30 to 265 feet, offering visitors a unique window into Martinique's rich historical past.
Now, regular UC readers already know that I don't dive… yet. If/when I ever get around to getting certified, though, this will be one of the first spots I take the plunge, or plongée as they say in Martinique. There's just so much great history here beneath the waves! Plus, the varying depths and conditions of each wreck mean that there are dives here suitable for novice divers, as well as experts.
The wreck of The Raisinier is known as the easiest. Formerly a 130-foot barge, the ship is now broken into several sections scattered about the sea floor. The depth is only 30 feet, so even hearty snorkelers can enjoy it, to some extent.
For the big boys, the Bay of Saint-Pierre offers The Roraima. A Canadian cargo ship, The Roraima is the largest of all the wrecks here, measuring nearly 400 feet in length, 82 feet wide and 131 feet high. The Roraima rests at depths ranging from 150 to 180 feet, but is only 700 yards from shore in the northern part of the bay – tremendous accessibility for a wreck of its size.
Another great option for experienced divers is  The Theresa Lo Vigo. This twin-masted sailing vessel sits at a depth of 125 feet with a broken hull providing shelter for a wide array of sea creatures. Much of the ship's original cargo remains as well, giving rise to tremendous options for exploration.
Some day I'll get that certification out of the way. When I do, it's a good bet you'll find me at The Raisinier, literally diving into Martinique's storied past!
Related Posts