Shrub Makes Xmas in Martinique Extra Merry
Recently, we shared some of the unique Chanté-Noël traditions that make Christmas in Martinique so special. The food, the flowers, the singing – it's all very nice. One very important thing that we left out, though, is the quintessential Martinican seasonal cocktail. Specifically, we forgot to mention shrub.
This constitutes an epic failure on my part. As we've strived to inform over the years, Martinique is as famous for its exceptional rhum as it is for anything else. You just can't tell the story of Martinique without talking about rhum. Similarly, you can't tell the story of Christmas in Martinique without talking about shrub.
Sweet, strong and sassy, shrub liqueur is as much a Christmas institution in Martinique as eggnog is up here in the States. The reason: it's made, in part, from the dried peels of oranges, which abound in Martinique during the Holiday Season. Probably the closest thing to it would be Cointreau. You'll find, though, that shrub carries a bit of an added kick and spicy flavor. This, of course, is consistent with Martinique's creole nature.
Ingredients:
1 liter white agricole rhum
Skin of 2 oranges
1/2 liter sugar cane syrup
4 prunes
1 vanilla pod
1 teaspoon ground cinnamon
1/2 teaspoon instant coffee
Bottles of the stuff, like the ones pictured in this post from Rhum Clement, are available on the island throughout the year.
(Note: You can also order bottles for delivery in the USA here.)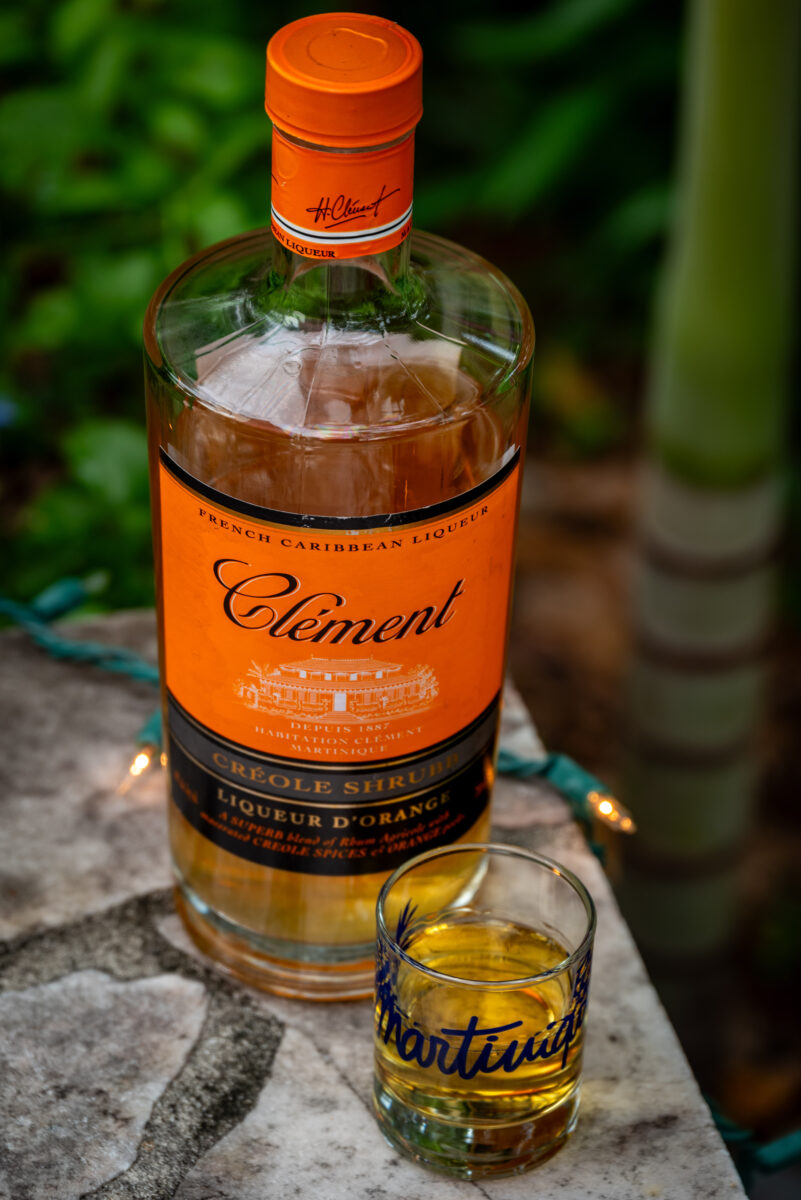 The best shrub, however, is the homemade variety shared at family and community gatherings throughout the Holiday Season. You drink it neat – no ice, no mixers. One sip and you'll quickly realize why Chanté-Noël caroling is carried out with such vigor!
To mix up your own batch of shrub, here's what you need to do…
Directions:
Macerate the rhum and orange peel for at least four days. Trust me, it's worth the wait. Next, remove the orange peel and add the sugar cane syrup, cinnamon, and chopped prunes. Now let that concoction sit for three more days. Finally, filter your mix and add the coffee. That's it!
Not only does shrub taste great and fill you with the Holiday Spirit, but it also enables you to experience the warmth of Martinique no matter how cold it gets outside.
À votre santé!
Related Posts