Uncommon Dive: Diamond Rock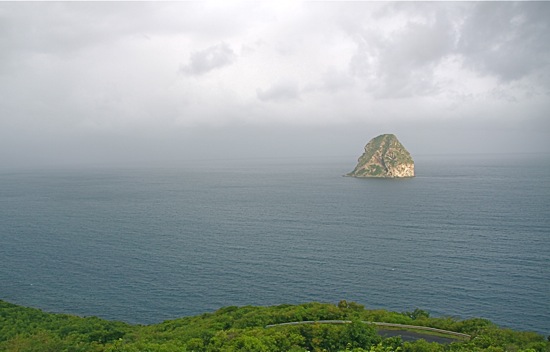 Diamond merchants and scuba divers have at least one thing in common – both place a high value on rarities. Just as the rarest diamonds fetch the highest prices, the least-known and most unique dive sites are treasured among scuba enthusiasts. In Martinique, one such extremely unique dive site lays hidden beneath the small island pictured above. Fittingly, the island is named Diamond Rock.
An uninhabited hardscrabble islet located off Martinique's southern coast, Diamond Rock is a poor man's Rock of Gibraltor, rising 600 feet above sea level versus the 1,396-foot height of its distant European cousin. Just like Gibraltor, Diamond Rock carries a great deal of historical significance tied to the British. During the Napoleonic Wars in the early 1800's, the British once fortified Diamond Rock, converting it into a man-of-war of sorts; even going so far as to commission the land HMS Diamond Rock in 1804.
While the British were drawn to the strategic advantages presented by the land atop Diamond Rock, it's the exciting scuba experience below that draws visitors today. What's so unique about the dive experience at Diamond Rock? How about this: you can dive under it.
I don't just mean some small part of under it where you explore a cave and go back out the way you came; I mean all the way under it!
At the base of the rock there's a triangular cave that extends to the other side, enabling divers to literally traverse under the island emerging on the complete opposite side. The cavern is filled with many varieties of corals and sea fans, with some divers even finding remnants of Diamond Rock's former British tenants.
As you might imagine, this is no place for novice divers. Strong currents within the cavern reserve this experience to the most skilled divers. For those with the chops, though, it's not to be missed.
Fortunately, dive operators in Martinique make it easy to check out Diamond Rock, as well as the island's other great dive sites, through a program called Madinina Pass. A cooperative initiative launched in 2004 by Martinique's top dive operators, the Madinina Pass provides divers with the freedom to dive virtually anywhere in Martinique for one low price. Each Madinina Pass dive checkbook contains coupons for three, six or 10 dives. Coupons can be redeemed through any of the 12 participating PADI-certified dive operators located around the island. As an added bonus, free equipment rental and insurance are also included.
For more information on scuba diving in Martinique, click here, or call the Martinique Promotion Bureau at 212-838-7800.
Related Posts