Flor de Caña 18: Stylish Rum With a Bottle to Match
You can have Milan, New York, Paris, London and any other so-called Fashion Capital of the World. To this well-biased island boy, nowhere is more stylish than the Caribbean. Step out onto Ariapita Avenue, or into the grand hotels of Isla Verde; the sizzling shores of southern Martinique, or the colorful cafes in Curacao's Punda district. All about you'll see people cuttin' style like nowhere else. Fancy (sometimes), sexy (usually), and wholeheartedly unapologetic (ALWAYS!), today's modern West Indian style titillates in a variety of ways, not all of them confined to fashion. Indeed, rum manufacturers cut style with their bottles and packaging in seemingly equal measure to their couture-focused contemporaries. Among the finest examples of this: Flor de Caña 18.
Simply Sexy
To me, the migration from the staid, dated old bottle to the new incarnation is a makeover miracle. And I'm not even big on presentation when it comes to fine rum!
The new bottle is just undeniably sexy. Broad, sloping shoulders. Thick, high-quality glass… Simply beautiful.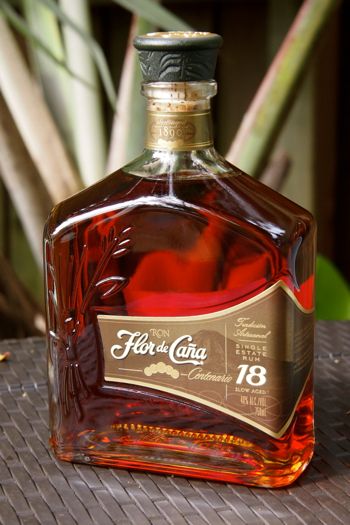 My favorite new design element in the Centenario 18 bottle, though, is the artistic sugar cane stalks embossed at left. That, plus the premium cork at the top and the dome-shaped raised punt at the bottom bearing the Flor de Caña logo make this a bottle I'll surely keep long after the sweetness inside is gone.
Speaking of the sweetness inside, it's every bit as sexy as the new bottle.
A Taste of Flor de Caña 18
The exceptional quality, celebrated tradition, and distinctive slow aging process that have made the brand's seven year-old Grand Reserve a favorite of many for years are wonderfully enhanced in Centenario 18.
Smoother and more refined than its younger sibling, Flor de Caña 18 sips quite nicely on its own. The flavor rests on the dry side with scant traces of the caramelized sweetness common to rums of similarly dark and enticing color.
Even the charred woodsy notes you might expect in a rum of such an advanced age are marvelously subdued in Flor de Caña 18.
Everything here is simply, and stylishly, in balance.
Flor de Caña 18 retails for around US$50, a pretty good value for a rum of its quality. Look for it at your local liquor store, or order a bottle online here.
¡Salúd!
Related Posts