Catedral de San Juan Bautista, Old San Juan – Uncommon Attraction
If getting a taste of "OLD-Time Religion" is central to your next Caribbean escape, then you'll want to include la Catedral de San Juan Bautista on your agenda. Puerto Rico's largest religious structure, la Catedral is the second-oldest church in the Western Hemisphere. In all of the United States, it's the oldest. A ripe old age, though, isn't all that's distinctive about this uncommon house of worship…
Catedral de San Juan Bautista History
La Catedral de San Juan Bautista carries a longer formal name – Catedral Metropolitana Basílica de San Juan Bautista. In English, it's the Metropolitan Cathedral Basilica of Saint John the Baptist. I've always known it more simply, though, as the San Juan Cathedral.
The Church, located in the heart of Old San Juan, dates back to 1521.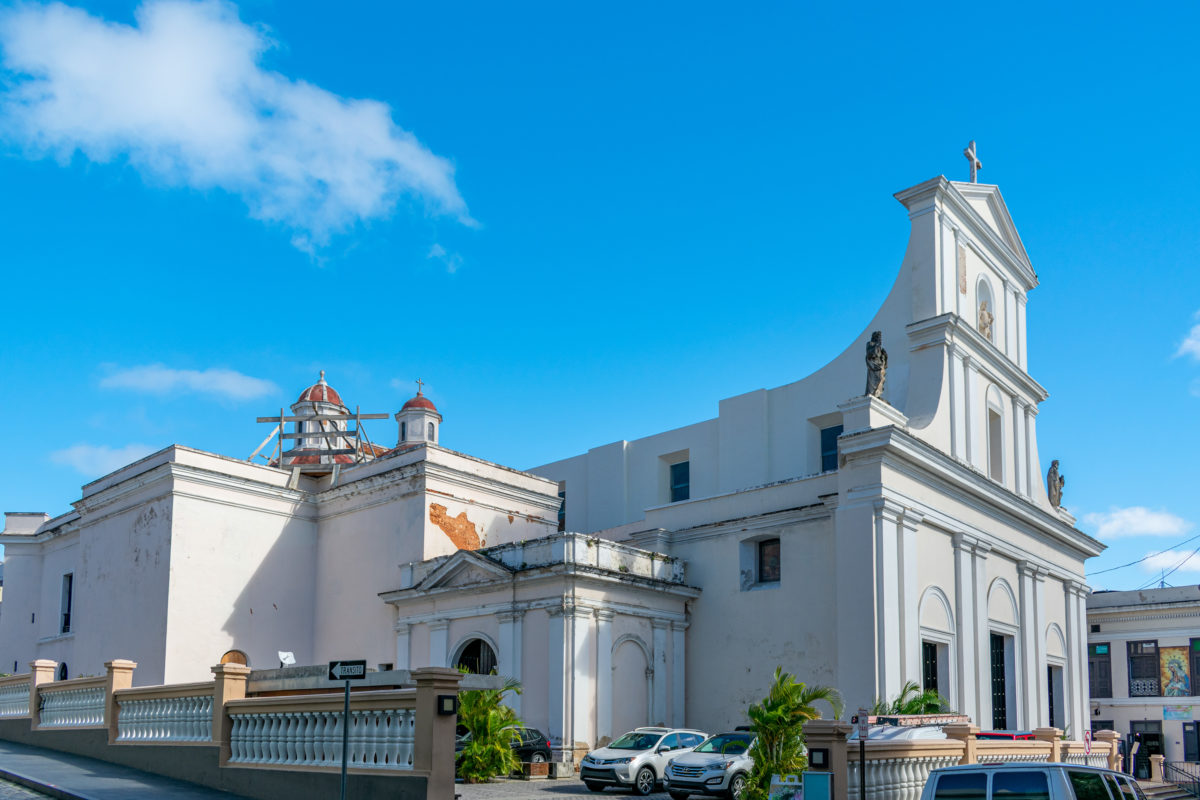 Columbus had inaugurated Europe's murderous conquest of the Americas just 29 years prior. Construction of Castillo San Cristoball del Morro, Old San Juan's venerable fortress, wouldn't start for another 18 years.
Indeed, these were the shakiest of formative times for the Puerto Rico we would come to know. You really couldn't count on much to last very long. It's no surprise, then, that the original Catedral, constructed of wood, was destroyed by a hurricane.
A new Catedral de San Juan Bautista opened in 1540. We'd probably recognize it for the most part, though the structure has seen numerous modifications over its many years.
Another thing it's seen over the centuries: misfortune.
Trials, Tribulations
The San Juan Cathedral has been robbed, attacked, and damaged on numerous occasions. In 1615, for instance, another hurricane tore the roof off the hallowed structure.
When the British sacked Old San Juan in 1598, the Cathedral was looted. The attack, led by the Earl of Cumberland, was the only successful foreign attack on El Morro in history.
Cathedral Must-See's
Despite the many trials in its past, the Catedral de San Juan Bautista continues to stand strong today, attracting scores of visitors each year. And not just congregants either.
Design and architecture buffs revel in the Cathedral's vaulted Gothic ceilings. History lovers enjoy visiting the tomb of the legendary Spanish explorer, Ponce de León.
A second shrine, dedicated to the Blessed Carlos Manuel Rodríguez Santiago, is also found inside the church. A native of Caguas, he is the first Puerto Rican/Caribbean-born layperson to be beatified.
If You Go…
The Catedral de San Juan Bautista is located at 151 Calle del Cristo in the heart of Old San Juan. El Convento, one of the San Juan's most elegant hotels, sits just across the street. Many of the best bars, restaurants, and historic attractions in viejo san juan are also close by, making a stop in at the Cathedral very convenient to additional old city adventuring.
Related Posts