Sugar Apple Bed and Breakfast – The New Sweet Spot To Stay in St. Croix
I wasn't looking for anything when I checked into the Sugar Apple Bed and Breakfast on my last visit to St. Croix four months ago. I was back home on a fact-finding mission for a possible television project. (More on that someday… Maybe.) Naturally, I expected to spend the vast majority of my time galavanting around the island. My hotel didn't need to be anything special. If Sugar Apple was clean, affordable, and safe, that would be more than enough.
Old Pink Fancy Hotel
What little I knew of the hotel formerly housed here, The Pink Fancy, suggested that Sugar Apple would more than meet my meager needs. Throughout my childhood days growing up in St. Croix and countless return visits over the years, I never stayed at or even thought to visit Pink Fancy. The hotel originally opened its doors way back in 1948, and mostly looked it.
(Note: A plaque astride the staircase at the entrance pegs the year of the original construction at 1780!)
The Pink Fancy's outward appearance never gave me much cause to even give it a chance. To be sure, the old hotel lived up to the color in its name, nothing more.
Imagine my surprise, then, upon arriving at Sugar Apple and finding this…
My Bed At Sugar Apple Bed and Breakfast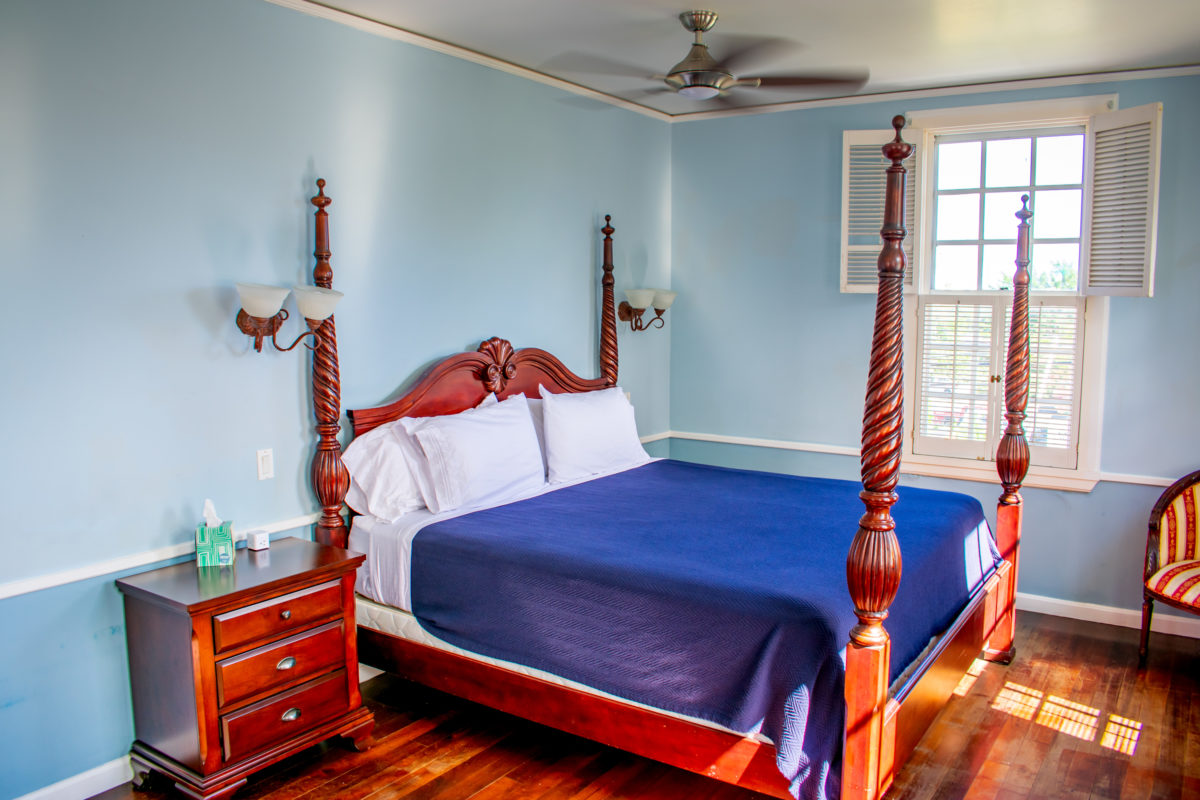 That's the stately four poster mahogany bed I slept in during my stay. You can find it in room #8 on the top floor of the main building at Sugar Apple. It would be an understatement to say that I was a little shocked at the classic style of my oversized room.
Gently-worn hardwood floors blended nicely with vintage style furniture and light fixtures throughout. The many windows let in a flood of natural light, lending a cheery atmosphere to the space. Modern amenities – flatscreen smart TV, upgraded a/c units, multi-device charging stations – added to the comfort. It's easy to feel happy here; at ease and very welcomed.
Sweet Sugar Apple Cottages
Guests of the Sugar Apple Bed & Breakfast have a choice of 12 rooms. In addition to the units in the main house, a collection of smaller, charming cottages dot the property.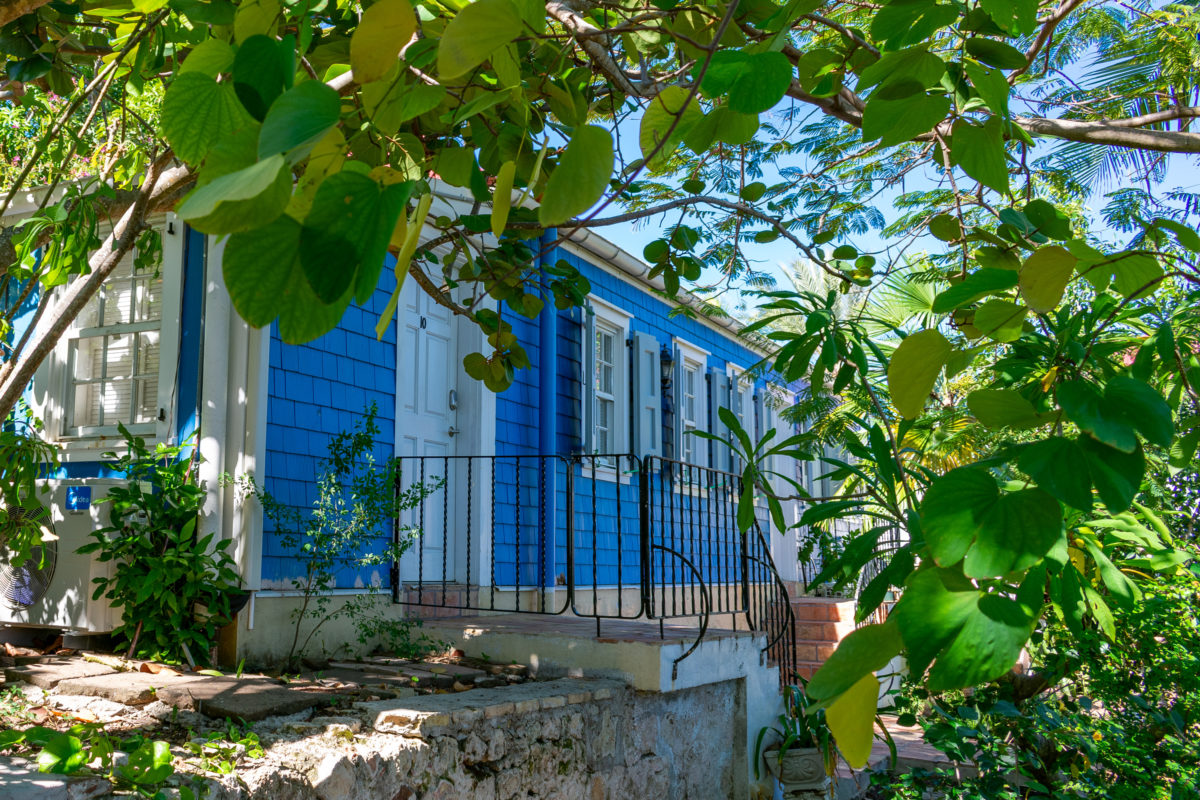 From the street outside Sugar Apple, you'd never guess that such cute little cottages could be hiding here. Personally, I just love how the surrounding trees and foliage provide shade and privacy.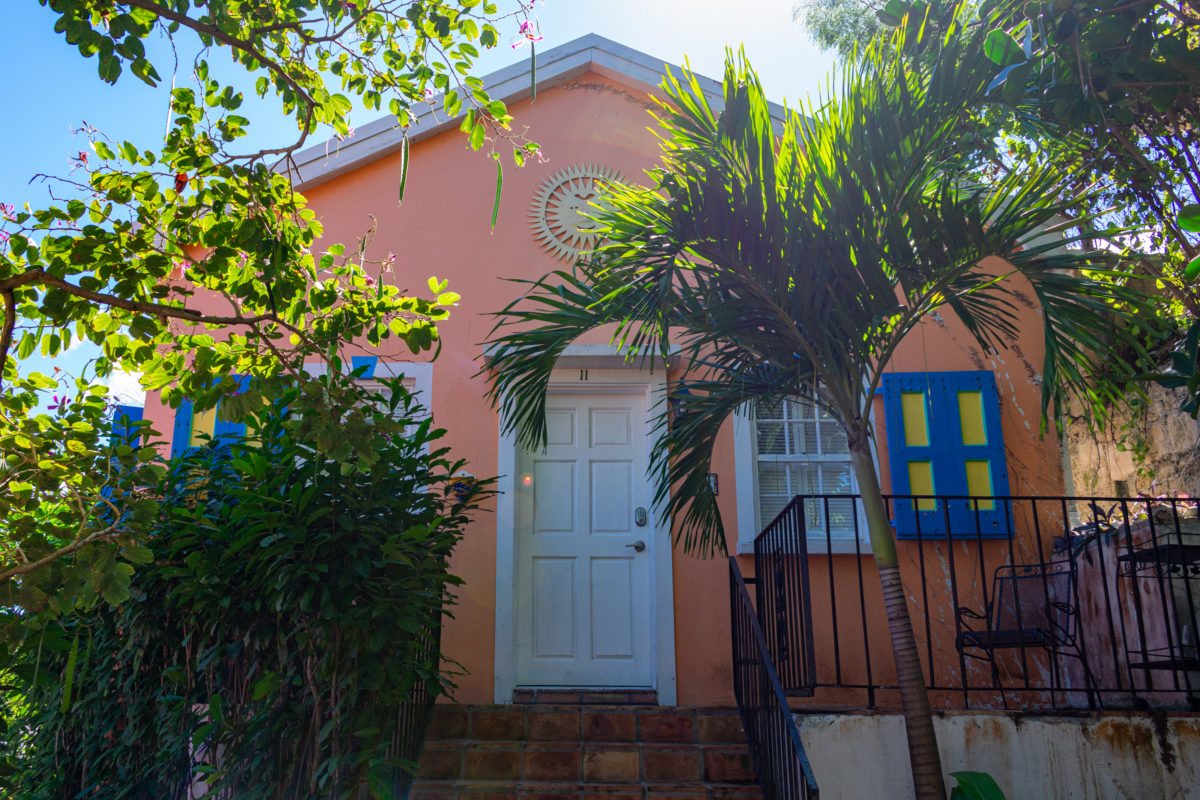 They're like romantic little secret hideaways. That they're located in the middle of St. Croix's principal town makes them all the more special, completely unexpected, and enticing.
Sadly, I didn't get to peek inside any of the cottages during my stay (Next time for sure!), but I did manage to enjoy some quiet time in one of their shady lounge areas.
Tortoise Garden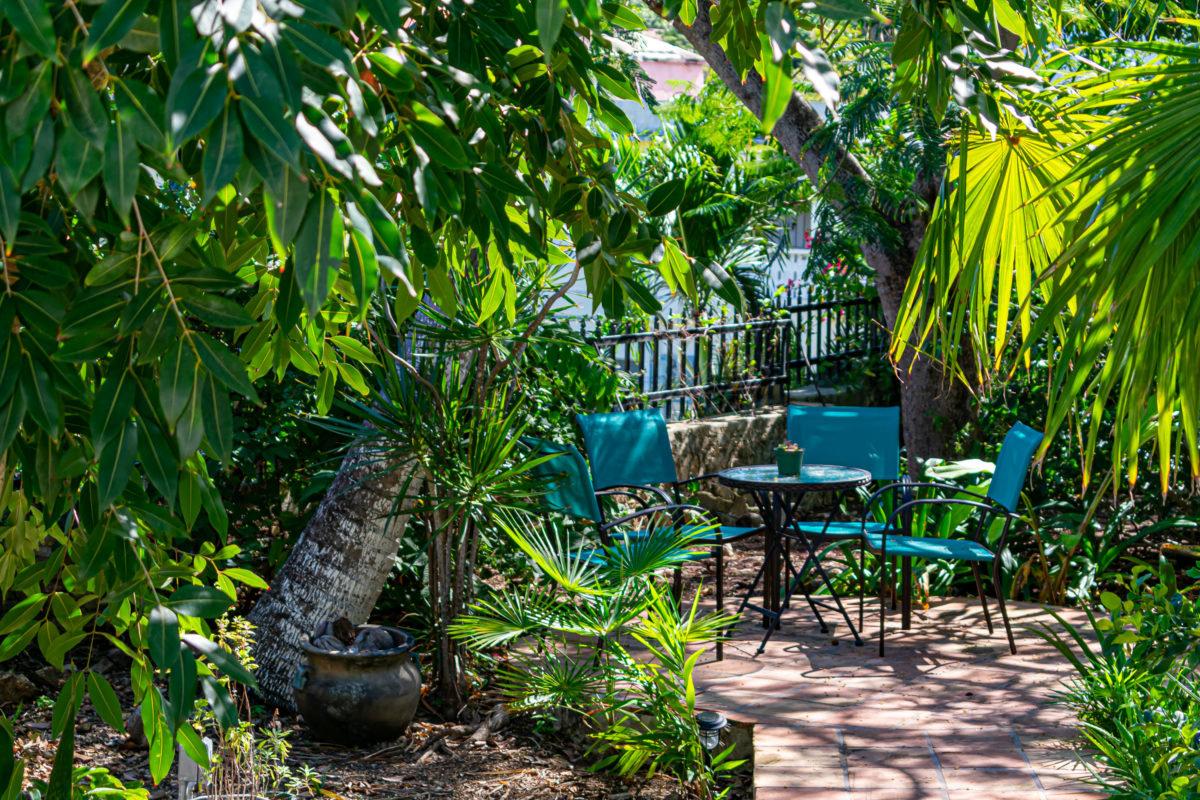 The Tortoise Garden is aptly-named as a whole host of the slow-footed fellows reside here. I can't ever remember seeing tortoises anywhere else in St. Croix before. You can't miss 'em here, though, especially in the early-evening hours. Another great surprise!
Sugar Apple BnB Pool
The hub of all everything at Sugar Apple Bed and Breakfast is the pool area.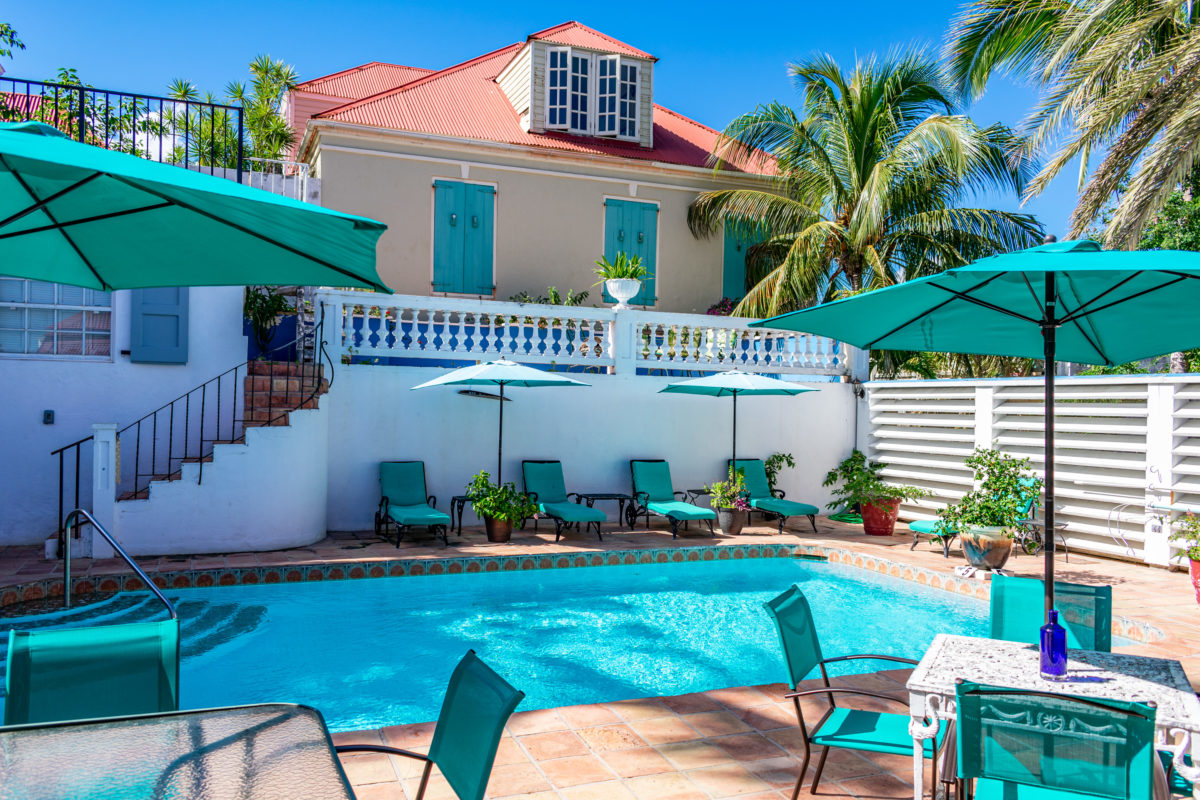 Upstairs rooms in the main house open directly out onto the pool deck. Paths from the cottages lead here as well. This is a very good thing, though not entirely for the cool, refreshing swims on offer here. Indeed, the main attraction is the food.
Everyone has a relationship with food.
So says Corina Marks, the marine scientist turned hotelier who, along with her husband Ryan Flegal, is the driving force behind St. Croix's newest B&B. The relationship they encourage guests to have with their food is a decidedly healthy one.
So many people are disempowered by losing their health. Heart disease, diabetes, high blood pressure… You can prevent disease, ailments and decrease stress through diet.
On The Menu: Plant-Based Eats
The California transplants back up their healthy food philosophy by serving up inventive plant-based meal options blending St. Croix's natural fruits, herbs, and spices with a Continental twist. Think papaya lox with cream cheese, dill & capers on a bagel, or banana cinnamon rolls topped with sugar free vanilla coconut icing.
Healthy and delicious options like these (and some of St. Croix's most amazing smoothies) make Saturday and Sunday brunch here a real treat. Also, you're always welcome to stick and stay for a post-brunch swim whether you're a guest of Sugar Apple or not. As Corina says…
I just want people to enjoy life and enjoy themselves.
Believe me, anyone lucky enough to stay at Sugar Apple won't have a problem achieving either.
Sugar Apple Basics + Tips
Sugar Apple Bed and Breakfast is located at 27 Prince Street in Christiansted. The location is a quick and easy walk to all of the best bars, restaurants, nightclubs, historic attractions, and shopping in the downtown area. Street parking is the only option if you're driving, but I never had any trouble finding a spot on the hotel block.
Note: The street lighting between the Christiansted Boardwalk/main nightlife area downtown and the hotel isn't the best. In the interest of safety, I'd avoid walking alone.
For reservations and more information on Sugar Apple Bed and Breakfast, be sure to visit them online. To keep up-to-date with their amazing menu items, follow Sugar Apple on Facebook and Instagram.
Related Posts