Reggae Beach St. Kitts: a Watering Hole Fit for Man & Beasts
So, a guy walks into a bar and sees a goat, a pig, and a monkey sitting there… Sounds like the start of a good joke, but this is exactly what you'll see if you're ever lucky enough to find yourself at the Reggae Beach St. Kitts.
Discovering Reggae Beach St. Kitts
My love of beach bars and shacks (Sunshine's, Le Petibonum, etc.) has been well-documented, so I'm sure that none of you faithful readers will be surprised that I forced our cab driver to stop here on our way to the airport during the waning hours of my recent trip to Nevis. The bar sits directly on the beach in Cockleshell Bay, just a few steps from the jetty where the boat that taxied us from St. Kitts to Nevis and back again was docked.
Upon first seeing the place on our way to St. Kitts' smaller sister island, I knew that I would have to find a way to return, if only just for a quick drink. I'm sure glad that I did as this is one of the friendliest and most uncommon beach bars I've ever seen.
It's a vibe
The Reggae Beach vibe is very laid back and cool. Expect roots rhythms mixing nicely with seriously strong rum punches. And a nice stretch of beach to keep everyone in an irie mood.
The food is excellent as well. Reggae Beach has a reputation for offering the best BBQ ribs on the island. Especially on Friday nights. Though it's the fresh lobster I saw being served that has my stomach aching for a return visit.
Special days also keep the menu fresh with conch ceviche day, mojito day, and more.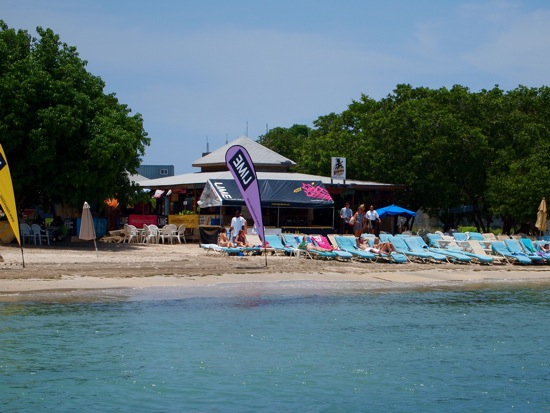 All those things are great, but what makes Reggae Beach Bar St. Kitts particularly uncommon is the cast of animal characters always on-hand at the bar.
The animals
Wilbur the pig is a behemoth, weighing in at 700 pounds. Like most pigs, he just lays around in the shade getting fat. In fact, he's so fat that a bartender told me he can't open his eyes because his eyelids are too heavy. Still, this is a better life than what was originally planned for him.
Sonia, the manager at Reggae Beach Bar Grill, told me that the pig once belonged to a former employee named Daniel. Of course, he intended to slaughter the poor guy. The bar's owner had developed an affection for the pig, though. So he bought him and has let him live out his lazy days in the shadow of the bar.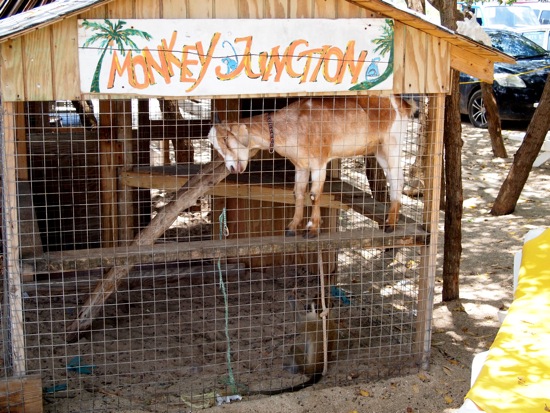 The monkey and the goat are an even better story. Both were brought to the bar when they were very young after being injured and abandoned. Reggae Beach bar staff cared for the animals, raising them together in the same large cage.
They've been best friends virtually their whole lives. Together, happily growing up completely oblivious of their differences.
A fitting metaphor for a truly friendly place.
Related Posts