Le Petibonum – Gourmet French-Creole Cuisine on the Beach in Martinique
Caribbean beach bars are among the least likely places you'd expect to find and enjoy a five-course gourmet meal. Food of any kind, much less haute cuisine, is generally an afterthought at these seaside watering holes. Strong rum and over-sugared cocktails are much more de rigueur. Things, though, are very different at Le Petibonum.
The Jewel of Le Carbet
The seaside restaurant is set directly on the silver-grey volcanic sands of la Plage du Coin. This is Le Carbet, the legendary village on the north Caribbean coast of Martinique where Christopher Columbus came ashore in 1502.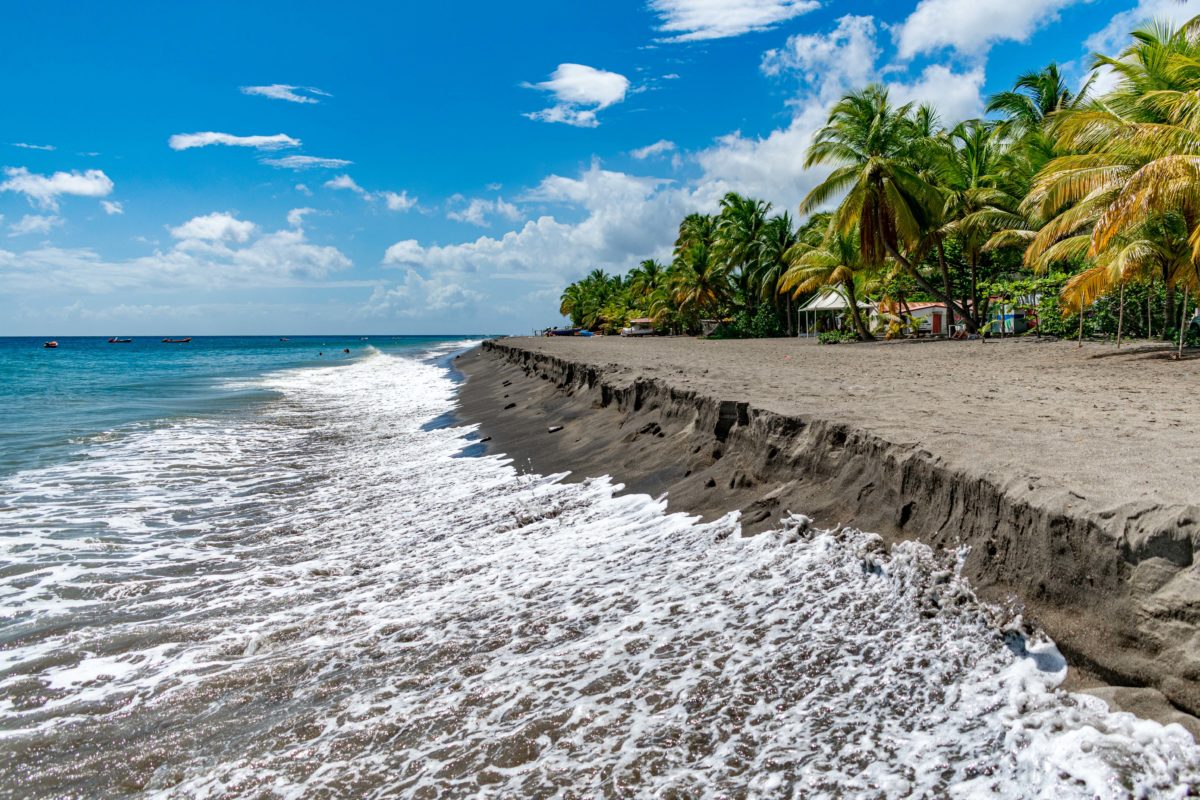 Majestic Mount Pelée towers to the heavens just north of Le Carbet. Historic Saint-Pierre, The Pompeii of the Caribbean, is just a few minutes up the road. The famed Rhum Neisson Distillery is located here, as is the Paul Gauguin Museum. (The celebrated artist settled nearby in 1887 creating several seminal works in Le Carbet.) Hiking and chasing waterfalls are also big attractions here.
Nothing, though, draws more people to Le Carbet than Le Petibonum. Upon first setting eyes on the place, though, I must admit it was hard to see why.
Rustic Beach Resto
The first time I visited Petibonum in 2010, the "restaurant," as it were, was basically… Ummm… Well, it was basically a shabby beach shack.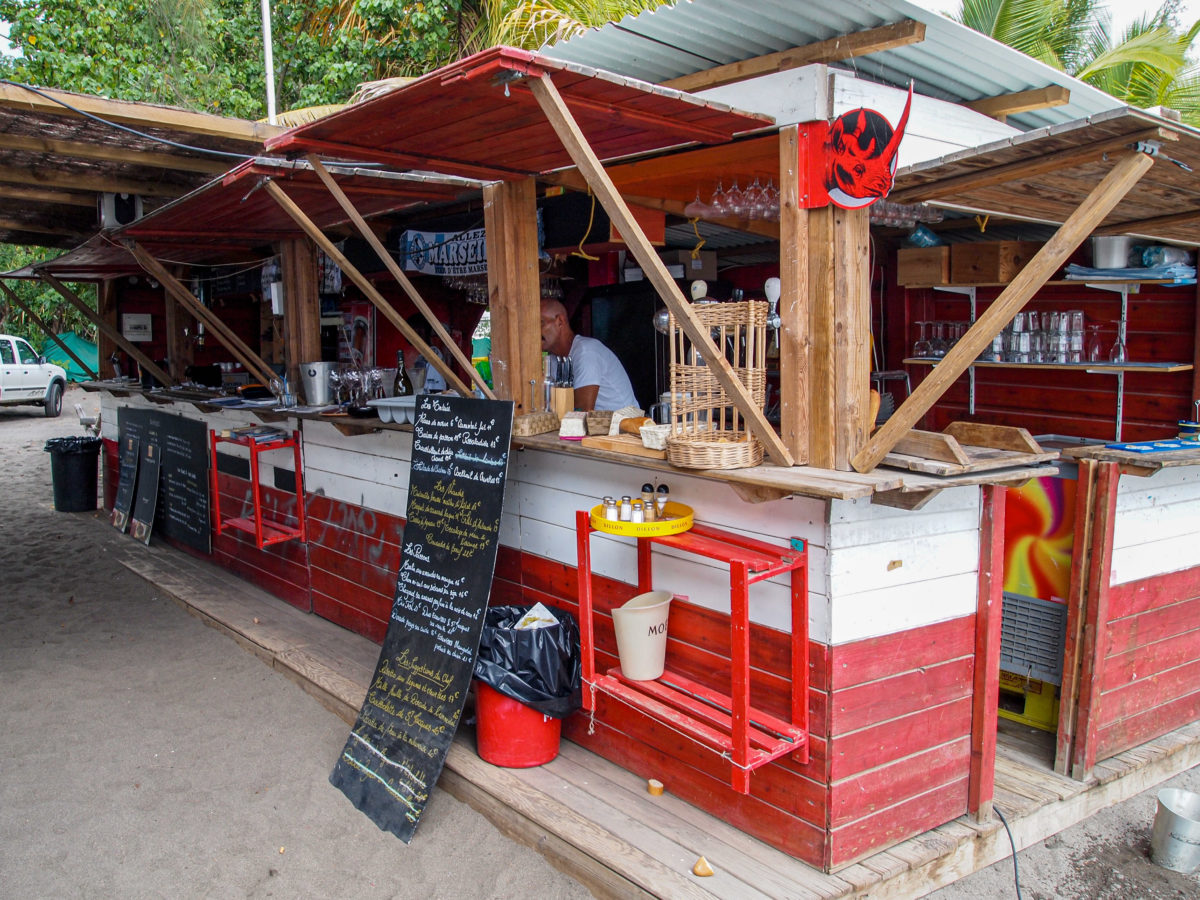 Various shade structures were strewn about offering a hodgepodge of seating options. A misting system periodically tried to cool the air, but it was a losing battle. The hot sun above warmed volcanic sands underfoot, the combination proving too much for any kind of air conditioning.
Fancy, Le Petibonum was not. This, though, belied the restaurant's reputation.
Le Petibonum Pronouncements
I had traveled to Martinique several times over the years preceding my initial Petibonum experience. Each time I would run into someone insisting that I just HAD to visit Le Petibonum. The food was just THAT special; as much of a MUST experience as Martinique had to offer!
It wasn't too long into that first visit that I could say that the pronouncements were correct… And then some.
To say that the restaurant exceeded my expectations would be a large understatement. The magic, though, was not solely about the food.
In all my travels, I have never been anywhere that better combines the rustic allure of Caribbean beach shacks with world class cuisine.
Before I get into what I ate, though, I gotta tell you about the chef.
Guy Ferdinand, aka: Chef Hot Pants
Le Petibonum is the brainchild of local Chef Guy Ferdinand. This is a man who redefines popular conceptions of the term bon vivant, making it proudly black/Afro-Caribbean, sexy, unpretentious, and above all, fun.
Like so many celebrated chefs, Guy is self-taught. He cooks off of instinct, building upon core fundamentals of Creole-French cuisine gleaned from watching his mother in the kitchen as a child. It's little wonder, then, that Guy fancies himself as more of an artist than anything else.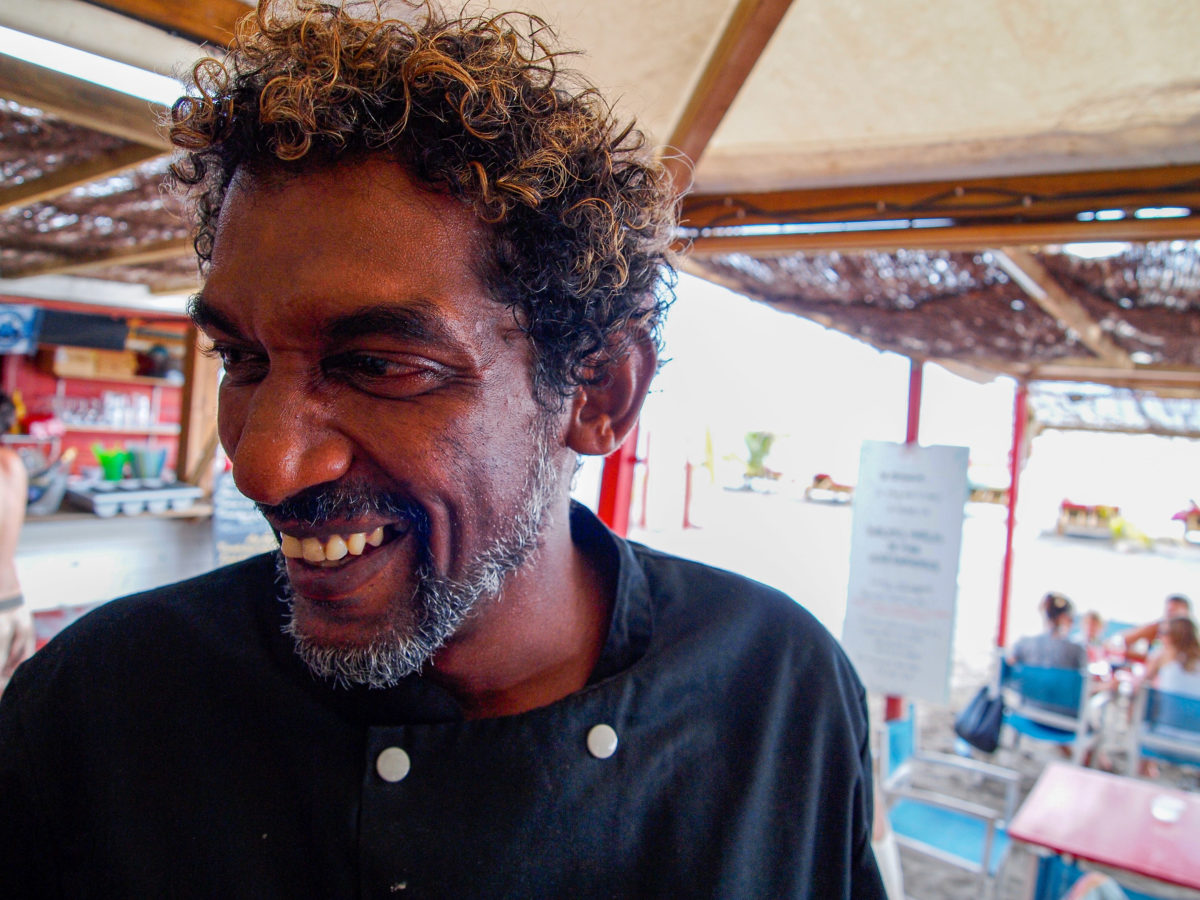 Spend just a few seconds with Guy and you'll also note that he's very much of a character. Everything he says is said excitedly and always with a mischievous twinkle in his eye. His charm: off the charts.
Guy always sports a wild mad scientist look that fits with his inventive, contemporary interpretation on local cuisine. This is most evident in his very distinctive trademark "uniform"…
Traditional chef's coat up top, Daisy Duke level cut-off shorts below. Is it any wonder why I gave him the nickname Chef Hot Pants soon after we first met?
Indeed, Guy makes a fashion statement that's as strong as the one he makes with his food. A statement that's in keeping with the dichotomy that is his gourmet beach shack.
My First Time Dining at Le Petibonum
Chef's fashions and beach shack styles aside, though, you're probably anxious to know by now about the food at Le Petibonum. I've eaten there on countless magical occasions since that initial visit in 2010. Somehow, though, that first time really still stands out in my mind.
Our lunch consisted of a multi-course gourmet extravaganza. The starter dish was so beautiful, I wasn't sure if I should eat it, or hang it on a wall. I ate it, of course, and yeah, it tasted even better than it looks!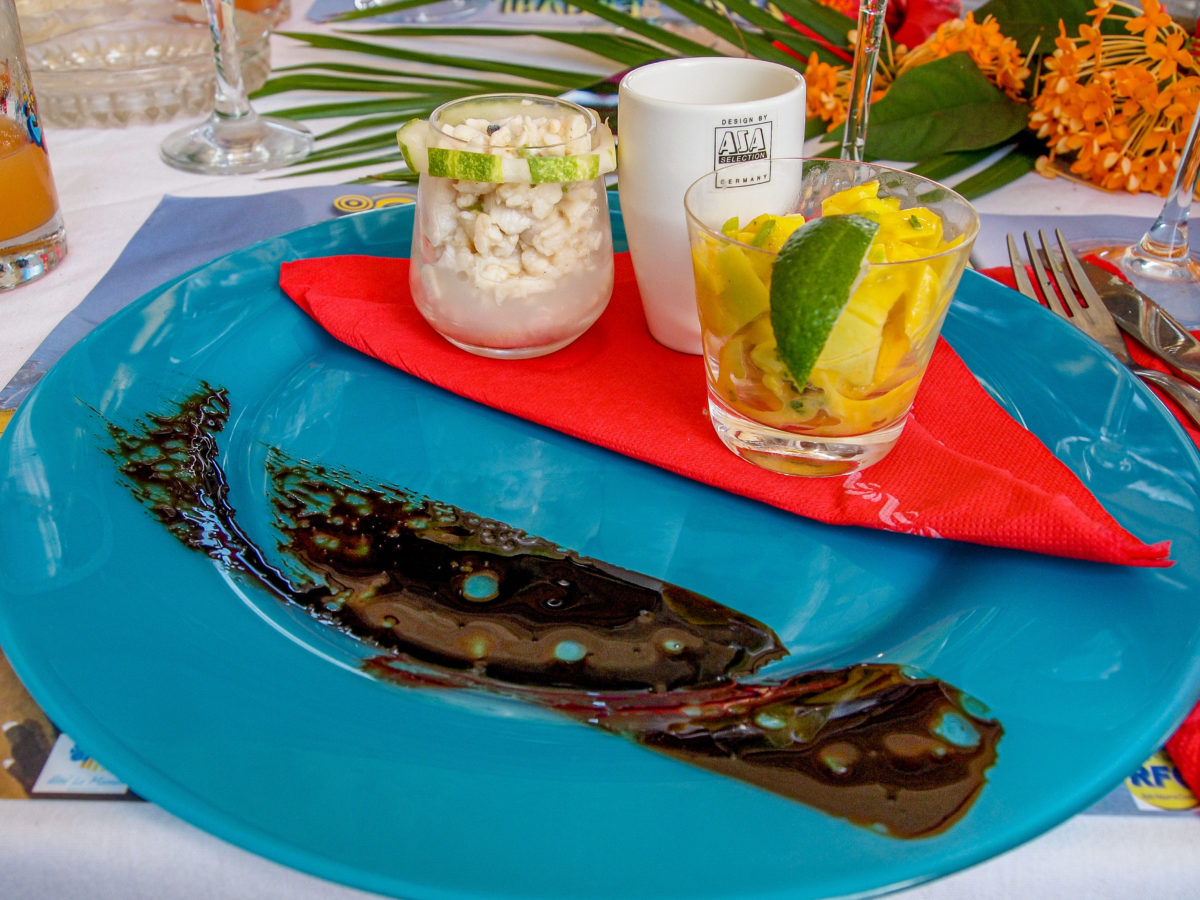 One of the great things about Le Petibonum is that you can always be sure that the food is fresh. That's because Guy is a strong supporter of local farmers and fishermen in Martinique.
The succulent freshwater crawfish I enjoyed as part of the third course are farmed in the rainforest hills above Le Carbet in an area called Morne Vert. The tuna, also in the third course, were caught by a local fisherman in the town of Bellefontaine just a few miles to the south.
As you can probably tell, I loved the third course. If I had to pick a favorite, though, it would have to be the fourth, a simply amazing take on Martinique's national dish, Colombo.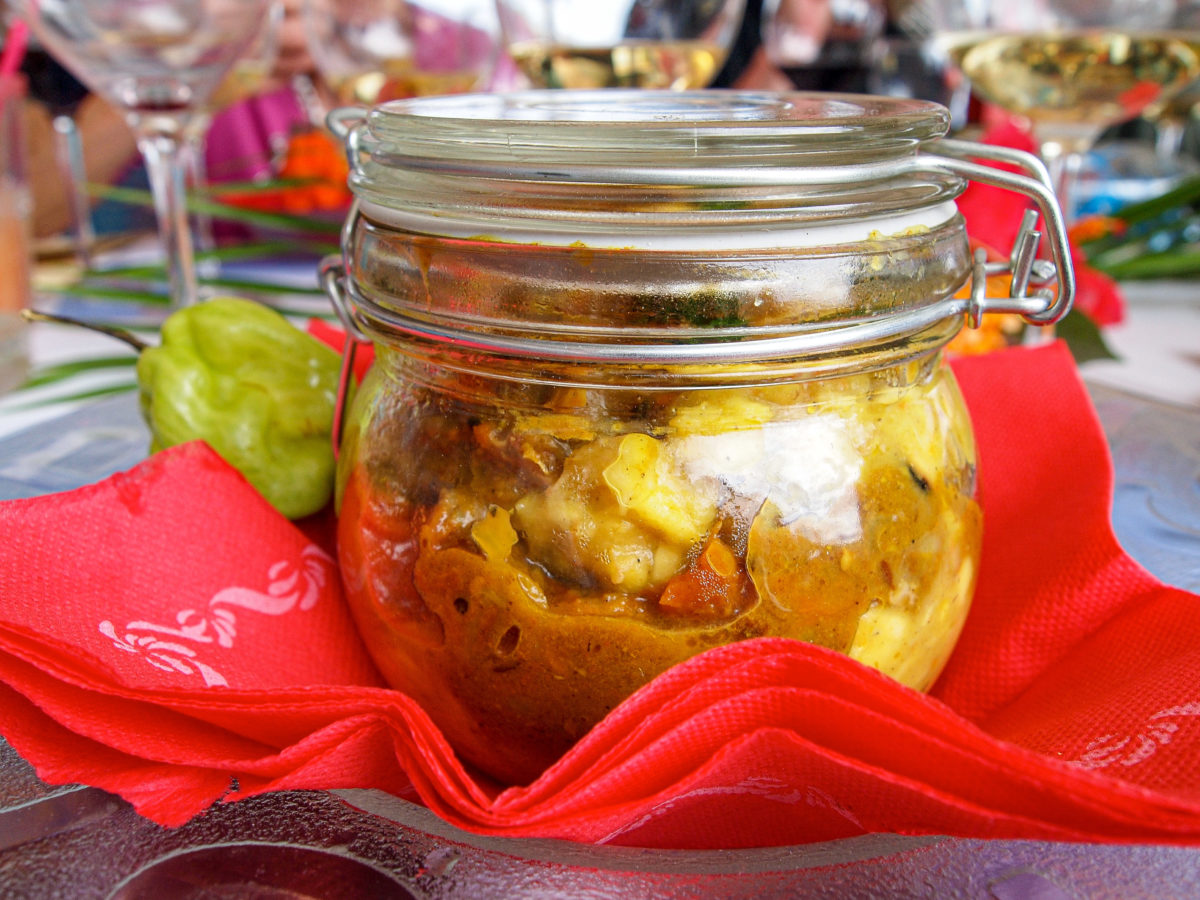 Usually served over rice on a plate, Guy's chicken Colombo was presented in a vacuum sealed bale jar with breadfruit subbing for the rice. I seriously wished that jar was bottomless.
Can't Get Enough
All of my near-annual trips to Martinique since that 2010 lunch have included at least one stop at Le Petibonum. And every time I return, Guy surprises me with something else.
(This lobster dinner I enjoyed at Le Petibonum a few years back was truly spectacular.)
The dishes are a given in this regard as Guy switches up his menu constantly. He's always tinkering and creating, elevating Martinican cuisine to new heights.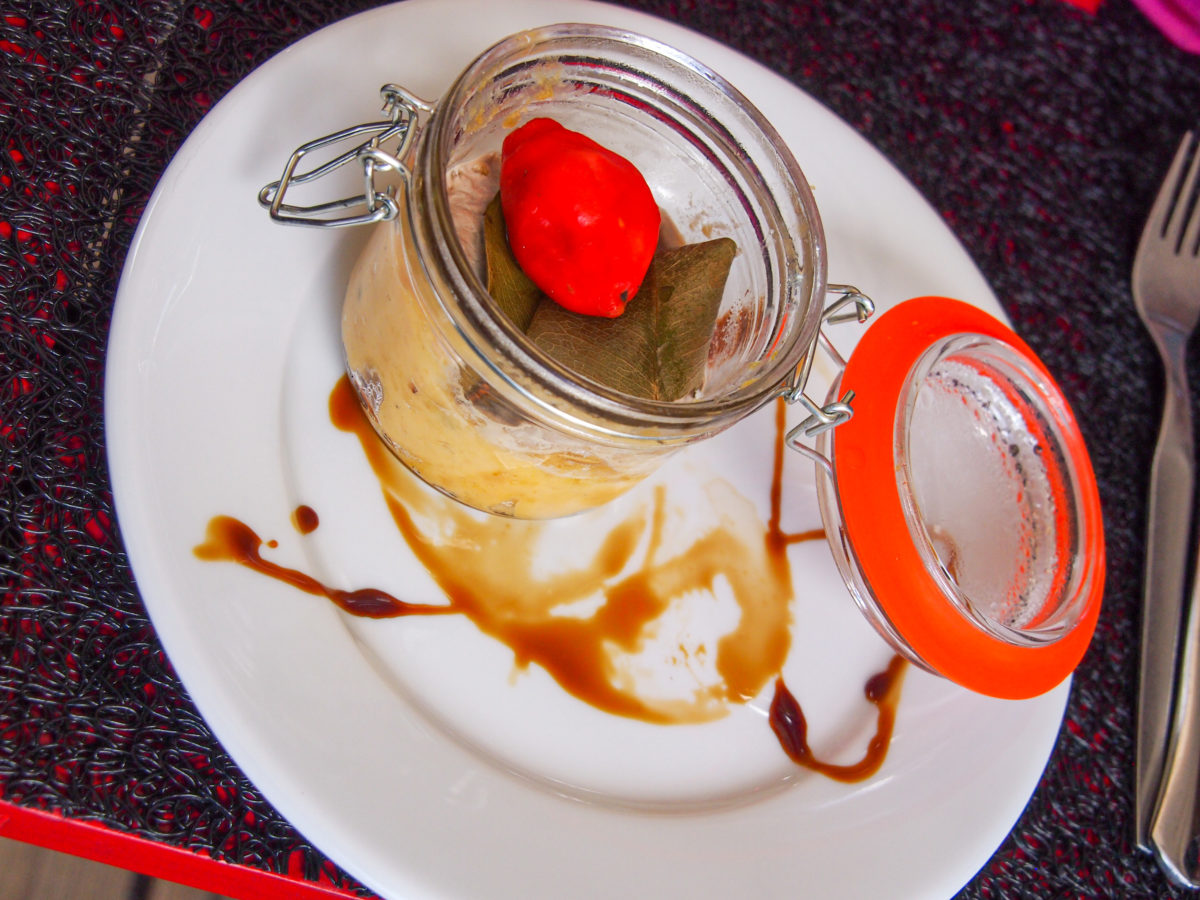 At the same time, though, he also works at expanding and enhancing the Petibonum product.
In recent years he's added a new Rhum Bar set just steps from the sea. A pizzeria launched in conjunction with our friends at Garage Popular broadens the culinary options, albeit in a more casual direction. I thought this would be a huge hit with my teenage sons when I was finally able to bring them to Martinique for the first time two summers ago, but they opted for Guys' amazing cheeseburger instead.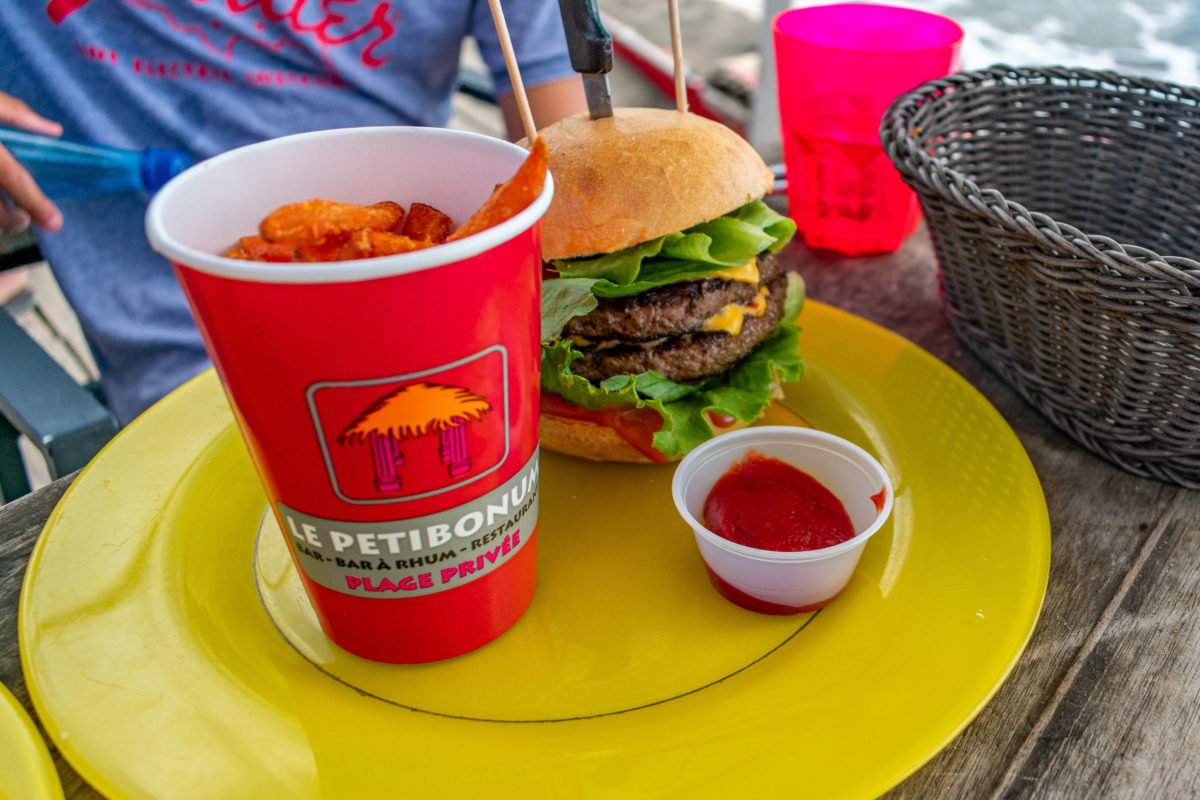 If any burger can be said to be gourmet, this one is it!
Le Petibonum Hotel..?
Guy, as you've no doubt gleaned by now, is a pretty ambitious guy. While his restaurant continues to build upon its foundation as THE place to see, be seen, dine, drink and party in northern Martinique, Guy has plans to make it easier to add stay to the Petibonum portfolio.
We've talked many times over the years about his dreams of opening a hotel. A stylish seaside playground where one can live the Petibonum magic 24/7.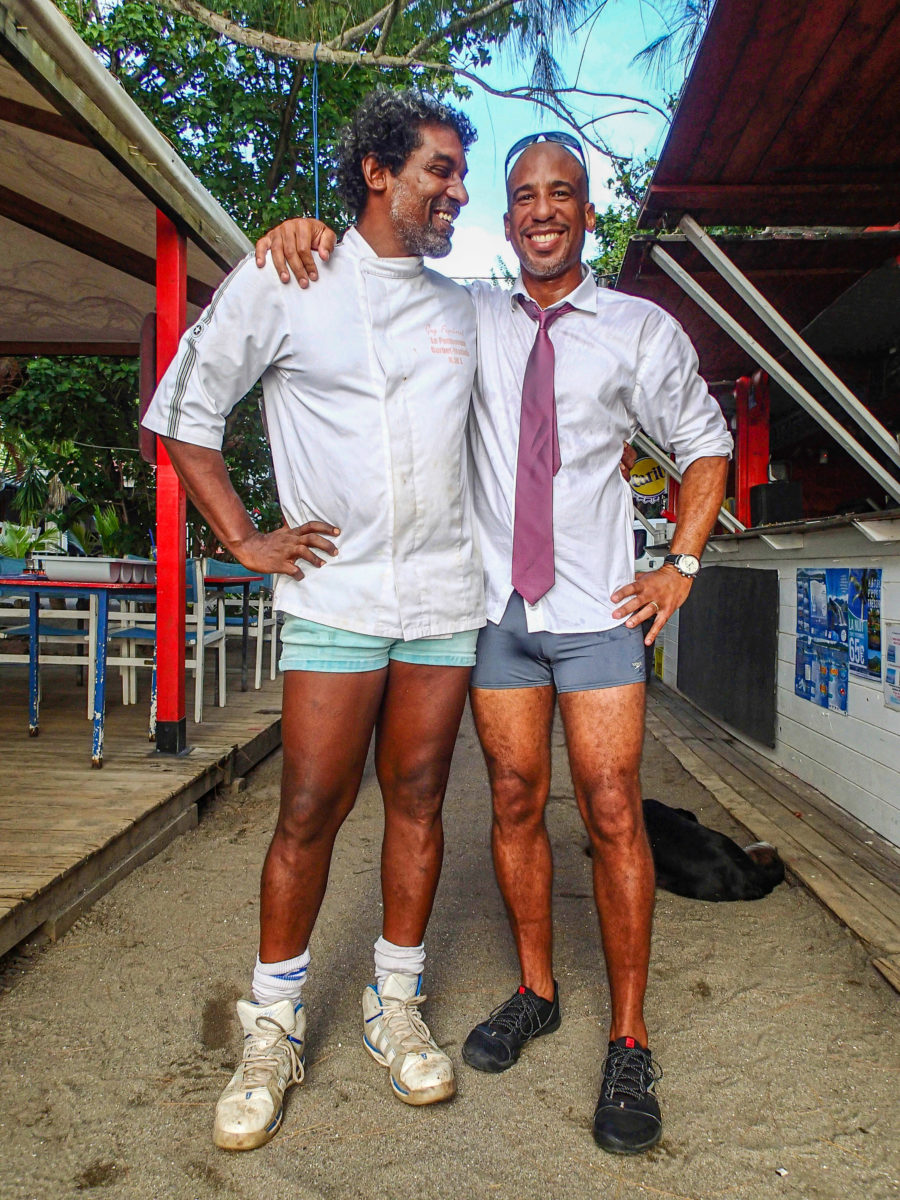 While that dream remains just that, Guy has taken an uncommon first step toward making it a reality with the launch of his new Le Petibonum Boat Hotel. An elegant 45-foot Lagoon S Catamaran, the Petibonum Boat Hotel accommodates guests just offshore la Plage du Coin. Onboard meals are provided by Le Petibonum, of course, and the rhum agricole selection, like Guy and his amazing restaurant, is second to none.
Getting To Le Petibonum
Le Petibonum is located directly on the shores of la Plage du Coin in Le Carbet on the northwestern (Caribbean) coast of Martinique. The restaurant is well-known and easy to find. Just ask for Chef Hot Pants and you can't go wrong.
Le Petibonum is open daily from 10am to 10pm, though some party nights stretch into the wee hours. Reservations are encouraged. Be sure to check them out on Facebook for contact details and additional information.
Related Posts