Banana Ketchup? A Surprising (at least to me) Taste of the Caribbean
Bananas, as we've covered before, are a central component of West Indian cuisine. It's common to find them lurking lovingly in all manner of delectable Caribbean dishes, sauces, and desserts. Even so…umm…banana ketchup?! Yeah, this banana culinary construct came as a surprise to me.
My American Ketchup Bias
Hailing, as I do, from one of the most Americanized corners of the Caribbean (St Croix), the ketchup that I always knew was red. Its base ingredient – the much-beloved tomato berry. Its primary point of origin: Pittsburgh, PA.
Throughout the overwhelming majority of my days, I never even considered that ketchup could be any color but red, or be derived from anything but tomatoes.
My fledgling foray into Caribbean ketchup only reinforced my naiveté. The most famous of them, Grace Jamaican Ketchup, is indeed a nicely spiced departure from Heinz 57. At the same time, it's still plenty red and made from tomatoes.
In what was news to me, though, ketchup, in its original form, wasn't red at all. Nor did it have anything to do with tomatoes.
Oh, and that original form persisted for more than 2,000 years!
Ketchup's Actual Asian Origins
I should've known better, especially considering how much I love history. As The History Channel notes…
…ketchup has a storied past that dates back to imperial China, where it was made with fish entrails, meat byproducts and soybeans. It wasn't until 1812 that tomato-based ketchup was invented.
So yeah, ketchup isn't nearly as synonymous with tomatoes (or the color red) as I thought. (Damn you, Americanization!) But, where did banana ketchup come from?
Product of the Philippines
As with ketchup's original origin story, we have to look to the East for the first banana ketchup. Specifically, we have to look to the Philippines. That's where a local food technologist named María Ylagan Orosa set about making her country more self-sustaining during the 1930s/40s.
Her mission: create new foodstuffs made from locally abundant ingredients. You know, to lessen the Philippines' over-dependence on imported goods. (Take heed Caribbean nations.)
Anyway, among the many import substitutes that Orosa developed was banana ketchup. Its main ingredients – banana, sugar, vinegar, and spices – yielded a yellowish-brown color. Eventually, though, red dye was added to the mix to better mimic the ubiquitous American tomato variety.
As you might imagine, and the following recent commercial shows, Filipino banana ketchup is still a BIG deal today…
Banana Ketchup Comes to the Caribbean
So, just as bananas are not native to the Caribbean, neither is its ketchup. Makes sense, I guess, though I've no idea how said ketchup ever made its way over to the West Indies.
Perhaps like a lot of foreign-born elements adopted into the broader Caribbean cultural aesthetic during the latter half of the 20th century, banana ketchup came to the region as a byproduct of World War II. I could easily envision a Caribbean-born G.I. getting a taste for the stuff while serving in the Philippines, then bringing the recipe home.
For my part, I first came to know banana ketchup in St Lucia. As you might guess, owing to my predilection toward the American red version, I wasn't too keen on trying it.
You see, unlike in the Philippines, we don't color our banana ketchup red in the Caribbean. At least not that I've ever encountered.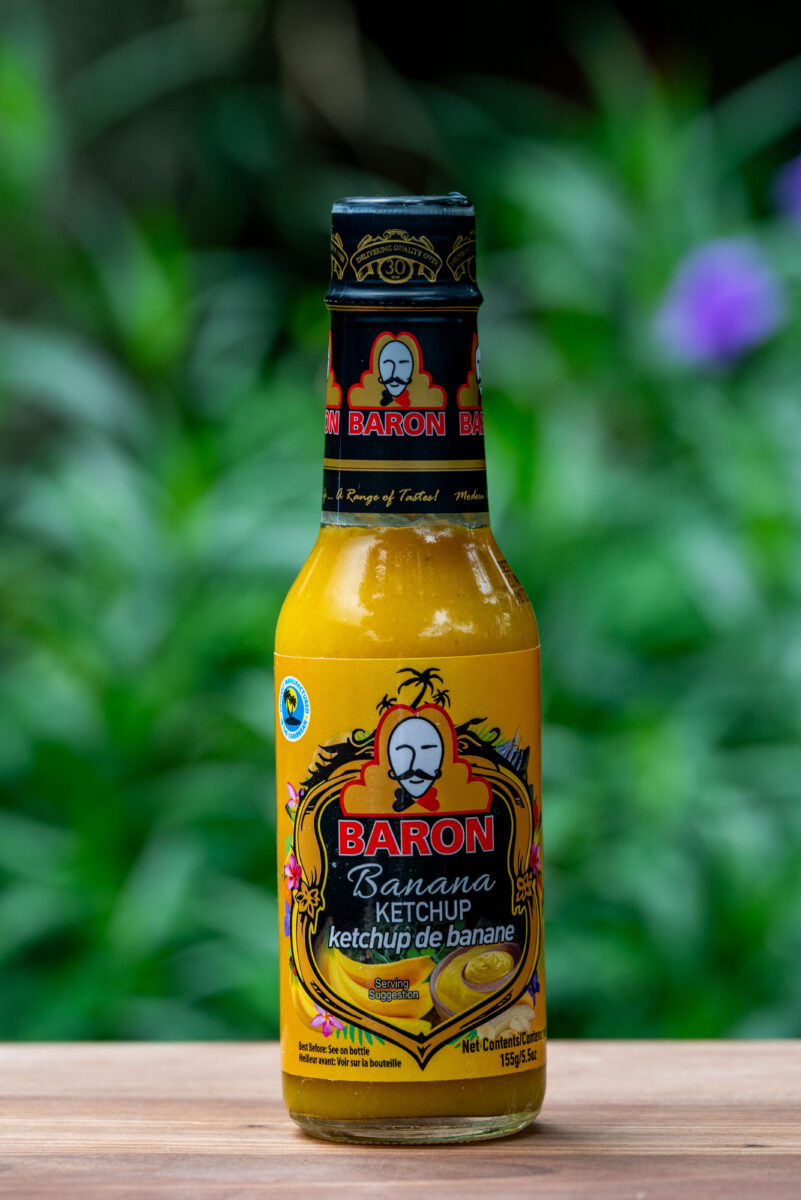 Caribbean banana ketchup is the same yellow-brown that Miss María first cooked up in the Philippines so long ago.
Editor's note: If you care about island life and sustainability, then please do get to know more about the incredible María Ylagan Orosa. A hero in multiple ways to the Philippine people, she should serve as an inspiration for all island people everywhere.
I, of course, love me some authenticity. Still, that color just didn't say ketchup to me. I couldn't get my mind around it. There's no way, I thought, that it could be any good.
What Does Banana Ketchup Taste Like?
Yeah, I was wrong.
Forget the color. If you like regular red American ketchup, then you'll like banana ketchup as well.
The taste is surprisingly similar to tomato ketchup. Added hints of garlic, onion, and spice, though, give it some decidedly West Indian flair.
As with any ketchup, the banana brand is good on lots of junk food faves. Fries, burgers, hot dogs – all benefit from this yellow/brown beauty.
Where to buy banana ketchup
There exist several good sources for banana ketchup recipes online. (Here's one that even includes rum!)
If you, like me, aren't necessarily inclined to mix up your own, though, it's plenty easy to order a bottle online. The Baron brand from St Lucia is particularly good and readily available via Amazon.com.
Related Posts