Pickapeppa Sauce: Taste Jamaica's Most Versatile Condiment
Jerk may be the most famous home-grown flavor of Jamaica (and with good reason, if you ask me), but it's certainly not the only one. Next time you're down there, do yourself a favor and discover the many varied wonders of the one condiment that supermodel Naomi Campbell never leaves home without: Pickapeppa Sauce.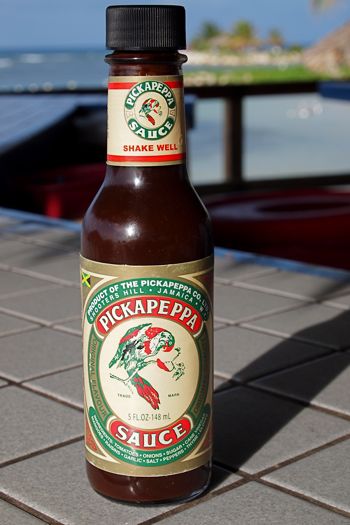 What is Pickapeppa Sauce
Sometimes called Jamaican A-1, Pickapeppa Sauce is a unique combination of tomatoes, onions, sugar, cane vinegar, mangoes, raisins, tamarind, garlic, salt, peppers, thyme and cloves. There are some "secret ingredients" as well. The true formula is apparently known only to a few members of the family that now runs the company.
Still, copycat recipes can be found. Though, I wouldn't recommend anything but the real deal found in the bottle pictured here. Mainly because there's no way for most of us to replicate one of the key steps that makes Pickapeppa so special: aging.
Indeed, a Pickapeppa Sauce enjoyed before its time is simply not a Pickapeppa Sauce. That time, by the way, is one full year, so don't try to brew up your own unless you have some patience.
Oh, and you'll also need some oak barrels, 'cause it's aged in oak barrels. You know, like rum.
If you have the means and resources to pull all that off, then that copycat recipe may work for you. No offense, but I'm betting that your sauce won't approach the distinctive flavor of the original Pickapeppa. As it's been long-celebrated for its ability to add both sweetness and spice to virtually any meal.
Best uses for Pickapeppa
And when I say any meal, I do mean ANY meal! A quick check of the label reveals that Pickapeppa brings a taste of Jamaica to everything from seafood, salads, gravies and cheese dishes, to soups, meats, game roasts and more! Just dab it on whatever you're eating, or pour some out for dipping. Pickapeppa is thick and brown with the consistency of ketchup, so really you can use it in a similar fashion to its red tomato-based cousin.
For uncommon travelers, this special sauce also brings the promise of adventure, as a trek to the site of its origin presents a rewarding excursion off those world famous Jamaican beaches.
Exploring the source
Pickapeppa comes from the small village of Shooter's Hill. It's located up in the hills of Manchester in Jamaica's central region, southwest of Montego Bay. More specifically, it comes from the kitchen of Norman Nash. He developed the original recipe and started the Pickapeppa Company Limited in 1921.
Like Grenada's Morne Délice Nutmeg Jam, Pickapeppa started out as a local concern marketed and distributed among area grocers. The business grew steadily, but eventually Nash gave way to Joseph Lyn Kee Chow, who acquired the company in 1945 bringing growth and expansion.
Times may have changed, and the added resources of new ownership certainly had an impact, but one thing that has never changed is the Pickapeppa Sauce itself. As noted on the Pickapeppa Company website:
Today, the Company prides itself in maintaining the distinct quality, taste and flavor as it was then.
Well, I wasn't around "then," but I can certainly attest for the excellence of Pickapeppa's flavor now! Pick up a bottle (buy it here) and see for yourself. Or better yet, head down to Jamaica and visit the Pickapeppa factory to get the real taste from the source.
I've read that Joseph Lyn Kee Chow, oldest member of the Lyn Kee Chow family, can occasionally be found on-site. Ensuring the consistent quality of this legendary condiment. Imagine the thrill of meeting him and getting to pick his brain about Pickapeppa's history and myriad uses.
Now that's the kind of culinary adventure I'd love to sink my teeth into!
Related Posts