Scotchies Montego Bay – Roadside Mecca of Authentic Jamaican Jerk
Even in the most touristy of regional destinations, a taste of the true Caribbean is never too far away. Case in point: Scotchies Montego Bay.
Best Jerk Outside of Boston
For my money, this roadside eatery located within easy walking distance of the Holiday Inn Resort Montego Bay serves up the best jerk chicken outside of Boston Beach, the magical part of Jamaica where jerk cuisine originated. This makes sense because the original chef at Scotchies Montego Bay is actually from Boston Beach. He brought the secrets of jerk seasoning with him, passing them down to Scotchies' current chefs to the delight of the residents of MoBay, and the few travelers smart enough to mix in some genuine local flavor with their resort vacations.
During a Spring Break 2010 visit, I was one of maybe six or seven visitors during a busy Friday lunch period. The local crowd was a mix of businessmen in ties and starched shirts, professional women in suits and heels, tradesmen bearing the stains of hard labor on their clothes, and idlers "working" their way through another day of drink and talk.
You could learn a lot about Jamaica hanging out in a place like this and striking up a few friendly conversations. On my admittedly rushed visit, though, I was all about the food.
Like the vibe at Scotchies Montego Bay, the food presentation is very laid back. The jerk chicken I ordered with a side of festivals came loosely wrapped in tin foil; no plates. Plastic utensils were available, but you're better off digging into Scotchies' treasures with your hands, the better to savor every last bit of flavor off your fingers when you're done.
Don't Miss The Magic Bowl
The jerk is great on its own. To really get your taste buds singing, though. you'll want the stuff in the unassuming bowl pictured below.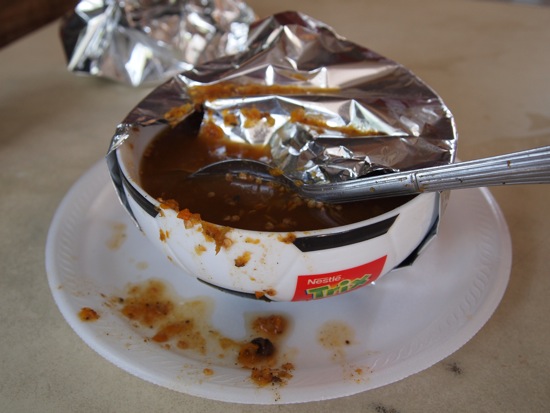 A spicy mix of pepper and vinegar, this concoction adds a marvelously flavorful kick. It's hot enough to keep your Jamaican beer of choice flowing, but not so hot as to incapacitate your mouth. The bowl is located on the counter where you get your foil-wrapped food. Believe me, you won't want to miss it!
I love everything about Scotchies, even the price. My friend and I both ate our fill of jerk chicken (two quarters), rice & beans, and four festivals, while I enjoyed an ice-cold Dragon Stout to her fruit juice. Total cost: about $10.
Getting to Scotchies Montego Bay
Scotchies Montego Bay is open daily from 10am to 10pm. To find this slice of down-home Jamaican gastronomy, just get yourself to Falmouth Road. The four-lane highway runs east-west along the coat connecting Montego Bay and Falmouth. Scotchies is on the south side of the road about a mile east of the Sangster International Airport. It's hard to miss and well worth the trip for anyone looking for the real Jamaica in MoBay.
Related Posts