Grace Jamaican Ketchup: Singing Praises to Local Spices
You may have never set foot in Jamaica, but if you know great reggae, then you've probably already sung the praises of Grace Jamaican Ketchup. With just a few lines in his early-80's hit Mad Over Me, Yellowman elevated the simple condiment to iconic Caribbean cultural status. You know the words…
One thing with dem when them get hungry
Dis is what they say to me, I like my hot hot hotdog
With what? Grace Jamaican Ketchup
I like my hot hamburger
With what? Grace Jamaican Ketchup
Fish and chips and chicken and chips and almost everything nice with chips
Macaroni, rice and peas you lick you lips
Lots of ketchup please
Grace Jamaican Ketchup
Grace Jamaican Ketchup
I'd known the song for years. (Actually, I always thought the lyric was fresh Jamaican ketchup.) Never before, though, had I enjoyed the stuff until visiting the Holiday Inn Resort in Montego Bay a few years ago. I usually stick to the local cuisine on my travels. I'm talking hole-in-the-wall roadside eateries like Scotchie's just a stone's throw from the resort. As I kept hearing other guests praising the quality of the burgers down on the pool deck, though, I just had to give it a try.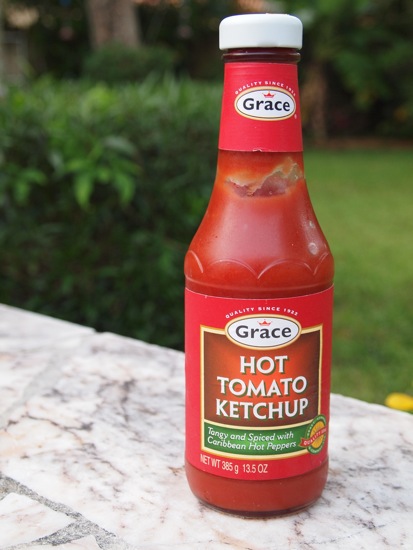 On their own, the burgers were nice. Adding the Grace Jamaican Ketchup, though, made 'em amazing!
Why is Grace Jamaican Ketchup so good?
The secret to the special ketchup is printed right on the label – Grace adds local spices and hot peppers, giving a nice kick to this normally staid condiment. Grace doesn't go overboard, though. Not too hot and not too spicy, Grace Tomato Ketchup is the perfect balance of fire and flavor.
If you want to add a taste of Jamaica to your summer cook-out, click here to order a bottle online. Trust me, everyone at your next BBQ will be 'Mad Over You' if you do…
Related Posts