Angostura Bloody Mary Seasoning: Taste of the Caribbean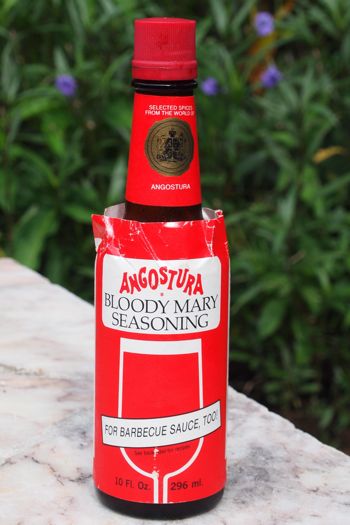 Apropos of today's Halloween celebrations here in the States, we've got a taste for blood!
Sadly, though, I couldn't find any blood sausage today (that will have to wait 'til Halloween 2012), so let's settle for something a little more tame, though no less tasty – Angostura Bloody Mary Seasoning!
Everybody knows Trinidad & Tobago's Angostura Limited for its world famous Aromatic Bitters. Many of you are also no doubt aware of their fine collection of rums. Hopefully, some of you will even remember my favorite Caribbean soft drink – Lemon, Lime & Bitters – also an Angostura product.
I gotta' admit, though, that this Bloody Mary Seasoning was a surprise to me when I found it recently in my local West Indian grocery store. Loving Bloody Mary's and just about all things Trinidad & Tobago, of course, I couldn't resist picking it up.
Some might say this post would be better suited for a Friday, but don't let the name fool you: this stuff works wonders with way more treats than just Bloody Mary's. From the bottle:
Adds flavor and spice and everything nice to meat or barbecue sauce, marinades, soups, dressings, hamburgers, stews, meat loaf and casseroles.
Wow, if anything can add something nice to meatloaf, it can't be bad, right?
Like its more famous Aromatic Bitters bredren, Angostura Bloody Mary Seasoning consists of just a few simple ingredients, combined nicely to create something special. In the case of the Bloody Mary Seasoning, there are six ingredients – Worcestershire Sauce, red pepper sauce, salt, celery flavoring, natural lemon flavor and Angostura Aromatic Bitters. (Trace levels of sodium benzoate are also employed as a preservative).
So, how does it taste?
Well, my wife was kind enough to whip-up some Bloody Mary's yesterday so we could give it a try. The flavor is decidedly heavy on the Worcestershire, though sweetened somewhat by the bitters. It's nice, but to me it lacks the kind of kick I usually look for in a truly great Bloody Mary. To fix that, just add a dab of horseradish sauce and a lil' tabasco.
It is the Witching Season, after all… no better time for a little extra Hell-fire in your glass!
Happy Halloween!
Related Posts