Caribean Wallpaper Wednesday: The Beautiful Women of Brooklyn's Carnival Festivities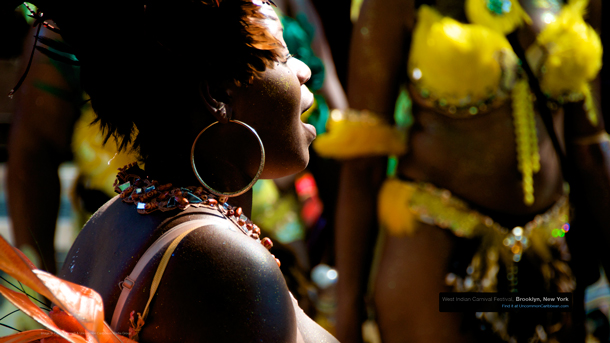 Beautiful women. Colorful, barely there outfits. Feathers. Sequins. Sun. Curry. Dhalpuri. Stew Chicken. Maubi. Sorrel. Towers of chest rattling speakers weighing down 18-wheelers.
This. Is. Carnival!
As Steve previously revealed, neither of us Uncommon Caribbean brothers have had the pleasure of playing mas in our ancestral island home of Trinidad (will 2012 finally be the year?), but I never miss the West Indian Carnival Parade every Labor Day here in Brooklyn, New York… Well, never except this year.
Yeah, sadly this year I'll actually be on-site somewhere in the Caribbean—exploring off-the-beaten-path sites, tastes and adventures to report back on for all of you, our well-travelled readers.
So, with the official Welcome Festivities set to kick off on Thursday September 1st, I thought I'd put a taste of the festivities on my desktop. A poor consolation, I know, but it'll have to do.
I might miss the Brass Fest of the 2nd, the Junior Carnival and Steel Band Panorama on the 3rd, Dimanche Gras on the 4th and the big one: The Labor Day Parade on the 5th… But at least with this image of past revelers soaking in the moment adorning my computer, I'll have reminisced for a week. Maybe that'll tide me over until next year. (Or Trinidad Carnival!)
If you're lucky enough to be in the New York City area for any of those days, do yourself a favor and join in the fun.
If, like me, you'll be unable to attend, just click the link below to download this week's wallpaper desktop for a taste of the fête you'll be missing.
Enjoy!
Click to Download now
Related Posts