On Water Island, Hide Away From It ALL At Dinghy's Beach Bar
Don't be surprised if you want to leave St. Thomas soon after you arrive. No, this isn't some put down post driven by the sibling rivalry between St. Thomas and our home island of St. Croix, 68 miles to the south. (We're past all that now.) The real enticement to leave comes from the myriad of satellite islands located within easy reach of St. Thomas' shores. Thatch Cay, Inner and Outer Brass, Hassel Island, Great St. James, Buck Island (the Thomian version) all invite all manner of island-hopping adventures. If you want said adventures to be of the boozy/beachy variety, then you'll want to give Water Island a try.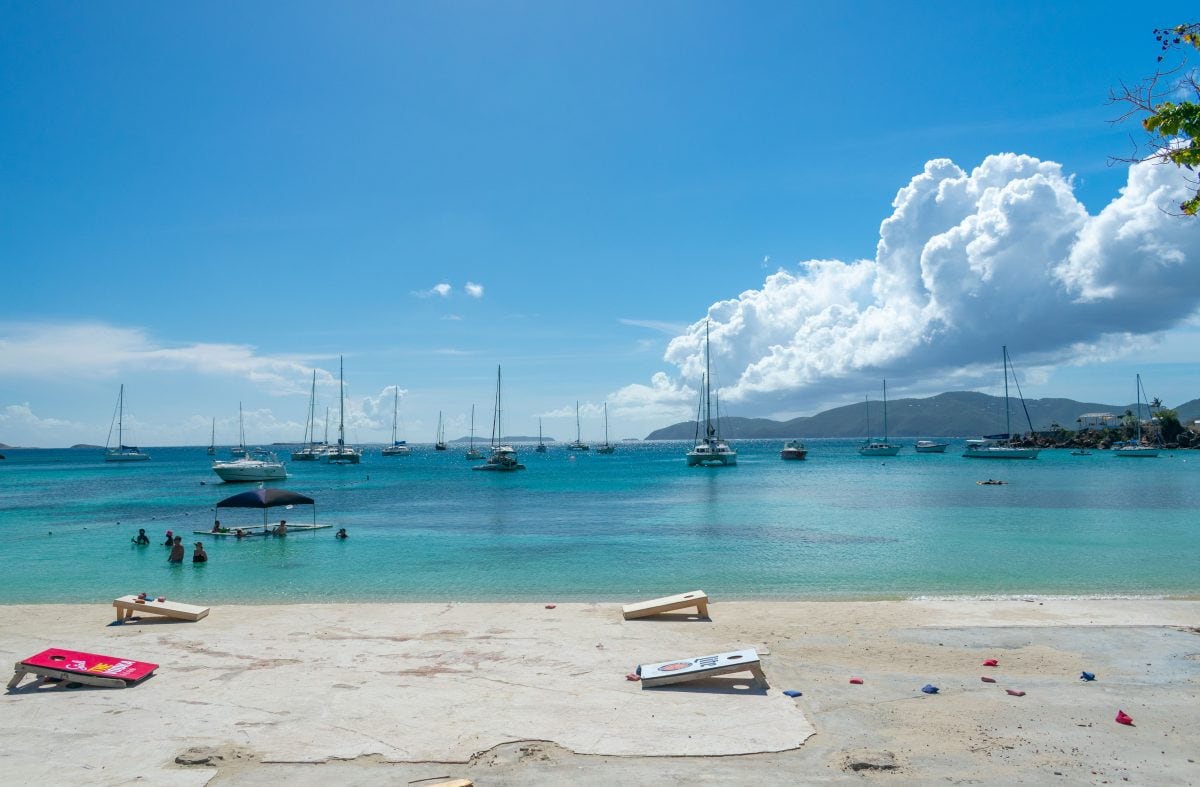 Sitting a short 10-minute ferry ride from Crown Bay Marina in Charlotte Amalie Harbor, Water Island measures just three-quarters of a square mile in size. This little island is BIG on fun, though, as we discovered upon wandering into Dinghy's Beach Bar & Grill here on Honeymoon Beach back in May.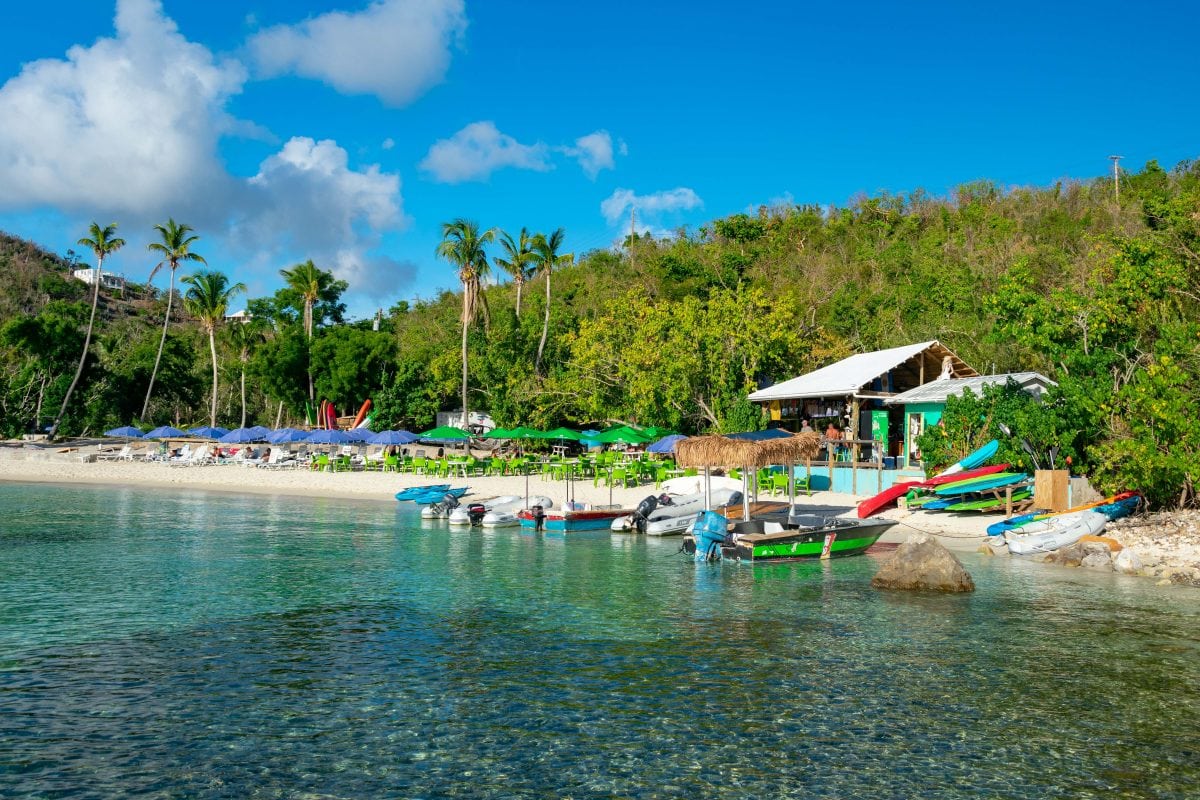 A little loud, A LOT sweaty, and all kinds of sultry, Dinghy's Beach Bar is, in many ways, the very embodiment of The Mos Eisley Cantina of Star Wars fame… Minus the dark and smoky surrounds, the fighting, droids, and stormtroopers, of course.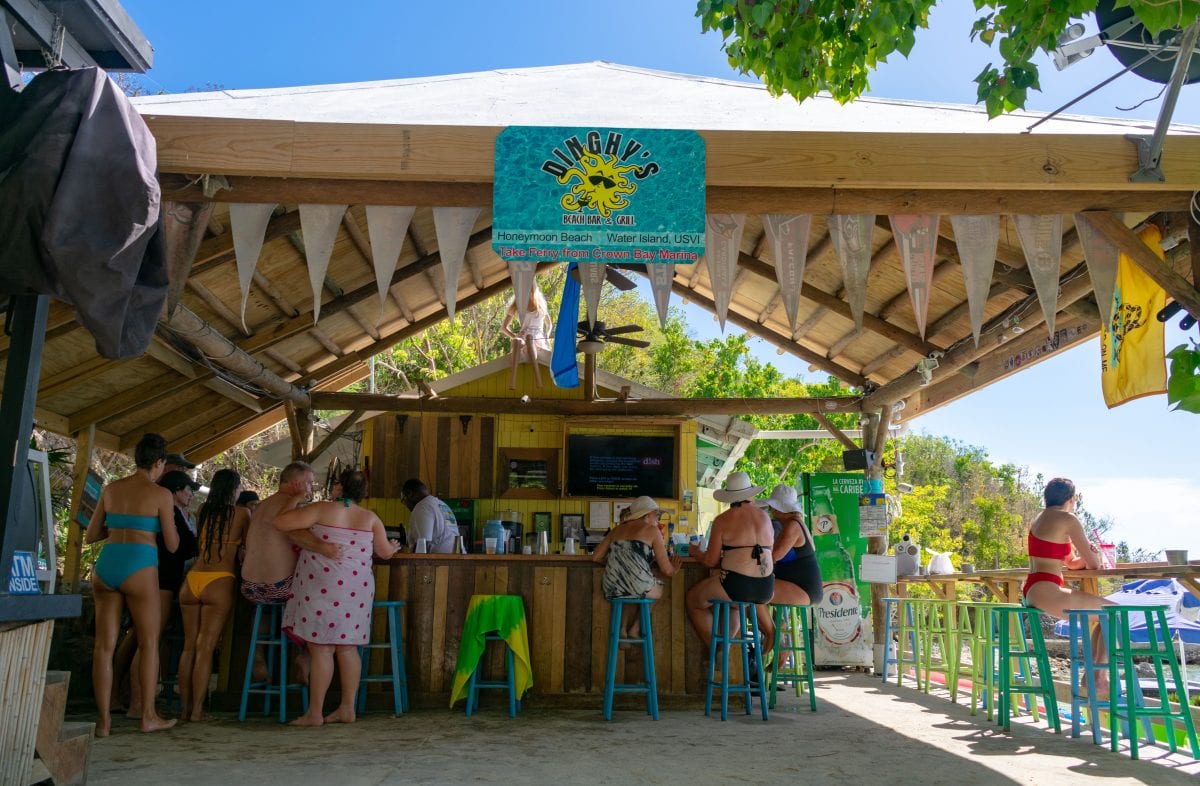 We encountered all types of people here. Young and old. Locals and tourists from the United States and beyond.
Various colors, creeds, and even a few four-legged creatures were all here, everyone seemingly hiding from something (someone?) beneath swaying palm trees on an exceedingly warm and brilliant Thursday afternoon.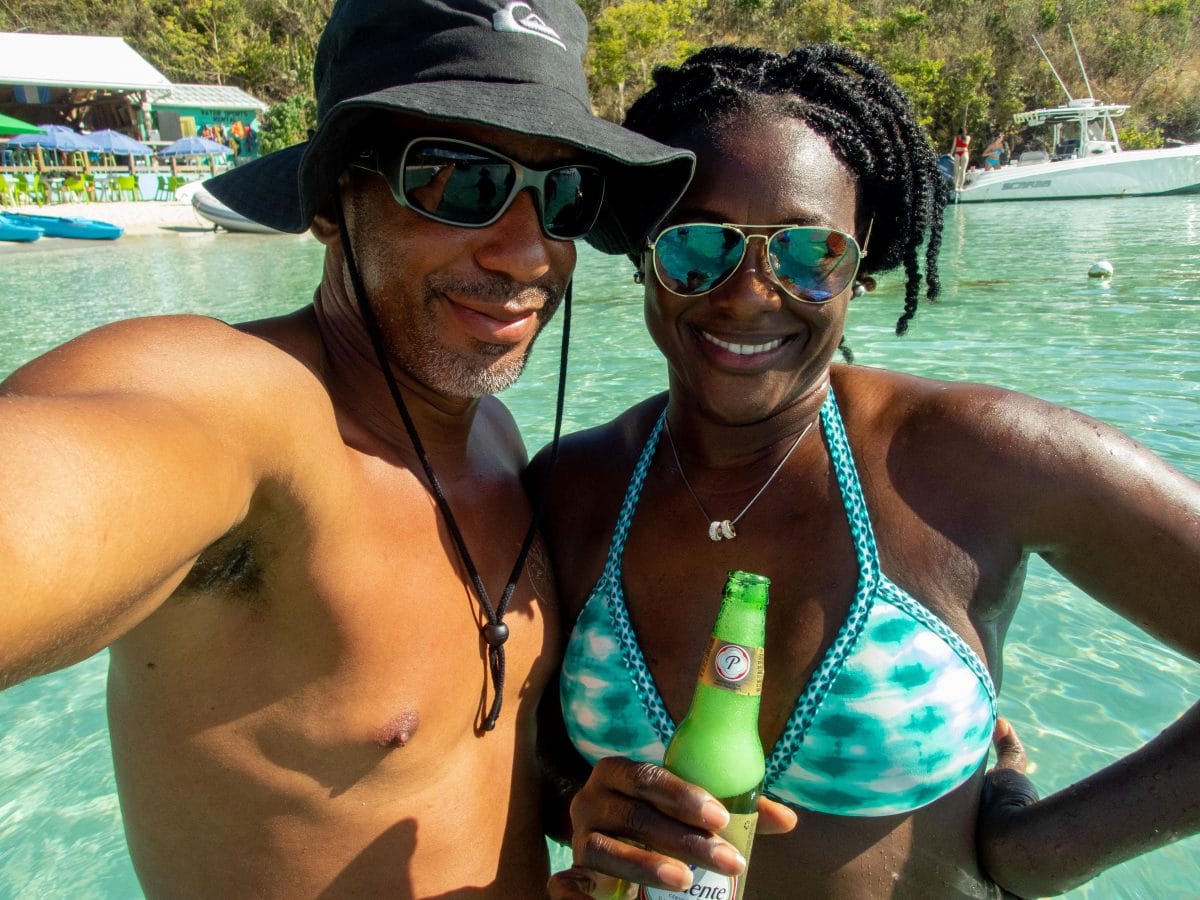 Most everywhere else we'd visited in St. Thomas to that point of our trip had been pretty empty, the after-effects of hurricanes Irma and Maria on the islands of the US Virgin Islands keeping crowds to a minimum. Not so at Dinghy's. The bar here was pretty packed, especially considering it was the middle of the week and not a holiday. Clearly, there's something special about this place, but what was it?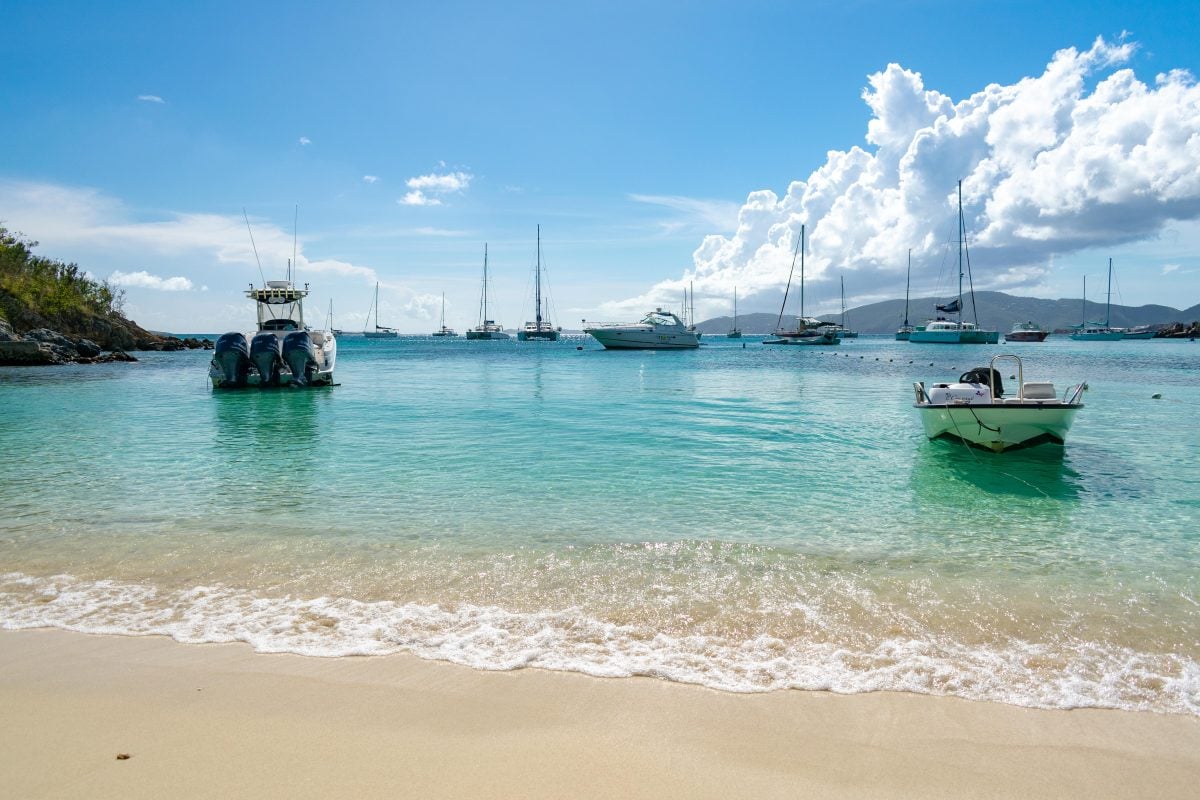 There's no particular exceptional signature drink at Dinghy's, at least not one that the bartenders were willing to boast about. The food was pretty okay too, but again, no real standout. What could it be that made this place so special?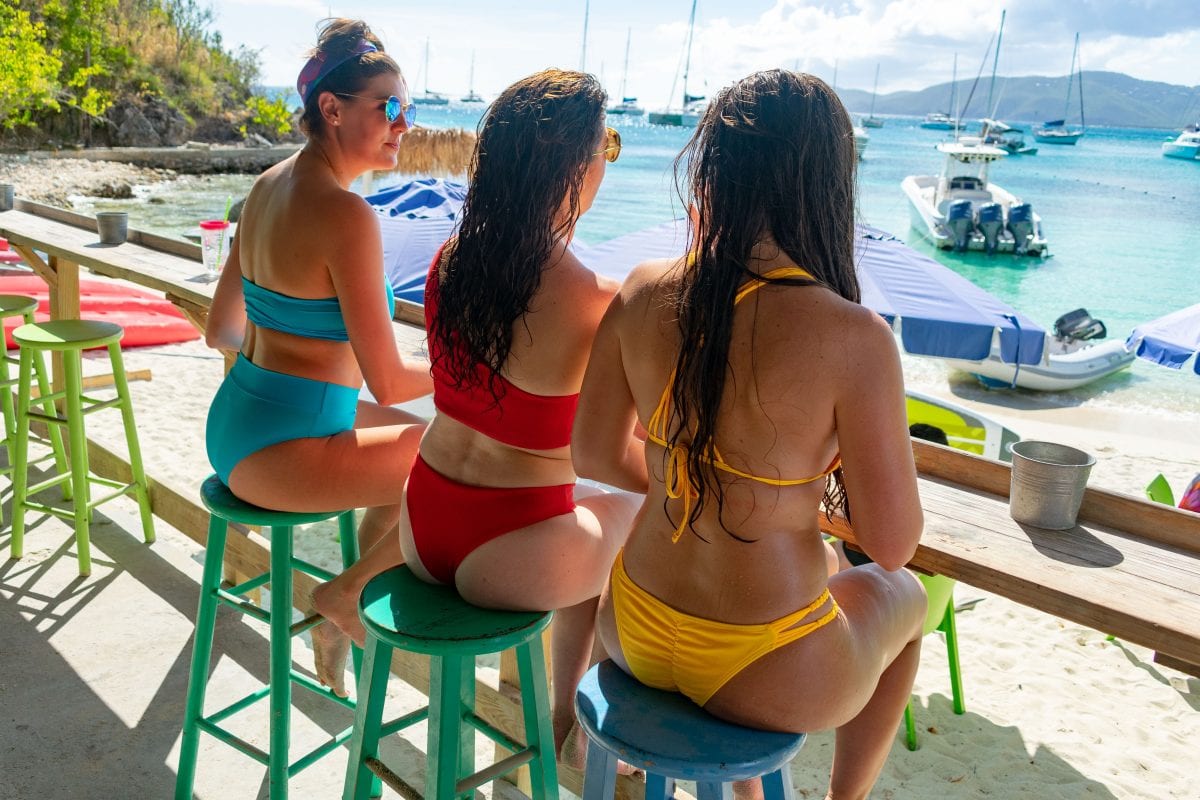 In the end, we never arrived at an answer, which didn't matter one bit, of course. You don't come to a place like Dinghy's to find answers. You come here mostly to forget stuff and live your best life out loud, in ultra-bright colors, and with little regard for anything even remotely resembling responsibility.
Getting to Dinghy's + Water Island
If you can find your way to a bar called Tickles at Crown Bay Marina, and you have $10, then you'll easily find your way to Water Island. The Water Island Ferry leaves from the dock directly in front of Tickles. Once over on Water Island, a charmingly ramshackle safari-style taxi truck will ferry you the three to four minutes over the hill to Honeymoon Beach and Dinghy's. It's definitely close enough to walk, though, if you'd rather get some exercise and enjoy the seascapes along the way.
Once over at Dinghy's/Honeymoon Beach, delight in the bar scene and all that the beach has to offer. Tables and chairs are free for bar patrons, while an on-site water sports outfitter can set you up with snorkel gear, kayaks, and/or paddleboards.
Related Posts