Four Must-do's for Your Next Anguilla Vacation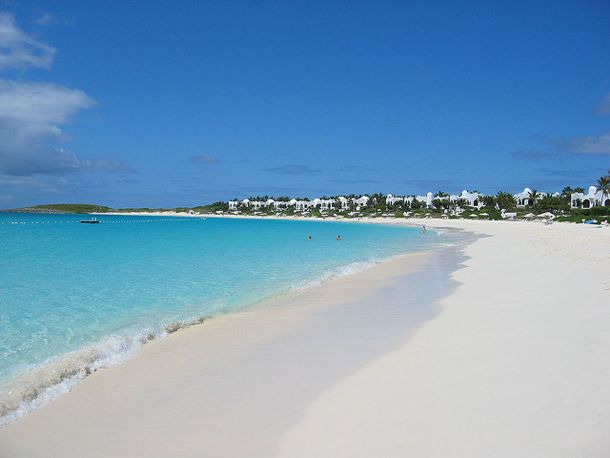 As noted here, my one and so far only stop in Anguilla left a very positive impression, though it was far too short for me to gain any even remote expertise on the island. So, when UC reader, Youthman Ian Nisbett, approached us via Facebook for pointers on things to see and do here ahead of an upcoming visit, I was at a loss. Outside of touting the exceptional friendliness of the people and the strong capabilities of the island's small airport toward hosting a press conference, I really had no other first-hand knowledge to impart.
Ever anxious to please our readers, I sought out the sage advice of an uncommon traveler with an informed expertise abject obsession with all things Anguilla. Her name is Patty G., and she's the woman behind IslandObsessions.com.
The title of her blog gives the impression that Patty covers all islands everywhere, and maybe someday she will, but for now Patty is all about Anguilla.
How obsessed is Patty with Anguilla? Try three trips in nine months! (Don't ask me how she holds down a day job).
When I told Patty about Youthman's query, I expected three or four bullet points. What I got instead was a 1,300-word email chock-full of excellent insight and advice! That's enough info for three or four typical Uncommon Caribbean posts! Believe me, it's all good stuff, the full complement of which we'll be sure to share soon enough. For today, though, here are four of Patty's suggestions that you may want to consider for your next Anguilla vacation…
Must-eat: The Sandbar, Sandy Ground
Opened within the last year, Sandbar is a small and posh little spot right on the beach that serves tapas – smaller portions, with the idea being that because the servings are small, you can sample more items from the menu. My personal selection from the menu is the duck with pancakes and mango chutney (the pancakes are used to roll up the duck & chutney) – yummmm!  Almost everything I've tried here is delicious and has the benefit of being affordable too! If you're adventurous, be sure to sample the pineapple-infused rum and/or vodka from the bar! SandBar is very popular with both locals and island visitors.
Must-party, Thursdays: The Pumphouse, Sandy Ground
Thursday nights are when local favorites, The Musical Brothers, usually play and they draw huge crowds for a night of fun and dancing. Many times it is standing-room-only on Thursday night, but that's because the music, dancing and the crowds are so good!
Must-party, Sundays: Gwen's Reggae Grill, Shoal Bay East
This spot has recently been rebuilt due to a fire that damaged much of their old building. Local couple Tap and Gwen are troopers though, and were back in business fairly quickly and are now up and running serving their delicious barbecue (chicken/ribs) and burgers on the beach just like they used to. They even have hammocks set up underneath the coconut trees – a beautiful place to relax!
On Sunday afternoons, Tap gets together with his Scratch Band to play some great reggae and other island-themed music with Tap on guitar and other band members on "old-school" (if you can even call it that!) instruments like a pair of beer bottles, a stick on a tin can, two pieces of metal re-bar, or a can full of beans/rice! It has been a different combination of instruments every time I've seen them, so I wonder if sometimes they just pick up whatever they can find and make some awesome music!
Must-do Excursion: Catamaran sail on The Chocolat with Capt Rollins
When I went on this trip, it ended up being one of the best days I've ever spent in Anguilla! Captain Rollins, a hilariously entertaining character in and of himself, will take a small group of guests (~10-15 people – sometimes less) on a day trip to neighboring Sandy Island and Prickly Pear island where you can swim and/or lounge on the beaches.  Both locations are also great for snorkeling, but can get a bit crowded since catamarans from St. Martin also bring people here on day trips. Captain Rollins' wife, Jacquie, owns and runs Ripples restaurant in Anguilla, so you may be treated to one of her meals for lunch. Otherwise, there is a restaurant on Prickly Pear Island where you can get your meal. In any case, lunch is usually included in the price of the day-trip, so no worries – you will get fed! For information on rates and reservations contact Jacquie by phone 264-497-3394 or by email ruan@anguillanet.com.
Great stuff, right? We'll share more of Patty's recommendations in the weeks to come.
Also, here's wishing safe travels to Youthman. Let us know if the tips come in handy, or if you discover a few unique must-do's of your own…
Related Posts