Hit The Buzz Antigua for Late-Night BBQ Munchies
It's easy to overdo it in Antigua, especially on a Saturday night when there's a big cricket match on-island and great friends like Wadadli Gold and English Harbour keep encouraging you to stay out just a wee bit longer. "Just one more," they whispered repeatedly as I made my way back to my pampered perch high atop the sublime Sugar Ridge Hotel.
Fortunately for me, I wasn't driving. Also good, my driver was hungry. Even better, he knew to stop at The Buzz.
Loud, local, and right along the road, The Buzz Antigua embodies many of the choice characteristics I look for in an authentic West Indian watering hole. We stumbled in here at minutes to 1 am, but the Machel Montano was blaring like it was midday on Carnival Tuesday back in Port-of-Spain!
Outside on the patio fronting the street, a lone BBQ chef manned two grills, smoking out the neighborhood to the delight of passing motorists, many of whom soon circled back, no doubt deterred from their original path by the scrumptious smells.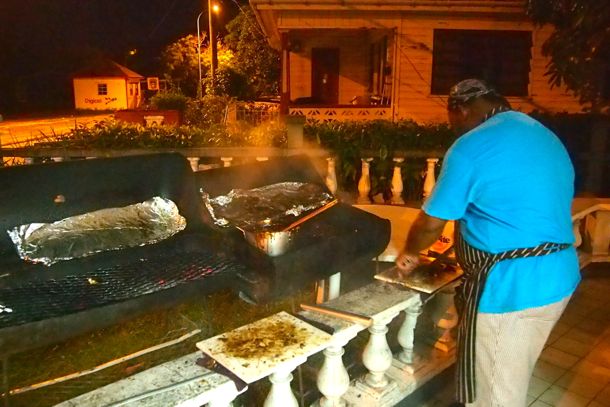 The Buzz is probably most beloved for its BBQ chicken, but I can only vouch for the excellence of their pork as the chicken was long gone by the time we arrived. Smoky, saucy, grease-filled and messy – the perfect late-night munchie!
The staff was pretty cool too, though not overly chatty. (There wasn't much talking with all the loud music.) Like most places, everyone was plenty friendly and welcoming when approached with a smile.
Inside The Buzz, another surprise…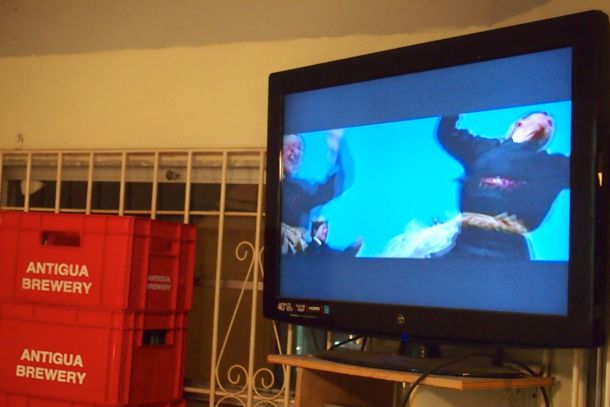 Yep, Kung Fu flicks on the flatscreen! USA Network's old Kung Fu Theater series was must-see TV in the Bennett household during my childhood years in St. Croix. Seeing these flying fists of fury at such an unlikely hour, in such an uncommon spot really made my quick stop at The Buzz a big highlight of my stay in Antigua.
The Buzz is located just a few minutes from Sugar Ridge. When exiting the property, make a right and follow the main road till you see the sign at the head of the post on your right. It's seriously impossible to miss, and well worth a stop for great late-night BBQ, and if you're lucky, some cool Kung Fu.
Related Posts