Goombay Punch: Get Hit by a Sugar Blitz in The Bahamas
Every Caribbean destination boasts of its warm and welcoming hospitality, but there's only one place where you're guaranteed to get a smile each and every time. The place: The Bahamas. The guaranteed smiles? They come courtesy of the Caribbean's cutest soda: Bahamas Goombay Punch.
Just look at that face! Who could resist those wild googly eyes, that semi-crooked cheery smile and Caribbean-cool color scheme? Answer: no one.
Well, certainly not me. Every time I get to The Bahamas, I immediately set out in search of these smiling cans, that first sip reaffirming my return to the 242 like nothing else.
Maybe my words and this little guy's sly smile have you jonesing to pick up a can of Goombay Punch next time you're in The Bahamas. If so, be warned: like Malta India drink, this stuff is not for everyone.
Sweet, sweet Goombay Punch
Put simply, Bahamas Goombay Punch is one of the sweetest sodas to ever meet my lips.
A 12oz can of Coke has 39 grams of sugar and 140 calories. Goombay Punch's stats: 54 and 221. Sugar rush? Nah, this is more like a sugar blitz!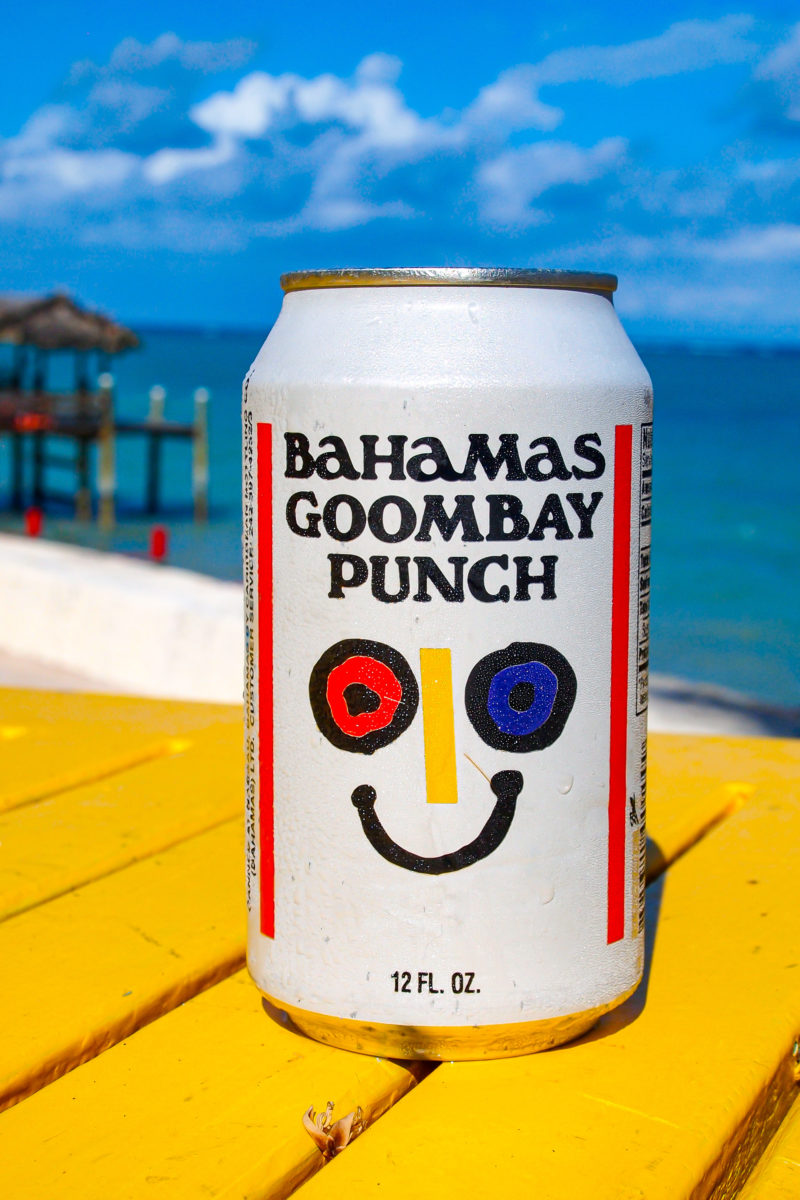 The flavor is an acquired taste as well. To me, it's like liquid bubble-gum, with a heaping helping of simple syrup… and maybe a few tablespoons of extra sugar thrown in for good measure.
Did I mention this stuff is sweet?
Seriously, if I let my kids go nuts with this stuff, I'm sure they'd end up looking exactly like the face on the can, bright yellow lines down the center of their faces and all.
Speaking of yellow, that's Goombay Punch's surprising color. I say surprising because, as I've written before, the best sugary-sweet drinks are always red. Somehow, though, Bahamas Goombay Punch is yellow, which I guess makes sense when you consider that pineapple and lemon are the two most prevalent flavors in this Punch.
Still, the flavor so makes me think it should be red, that I have a tough time drinking it out of a clear glass. Just can't seem to wrap my mind around the fact that my taste buds say it's the wrong color.
Either way, Bahamas Goombay Punch is delicious, fun and worth a try for anyone seeking a sweet taste of The Bahamas. Enjoy in moderation, though, lest you end up with those googly eyes…
Related Posts