Malta India: Call Me Crazy But I Love This Puerto Rico Drink
When it comes to fostering a taste and appreciation among my kids for all the treats and traditions I enjoyed while growing up in the Caribbean, my wonderful U.S.-born wife is good with all of it. All the exotic foods, offbeat traditions, music, folktales; everything! Everything, that is, except this drink: Malta India.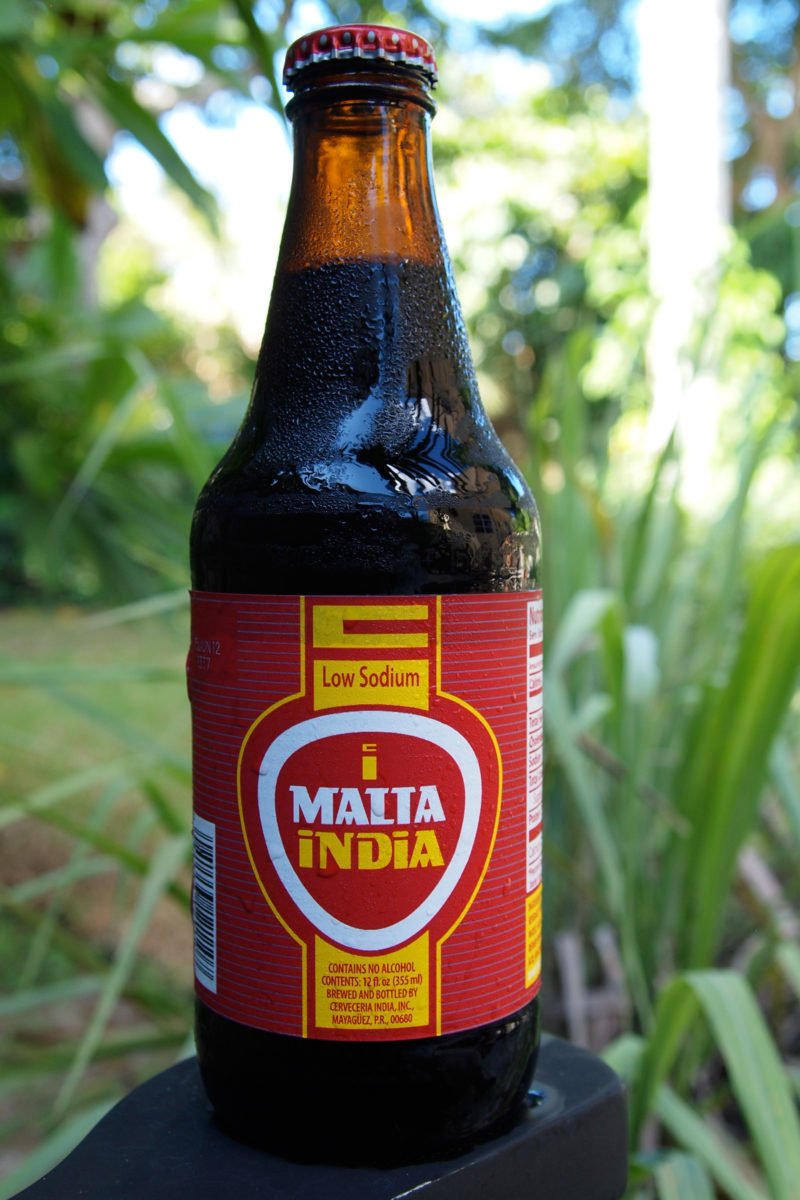 Unlike Ting soda, Lemon Lime and Bitters, Country Club Soda, Goombay Punch, and just about every other soda we've told you about before, this bad boy from Mayaguez, Puerto Rico is decidedly NOT for everyone. Of all the West Indian food and drink products I've introduced to my wife over the years, I'm pretty sure this is the only one she actually spit out.
Just the sight of a six pack of Malta India in our fridge makes her shudder to this day. If she were writing this review, it would be one word long. That word:
Bleah!
Now, everyone is entitled to their opinion (especially my wife!), but I couldn't disagree more about Malta India. Maybe I'm crazy, but I grew up with this stuff. Partly because I was exposed to the Malta India commercials on Puerto Rican television. Regardless, I loved it then and I still love it now!
But, the real question is will you love it, or even give it a try? Next time you find yourself stopping off at some convenience store somewhere in the Caribbean, will you go with my gut and pick up a bottle, or will you follow my wife's advice, and that of most every other soda reviewer anywhere?
Here are four reasons why you might be inclined to go with "them"…
What does Malta drink smell like?
Of course, I don't think it smells like some old laundry, but it doesn't smell like roses either. This malt beverage has a strong and very distinctive aroma that's heavy and very sweet, like a beer in mid-production, which, in fact, is what a malt soft drink is.
What does Malta India drink look like?
The first time I poured one of these for my wife, she said it looked like motor oil. I must admit, she's right. It's a super-thick and unbelievably dark caramel color.
How dark? Pour some in a glass. Hold it up to the sun. Take a look. Don't worry about your eyes; light will not pass through.
What does Malta India drink taste like?
If you like your soft drinks light and refreshing, then keep walking. Malta India is syrupy and ultra-sweet, packing 21g of sugar per each 12oz bottle. That's less than Coke, Sprite and energy drinks like this one, but the thickness makes it seem much sweeter, and much more filling.
Is Malta India an alcoholic drink?
Sadly, no. While it may be brewed from the finest barley and hops, Malta drink is, unfortunately, a non-alcoholic malt. Of course, zero alcohol content is good for all the kids drinking it throughout Puerto Rico and other parts of the Caribbean. But, maybe a poor reward for adults who endure the unique flavor.
So, this malt drink is a dark brown similar in color to motor oil, it smells funky, plus it tastes like molasses. And on top of all that, it has zero alcohol by volume! That doesn't leave much on my side of the argument, now does it?
Trust me, though, these "small" and "superficial" flaws pale in comparison to the rich, satisfying flavor of an ice-cold Malta India. If you're partial to rich stout beers, or you want a soda that drinks like a meal, then Malta India may just be right for you.
¡Salud!
Related Posts