Cracked Conch: A Must-Taste Treat When Visiting The Bahamas
Queen Conch; the slimy sea-dweller with the swanky shell is on most every menu up and down the Caribbean archipelago, prepared in as many styles as Bubba boasts for shrimp. Think conch fritters, curry conch, and today's treat cracked conch. They're also disappearing at an alarming rate.
Concern for Cracked Conch
During my childhood years in St. Croix, I remember scores of conch being easy to find in the shallow, protected waters off the island's southeastern shore. These days they're pretty scarce across much of the USVI, even with the recent series of limits put in place to combat overfishing.
Other Caribbean countries aren't immune to the overfishing problem either. The U.S. has banned conch importation from a number of Caribbean countries in recent years, while in The Bahamas, where Queen Conch is King, the monarch's powers are less than absolute these days.
Still, millions of Caribbean visitors never think twice about devouring a steaming plate of cracked conch like the one pictured above that I enjoyed at Compass Point in Nassau a few weeks ago.
Maybe the turtles get more/better press.
Maybe cute characters like these guys help.
Or maybe, it's because Queen Conch looks like this: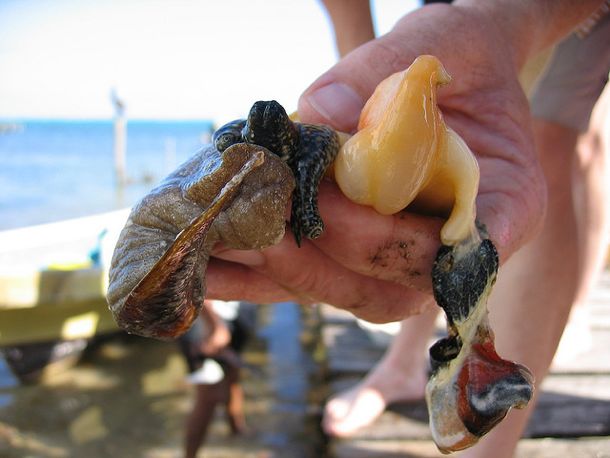 Not too terribly appealing, eh?
Queen Conch may not be a looker, but conch meat sure is tasty! Hopefully, organizations like Community Conch will be successful in helping to conserve the Queen Conch population so that we all can eat our fill whenever we're in the islands. For my part, I can say any visit to The Bahamas without a taste of cracked conch just wouldn't seem right.
Here's how you make it…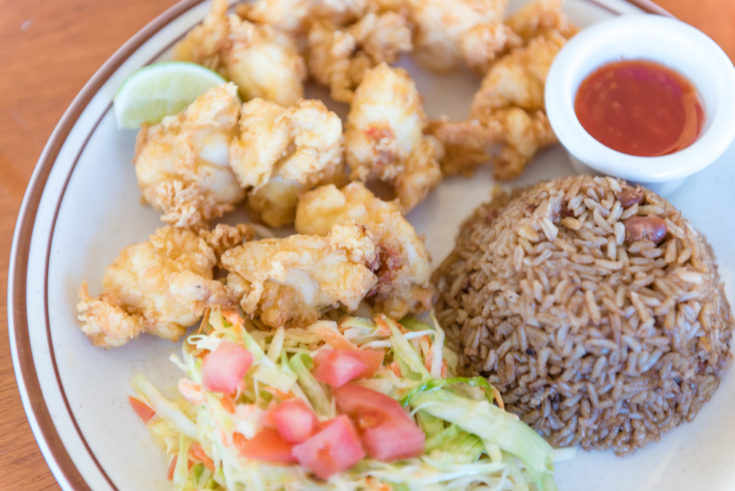 Yield:

4 servings
Cracked Conch Bahamas Style
Cracked conch is a deep-fried dish that's a bit like fried calamari, though much more filling and flavorful. Served with fries, rice and beans, or coleslaw, cracked conch is a hearty meal that's great for lunch or dinner.
Ingredients
4 large Conch
2 Eggs, beaten
.5 cups Evaporated milk
.5 teaspoons Salt
.25 teaspoons Pepper
.5 cup All-Purpose Flour
Oil for Frying
Instructions
If you haven't done so already, clean your conch by removing all the dark skin and meat. You should be left with only white meat.
Pound your conch meat with a metal mallet until it's thin and tender.
Slice conch into strips.
Grab a bowl and mix together your eggs, evaporated milk, salt, and pepper.
Dip your conch strips into the milky mixture one by one, ensuring that all areas of the meat are covered.
Roll each strip in your flour, again ensuring full coverage.
Warm up about a 1/4-inch of cooking oil in your pot. Once it's hot, start adding your strips of conch.
Cook 'em until they're a nice, light golden brown, then fish 'em out and place them on a dish lined with paper towels to sop up the excess cooking oil.
Allow the conch to cool a bit, pair with your choice of side, and serve. When enjoying, try a squeeze of fresh lime juice to brighten the flavors.
Related Posts