Where To Find The Best Conch Salad in Bimini
Editor's note: Who makes the best conch salad in The Bahamas? Impossible as this question may be to answer, we nevertheless take great joy in researching any and all contenders. The latest among them, Joe's Conch Shack in North Bimini, was put to the UC test recently by our good friend Laura Albritton…
Eat at Joe's!
Some variation of this iconic slogan was the response given to my queries over where to find the best conch salad in Bimini during the initial hours of a recent escape there with my husband, Zickie. To me, conch salad is just about the ideal food in a warm, tropical climate – it's cool, refreshing, and often enjoyably spicy.
So on our first day in North Bimini, we hopped on our rental bicycles and peddled off in search of Joe's Conch Stand.
We cycled to the wooden stand at lunch-time, coasting up the short dirt driveway and lurching over to a stop. A big bold sign displaying a lady in a bikini announced that we'd come to the right place.
There was only one problem: the place was packed. I counted a good 25-30 people – women in bikinis, men in shorts, and kids in swim suits running among the gauntlet of grown-ups – all of them utterly intent on getting their conch salad, no matter the wait or the afternoon warmth.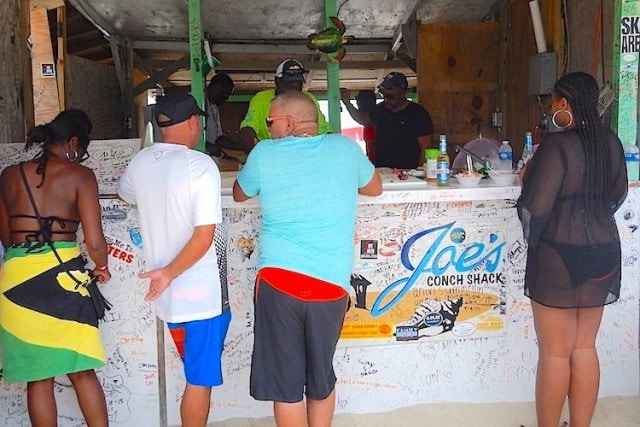 This wasn't fast food conch salad. Joe and his crew were hand-making dishes one by one, with a whole lot of care.
Hunger, though, got the better of us, so we peddled away in disappointment and ate a perfectly enjoyable lunch at the Bimini Big Game Club. After that, we explored the island, toured the Dolphin House, walked the beaches, and basically forgot all about Bimini's much vaunted specialty.
The next morning was, of course, a Sunday. The ocean off North Bimini shone under the sunlight as the turquoise waves came ashore with a ruffle of foam. Most locals were attending church, while a similarly large percentage of tourists were sleeping off their Saturday night revels. This made for a nice, quiet time to meander around on our bicycles, a wayward excursion that soon took us in the vicinity of Joe's once again.
Much to my amazement, the conch stand was open! (I'd wrongly assumed that they would be closed for church.) Needless to say, Zickie and I marched right up to Mr. Joe himself and ordered a conch salad for breakfast.
"I'm surprised you're open on a Sunday," I remarked, as Joe began to chop vegetables. He sighed, and told me that he had no choice. People demanded their conch.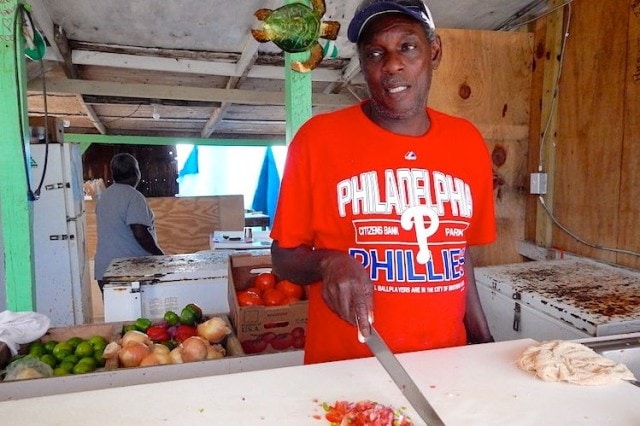 "I don't know how I got into this," he shrugged. "I was forced into it."
Zickie and I smiled. "Forced?" we echoed, a little skeptically.
He gestured upward with his knife. "I had to show some other folks that I was the best," he said.
Originally from Harbour Island, Joe works hard for months on end in Bimini, returning home periodically to take a break. As more customers started to gather near the counter, Joe suggested that he might take his talents back to Harbour Island permanently one day, because he was getting tired of working all the time! This idea seemed to stir up a slight panic in the growing crowd.
Meanwhile, he pointed to a Sharpie marker and told us we could sign our names on the wall, which we promptly did. Hundreds, if not thousands of names, dates, and comments swirled on every surface, adding to the sense of celebrity here.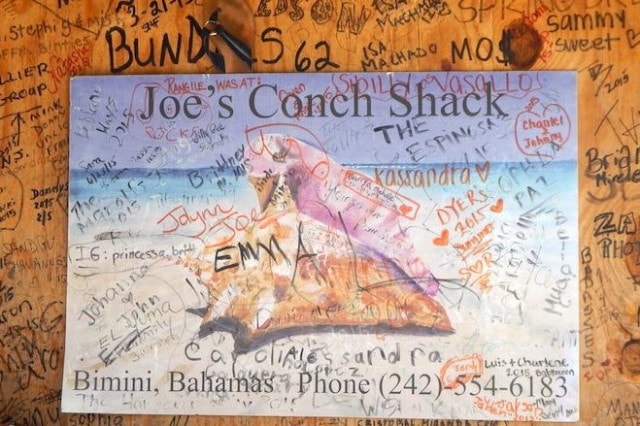 At last, Joe presented us with a simple Styrofoam bowl of conch salad. He also had a pepper sauce, which he warned was very hot. We retreated to a picnic table to try out the eats. My Jamaican husband liberally doused the conch salad with a mixture that contained scotch bonnets, one of the hottest peppers you can find in the Caribbean.
So, finally, how did Joe's creation taste? Just perfect.
The conch was cut into small pieces and wasn't rubbery, but cool and light in your mouth. The onions and green pepper added a nice touch of crunch and flavor. And the tomatoes were still firm and fresh; I remembered seeing Joe squeeze any extra water from the tomatoes after he'd chopped them. That was one reason why his conch salad didn't have that watery consistency you sometimes find in other versions.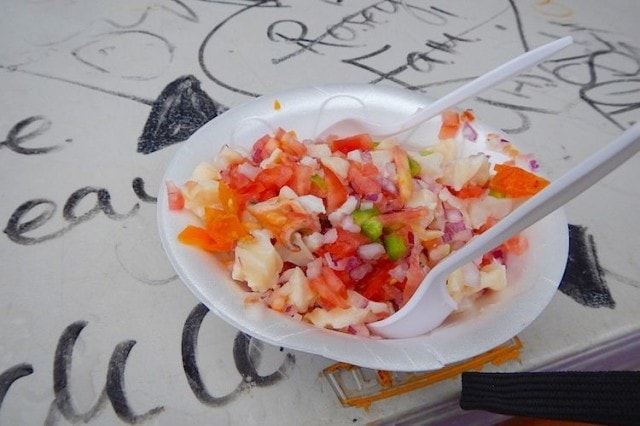 As for the pepper sauce? It truly set your mouth on fire, but in a good way.
We gobbled up every morsel, and called thanks to Joe, who was, by now, swamped with the late morning rush.
As we biked down the road, I nodded thoughtfully… You really can't make a trip to Bimini without eating at Joe's.
Mmmm… sounds like Joe can give our friend Rasta Steve, self-proclaimed producer of the world's best conch salad, a good run for his money! Someday we'll have to work out a way to try them side-by-side. Til then, enjoy more of Laura's travel tales on her fab Island Runaways blog.

*Lead photo credit: Flickr user Pietro Valocchi.
Related Posts