Mount Gay Extra Old Rum Foolproof Gift-Giving for Rum Lovers
As Black Friday and its attendant madness have no doubt reminded everyone today, the Holiday Season is here, and along with it, your questions over which rums make the best gifts. Friends, family, random shoppers we meet in liquor stores – everyone seems in search of rum gift recommendations this time of year.
We're more than happy to help, of course, though this is a question with no easy answers.
Rum represents as subjective an acquired taste as exists in the spirits world, a product, in part, of the wide-open criteria for what can actually constitute itself as rum. Some rums are better mixed than sipped. Price is another important consideration. Then you have all the different flavors, spiced blends, overproof powder kegs, bush rums… and don't get me started on the difference between rum and rhum!
How can you possibly pick the right rum (or rhum) to match an individual's unique tastes?
Amid this marvelous mass of options, one rum always seems to make the most sense for the most people to me – Mount Gay Extra Old.
A slight step down from the masterpiece that is Mount Gay 1703, Extra Old shines in its own right just the same. The blend of rums in this bottle range in age from eight to 15 years, as opposed to 10 to 30 years in 1703. All those blends are pure Mount Gay goodness, however, each espousing the most celebrated tradition of rum-making the world has ever known.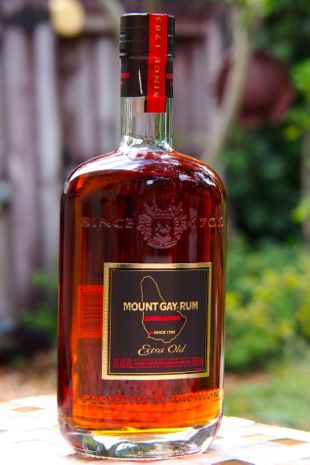 I'm sure your rum-loving loved ones will appreciate the XO pedigree, but what about the taste?
To me, few rums at any price or stature can match the easy drinkability of Extra Old. It's one of my favorite sippers – smooth, nice character with a great, understated balance of sweetness and burn when enjoyed neat, or with one or two ice cubes.
Extra Old excels as a mixer as well, particularly when paired with ginger beer or bringing a bit of Barbados to a Queens Park Swizzle.
So, you have as rich a rum pedigree as exists anywhere, great, balanced flavor with minimal burn, and flexibility suitable for sippers or those who prefer to mix all for a price that generally checks in just under US$40.00 per bottle – a steal for a rum of this quality!
Yeah, there's very little, if anything, to dislike about Mount Gay Extra Old. Pick up a bottle for the rum lovers on your gift-giving list this Holiday Season and hope that they'll share…
Cheers!
Related Posts