Friday Happy Hour: Toasting TT50 with a Queen's Park Swizzle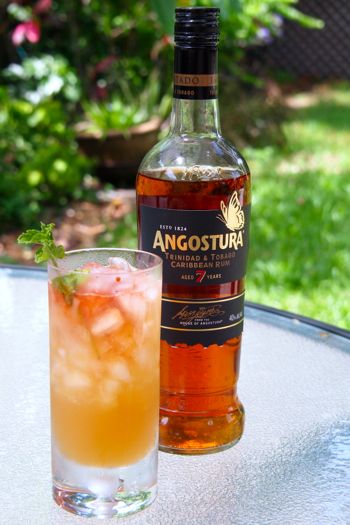 Trinidad & Tobago turns 50 today, an occasion certainly worthy of a very special drink. Legacy by Angostura would fit the bill nicely… sort of.
Just as Appleton's Independence Reserve celebrates Jamaica's first half-century in the most exclusive of ways, so too does Legacy represent the ultimate toast to TnT's golden anniversary. Only problem is it's priced around US$25,000 a bottle!!
(And some of you thought the US$5K for the Appleton 50 was bad.)
So, yeah, that's one legacy that will likely never reach our lips. In its place, we're opting for another Trini favorite, the Queen's Park Swizzle.
A classic, home-grown Trinidadian cocktail, the Queen's Park Swizzle traces its roots back to The Queen's Park Hotel in Port-of-Spain. They first started pouring 'em in the 1920's, making this, arguably, the world's oldest rum swizzle cocktail.
I first learned about Queen's Park Swizzles on RumDood.com, one of my favorite websites for all things rum and cocktalia. At first glance at the recipe, I was immediately smitten as this particular drink espouses three of my favorite cocktail characteristics.
Number one, it's simple. Only five ingredients are needed, so it's hard to screw this up.
Ingredients:
3oz Angostura 7
.75oz Lime Juice
.5oz Simple Syrup
Fresh Mint
Number two, it calls for rum, which as you know, I sorta, kinda love. Traditionally, one of the famed Demerara rums from Guyana are employed, though we're changing things up a bit and using Angostura 7, ensuring that our Queen's Park Swizzles are Trini to de bone!
Last, but not least, you need to swizzle it to make it right. To do so requires the most uniquely authentic of West Indian bar tools, the bois le le, which we first told you about here. We're also the only place you can buy 'em online (that we know about). As of this writing, there are only five left in-stock, so if you want one, you better get your order in now!
Why is the bois le le an absolute necessity for making a quintessential Queen's Park Swizzle, or any swizzle drink for that matter? RumDood runs it down in detail here, but in general, you just can't replicate the unique type of blending you get using a bois le le. Also, nothing frosts your glass quite like these special sticks, something we can all appreciate as summer swelters on. Just try making a swizzle with a spoon, then try it with a bois le le and you'll see the difference.
Here's the recipe…
Combine your rum, lime juice and simple syrup in a tall glass. Add crushed ice and start swizzlin'. Top it off with three big dashes of Angostura Bitters and a sprig of mint.
The Queen's Park Swizzle is infectiously refreshing, pretty strong and sweet, though I must confess that the flavor is much improved with El Dorado 15. If you can get your hands on some Angostura 1824, that will no doubt prove a better option than the Angostura 7 for keeping your Queen's Park Swizzle 100% Trini.
No matter how you enjoy it, though, the Queen's Park Swizzle is a great way to toast a truly great nation near and dear to our hearts.
Cheers!
Related Posts