Banana Bread: My First Attempt Baking a Childhood Favorite
Remember when life gave me more mangoes than I knew what to do with? Sadly, I never really got around to trying my hand at any of your great reader-suggested mango recipes (there's always next mango season, right?), resulting in quite the pile of rotting fruit for my poor garbage man to haul away.
Fast forward to a couple weeks ago when life similarly blessed me with an overabundance of bananas. "I won't make the same mistake twice!" I proudly proclaimed to no one in particular, though I did end up making plenty of other mistakes along the way…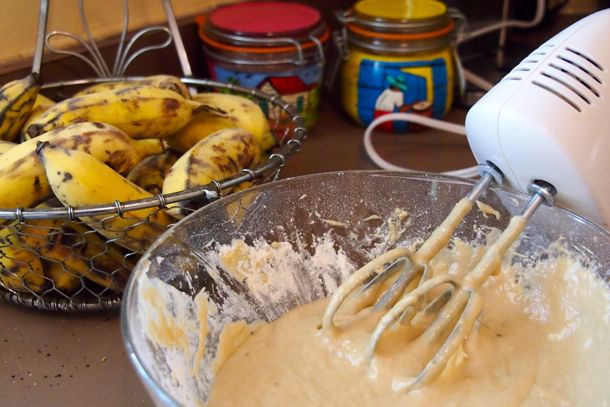 I've always loved banana bread, its moist, sweet, and fruity flavor remaining among the singular sensations that always take me back to my childhood years in St. Croix.
Baking a batch back then was a bit of a family affair with Dad planting and cultivating banana plants in our yard, us kids assisting in the harvest, and Mom working her usual magic in the kitchen.
Ingredients:
2 cups Sifted Flour
1 tsp Baking Soda
1/2 tsp Salt
1/2 cup Butter
1 cup Sugar
2 Unbeaten Eggs
1 cup of Mashed Bananas
1/2 cup Milk
1 tsp Lemon or Lime Juice
1/2 cup Chopped Nuts
I intended my first attempt at replicating that long-ago family fun to be similarly inclusive, but the busy start to the school year (the wife works at the same school where my twins just started fifth grade) resulted in my handling the whole thing myself.
This, of course, also resulted in mistakes.
Before we review my errors, though, let's get with the recipe, borrowed with love, of course, from The Naparima Girls' High School Cookbook…
Method:
Sift dry ingredients. Cream butter and sugar and add eggs one at a time. Stir in mashed bananas. Combine milk and lemon/lime juice. Add dry ingredients alternately with milk. Stir in some nuts and raisins, if desired. Turn mixture in a greased loaf tin 9″ x 5″ x 4″. Bake at 350-degrees for 60-70 minutes.
Simple, right? Well, it would've been if I had read the full recipe first. That way I would've known that, although a dry ingredient, sugar was not to be included in the initial sifting of the flour, baking soda, and salt.
Immediately, I had to start over, but that wasn't the end of my errors. Somehow, while creaming the butter and sugar, I completely forgot to add the eggs.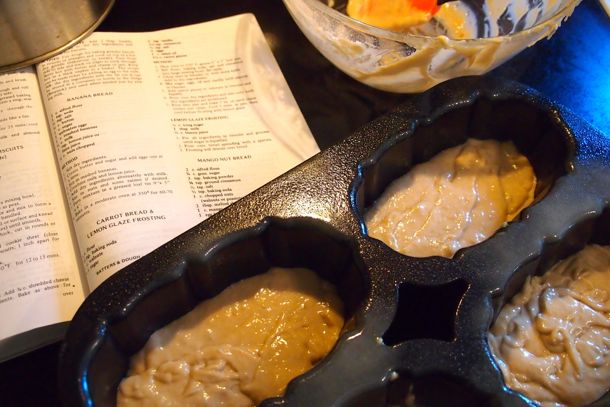 I probably would've started over again had I realized my second mistake prior to placing my creation in the oven. It was already too late; there was no turning back.
So, how did my banana bread turn out…? Well…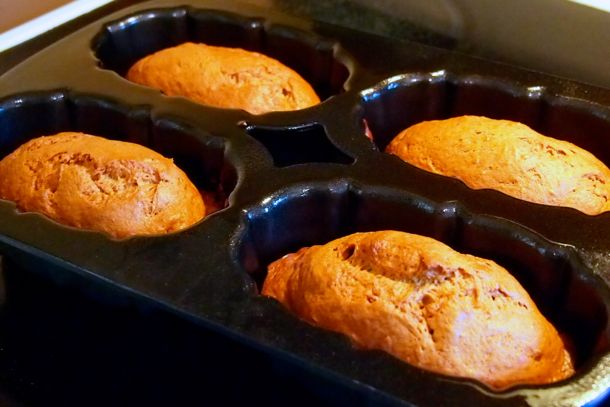 Pretty amazing, actually. At least that's what my neighbor, Jonna, told me when I volunteered her to try the first taste. The saving grace, she told me, was probably my bananas.
You see, they're not the long and more starchy bananas we're used to in our local grocery stores in the states. They're actually figs, a shorter and much sweeter variety that I used to love as a kid.
I packed my banana bread batter with a tad more than the one cup of mashed banana called for by the recipe. (I did have a bumper crop, after all.) The extra added sweetness and texture from the figs apparently made up for the missing eggs.
In the end, it wasn't quite up to my Mom's banana bread (nothing could be), but it was plenty nice enough to share with my family, friends, and neighbors… at least for the day or two that it lasted. Now they're all jonesing for more!
Thankfully, we froze our remaining figs, so I'll be back at it (no mistakes this time!) again soon.
If you have any variations on this banana bread recipe or tips you'd like to share to help us all improve our baking, let us know…
Bon Appetit!
Related Posts