On-Site Dominica: My Surprise Hike to Denier Falls – Part 1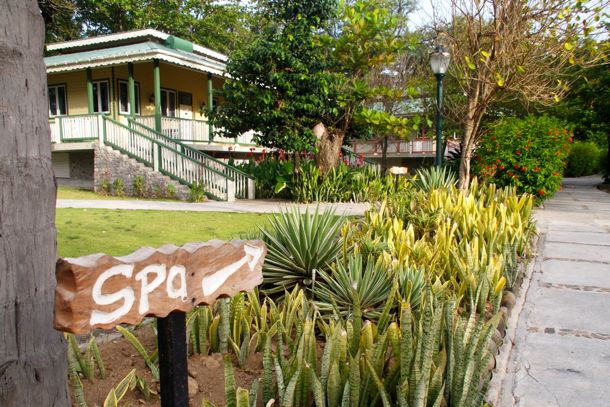 You'll have to forgive me for wanting my first full day in the eco-adventure paradise that is Dominica to be devoid of any strenuous activity. After all, I had just rang in the previous day bringing sexy back amidst the annual all-night debauchery that is Noche de San Juan in Condado Beach, Puerto Rico. I was in the mood for luxuriating, and as luck would have it, I was in the best place in Dominica to do just that – the fabulous Rosalie Bay Resort.
Before I could pair rest with relaxation, however, I met a girl. And as is so often the case for me in such situations, everything changed…
Actually, I met two lovely ladies, so being outnumbered, my R&R plans were doubly-doomed.
The first lovely lady is Laura Lund the wonderful new Spa & Wellness Coordinator at Rosalie Bay. We met at dinner soon after my afternoon arrival in Dominica. I was still groggy from my San Juan shenanigans and eager to talk massage treatments. Laura had something much more taxing in mind for me…
I'm leading a power walk up to Grand Fond tomorrow morning. It's a steep 30-minute walk in both directions that's a great little workout to start the day!
She said this with a bright, bubbly smile. You know, the kind no man can resist?
So, at 8am the next morning, I set out with Laura for our "great little workout."
It was just a few minutes up the road, me already dripping with sweat, that Laura detailed just how steep the climb up to Grand Fond really is…
My last guests were pretty fit, but one of them never made it to the top.
Indeed, there are sections of the mountain road that make Trinidad's Paramin Hills look like speed bumps.  At least they make your legs feel like they do. For friends from St. Croix, think of The Beast near Carambola… only much taller. No wonder near the top, you come across, err… a cross…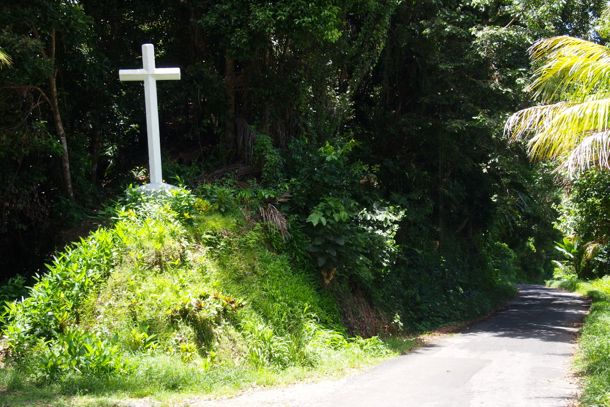 I didn't require any prayers or divine intervention on this particular occasion, though. In a bit of a surprise to me, I made it to the top with little trouble at all, even managing to keep up with Laura and carry on a conversation, albeit a rather stunted one, along the way.
The village of Grand Fond is small and modest, with homes, schools, churches and various other edifices in various states of construction lining the main road. At the early morning hour when we arrived, the village was alive with young kids running off to school and adults rolling into the day. Some were heading to work, or to tend their crops. Others hung clothes to dry, or played with toddlers. Still others seemed intent solely on getting an early start to the day's lime.
Everyone we passed returned smiles and warm morning greetings like they saw us every day, a refreshing kindness after our strenuous "little workout."
It was here in Grand Fond that I met lovely lady #2…
Her name is Marvlyn and you can find her at the M&M Middlestamp Grocery Shop along the main road that runs through Grand Fond. We stopped in to get some bottled water, but all they had was beer. This worked out fine for us, as Laura noted that we could use the protein carbs. (See why I love her?) Then Marvlyn further changed my plans, saying:
You guys headed to the falls?
She was talking about Denier Falls, which I had never heard of. Laura knew it, but had never made the hike. Marvlyn asserted that the entrance to the trail to Denier was only five minutes further up the road, so Laura and I decided to press on. Sure enough, five minutes up the road, we found this…
This is the only sign alerting passersby to the nearby location of the head of the trail to Denier Falls. It's right on the main road, but so beat up it's easy to miss, even for those on foot.
From this point, you head down the paved path past a few humble homes. The path then crests up a small hill past a few more homes. You might be tempted to follow along the pavement as it snakes to the right, but if you do, you'll miss the even more obscure sign marking the head of the trail…
See that little sign at the cluster of banana trees in someone's yard? That's the actual head of the trail.
Yeah, we almost missed it. Good thing we didn't, though, as what came next was truly magical.
Look out for part 2 of My Surprise Hike to Denier Falls next week to see what I mean…
Related Posts