Ciguapa Falls Canyoning with Iguana Mama Adventure Tours
We've all heard it before: If all your friends jumped off a cliff, would you do it too? Before you answer that question check out this excerpt from the Ciguapa Falls page of the Iguana Mama Adventure Tours website:
Get away from the crowds with the ultimate "off the beaten track" excursion. Hike deep into the Septentrional Mountain range and discover the cascading experience of Ciguapa Falls. Leap off a series of waterfalls as you immerse yourself in a Dominican wilderness discovered by only the most intrepid tourists. This tour is an owner favorite and Iguana Mama is the only licensed tour company to take you there.
"Leap off a series of waterfalls?" "Wilderness?" "Only the most intrepid tourists?" It's like experiential travel buzzword bingo! How can you resist?
And for me, of course, they had me at "Off the beaten track!" So, I contacted Michael & Sarah Scates (the owners at Iguana Mama) and immediately signed up!
When my date with Ciguapa Falls came around, I couldn't have been more excited as the van picked me up, bright and early, at 7:50 am in front of the Velero Beach Resort in Cabarete. I was the last to join the group, so without any further ado, we were off!
Already in the van were five other "intrepid tourists" (four girls and one other guy), plus Iguana Mama head guide and all-around excellent outdoorsman, Carlos Rios. A WCCM certified canyoning guide, Carlos also leads many of Iguana Mama's mountain biking tours and has scaled the Caribbean's tallest mountain, Pico Duarte, over 18 times! And besides all his experience, he's also a funny, easy-going guy that could probably make a walk around your own block more enjoyable.
After a short ride, where we chowed down on a light breakfast, the van pulled up at a small roadside shop that doubled as the Iguana Mama base camp for this excursion. Here, we traded our regular outfits for wetsuits, climbing harnesses, life preservers, and helmets. I'd never worn a wetsuit before since I generally steer clear of any water cold enough to require one, but I have to admit… I made that wetsuit look good!
Decked out in our new gear, we piled back into the van and drove another five or so minutes to a dirt road, and disembarked. It was just a short hike down into the valley before we came to the river and the first jump…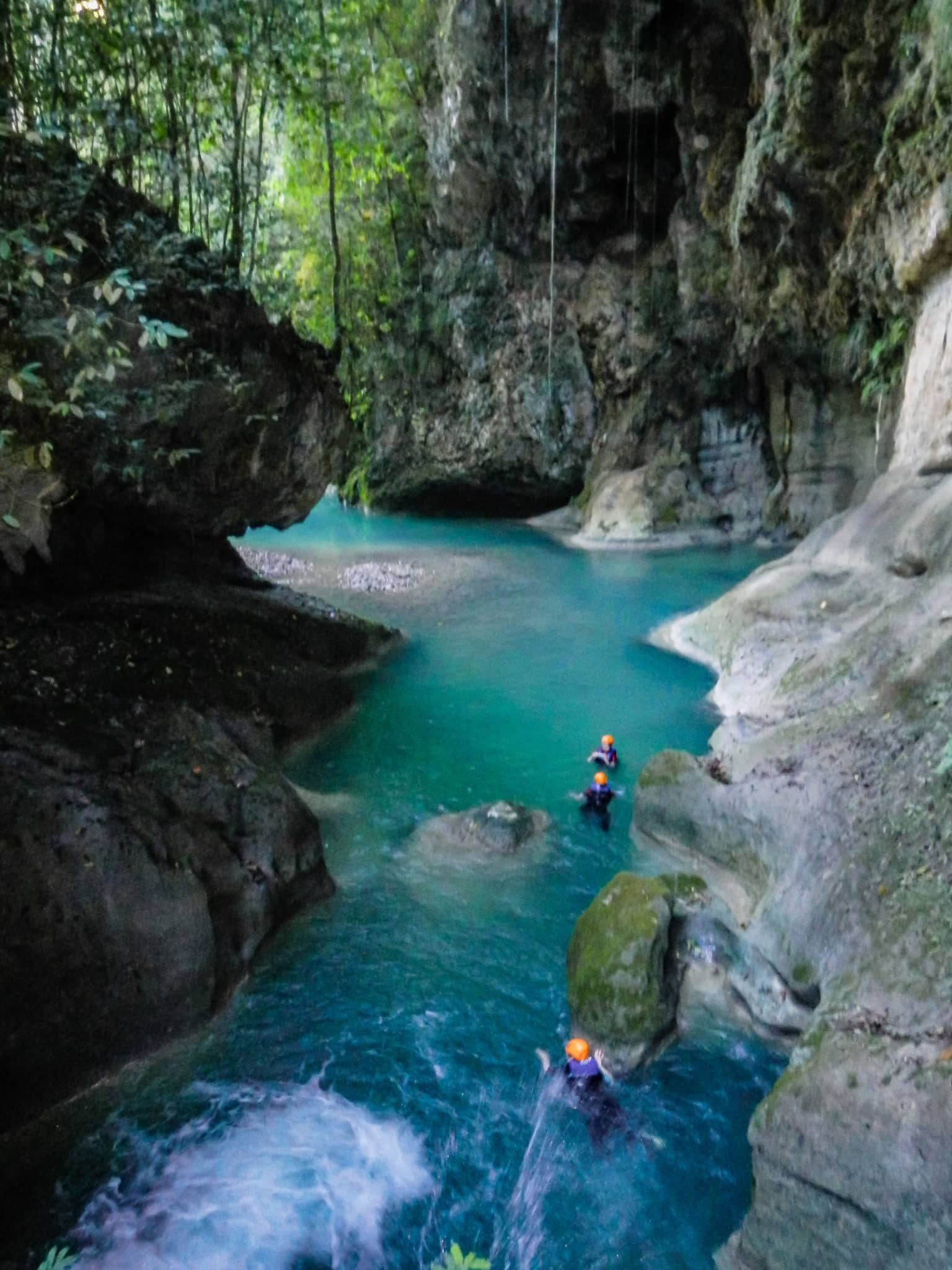 Twenty-three feet straight down!
That's like jumping from a second-story window!
If all your friends jumped off a cliff, would you do it too?
I'm not going to lie, I had some reservations about this… Carlos promised the water to be frigid and… Uhm… Did I mention it was a 23-foot jump?!
But then one of the girls jumped. Then another. And another. Then the guy… And before you knew it, they'd all taken the plunge except me.
If all your friends jumped off a cliff, would you do it too?
I jumped!
Keeping my body straight and my hands at my side, I splashed down into the cold water laughing and shouting! It was an awesome feeling, but only the beginning…
For the next hour, we climbed over rocks, splashed through pools, and jumped and jumped and jumped. Some of the cliffs were lower, around 10 or 15 feet, but then we'd again come to a 20 footer and jump for our lives. Sure, the adrenaline was pumping, but it never overpowered the magnificent beauty of the canyon we played in—its high walls carved from centuries of water flowing from the mountains to the sea.
As we progressed, our group became fast friends.
We cheered for one another. Helped each other through tight spots and posed for our fellow shutterbugs. Through it all, Carlos kept subtly instructing us on the art of jumping off cliffs. At the time, I didn't really notice, but he was preparing us for something…
Everything became clear when we rounded a bend in the river and came to the Duck Jump or, as Carlos called it, the "Oh, Hell No" Jump! Just looking at it makes your stomach a little queasy. The Duck Jump is a short triangular-shaped rock that juts out over a dark turquoise pool near the foot of a tall waterfall. It didn't seem like we should be able to jump from that height, but Carlos assured us we'd be fine making the 30-foot leap!
Thirty feet!
Just look at this height!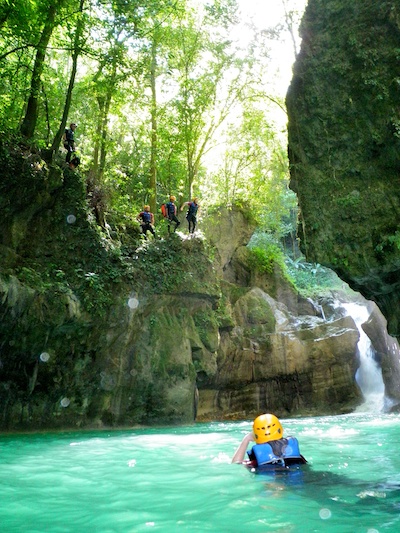 Over three stories!
Somehow, just like at the first jump, all my new friends took the leap before I did. Leaving me once again with that question in my head:
If all your friends jumped off a cliff, would you do it too?
So, to finally put a definitive answer to that age-old question: "Yes! Oh, hell yes!"
I mean, why would anyone not want to jump off cliffs with their friends?! I can't recommend this excursion and the great people at Iguana Mama enough.
The Ciguapa Falls trip is fast (you'll be back on the beach by noon), fun-filled, action-packed and pushes you just far enough to make it a thrill you won't soon forget! (But not so far that you return bruised, broken, and miserable.) And remember, Iguana Mama is the only licensed tour company to take you there.
What are you waiting for? Book online for this or the 27 waterfalls trip to save a few bucks, then go jump off a cliff!
All your friends are doing it.
Related Posts