On-Site Cabarete: Mojito Bar – Feel the Love With The Freshest Cocktails on The Beach
The first thing you notice when you sidle up to the approximately eight foot bar (that's pretty much all there is to Mojito Bar, besides some chairs on the beach) are the melons. The pineapples. The oranges, papaya, watermelons and more—all beautifully on display. Thankfully, all those round goodies aren't just for show either. Nope, every drink you order is made fresh from a little squeeze of this or a pinch that.
For me on my last visit, I couldn't fathom ordering anything but the namesake drink, and with co-owner Sonia behind the bar, I knew I'd also be getting that special ingredient. Immediately, Sonia starts collecting her necessary ingredients and chatting. It's easy and comfortable. We just fall into it. Talking about where we're from. How much she'd like to visit the Virgin Islands where I grew up. How she visited Puerto Rico for a short time. Almost idle chit-chat, but with something… Extra… She's not making conversation for work, or just to pass the time… She's making conversation because she cares. You feel it instantly.
A couple windsurfers join me at the bar and order some beers. Sonia breaks off making my mojito for a moment to ease two cervezas in front of my new companions, then resumes her task. Before long, it's my turn and this beauty lands before me on the bar: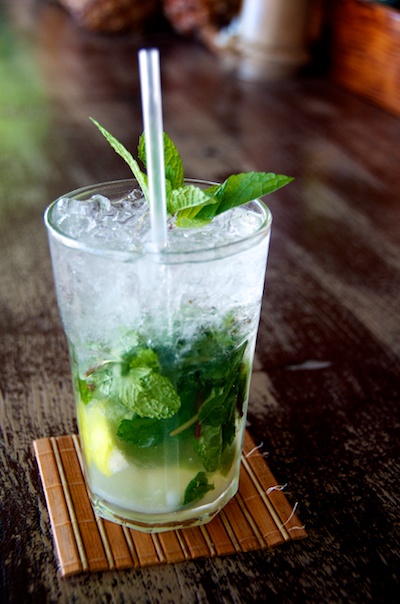 Instead of just lime juice, it also has lime slices in it's beautiful depths, but that's not what makes it so special. It's the height of the Cabarete afternoon. Kiters are in the bay while aspiring kiteboarders enrolled at Laurel Eastman Kiteboarding school are practicing on the sand. Nearby some kids are playing volleyball under some coconut trees… I pick up my bright mojito and take a sip—all the while under the smiling gaze of Sonia.
Ahhhh… There it is.
Love.
The not-so-secret ingredient found in every drink at Mojito Bar.
Even better, in this case love comes cheap! One mojito costs just 100 pesos! That's around $3 US! If you're hungry (which you should be when visiting) you can get an Italian ciabatta sandwich on fresh baked bread and an equally fresh fruit juice for just 120 pesos. And as if all this inexpensive love wasn't enough, Mojito Bar even does a two-for-one happy hour every day from 3 to 5 (except Tuesday's when they're closed).
Two love laced mojitos made with all fresh ingredients for just $3!
You simply can't go wrong. Sonia and Franco bring the love at Mojito Bar daily (except Tuesdays) from 11am to 8pm, but if you want one of those Italian sandwiches get there before 5pm as they do tend to run out.
Here's to love!
Related Posts