The Retreat at Lookout – Authentic Caribbean Hospitality
Sad to say, but The Retreat at Lookout has closed. We hope to be back in Grand Cayman soon to find an equally authentic West Indian place to stay. As you can read below, though, the folks at The Retreat set the bar pretty high…
I like posh and fancy hotels as much as the next guy, but when I travel to the Caribbean, I much prefer to stay with friends and family. The Caribbean is home for me, after all, so while room service, seaside spa treatments and other fancy bits of pampering are nice, I'm generally happiest when my accommodations more closely match the trappings of my childhood. In this way, The Retreat at Lookout in Grand Cayman is one of the happiest places I've stayed in the past few years.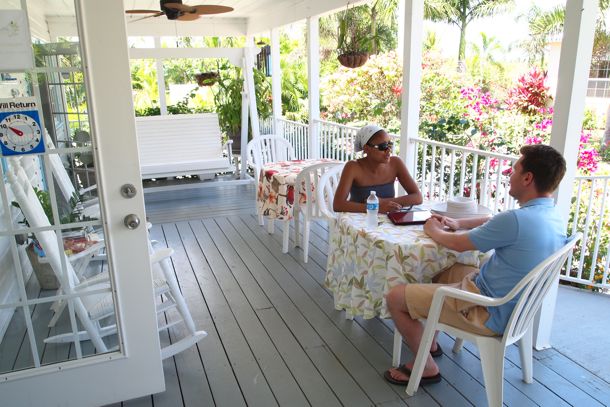 Stumbling Upon The Retreat at Lookout
I found this quaint, family-owned/operated property while driving around the island looking for a place to stay. My first two nights had been spent in one of the nice resort properties on Seven Mile Beach. Clean, friendly, affordable and convenient for my initial Cayman adventures, I liked it well enough. The only problem was they were sold-out for the third night of my trip. As I was traveling solo, I had no concerns over finding someplace decent to crash for a night.
I also had no idea of the special experience that was in store for me at The Retreat…
I was driving just outside Bodden Town on the south coast of the island after my yummy seafood lunch at The Grape Tree Cafe when I saw a sign for something called "The Retreat at Lookout Farm" at the side of the road. "What could that be?," I wondered as I steered my rental excitedly off the main road and into a residential area.
The further I traveled off the main road, the less houses I saw and the worse the road became. Suddenly, another sign, a left turn down a gravel road and I was there… Only thing is, I had no idea where "there" was.
From the parking area, The Retreat looks like a small and rustic farm. The reason is… well… in part, that's exactly what it is!
The Real West Indies in Grand Cayman
Rows and rows of mangoes, papaya, breadfruit, watermelon and other fruits and vegetables are laid out neatly near the entrance, with an irrigation system spread throughout. Roosters crowed, cows were mooing; indeed, The Retreat is every bit a real West Indian farm.
As the uniqueness of my surroundings settled in my mind, a beautiful young woman approached. "May I help you?," she inquired, her distinctly Guyanese lilt lending added credence to the authentic West Indian surroundings.
I introduced myself and asked if they had any rooms for the night. The woman said she would check, and asked if I would like a drink while I waited. I replied in the affirmative and continued to explore the crops. Instantly, she returned with an ice-cold glass of a fairly clear liquid. I didn't ask what it was, instead thanking her and tipping the glass to my lips.
Coconut water! Fresh, crisp coconut water!
I was home.
Perfect Parental Hosts
Even if you're not West Indian, though, the loving folks who run The Retreat at Lookout will surely make you feel the same as I did. The owners, Harvey and Betty Stephenson, have lived here for 15 years. The main building of the property was once their private home. Their primary farming business still supplies produce to markets and restaurants throughout the island. They started welcoming guests two years ago; a natural extension of the farm and the Stephenson's wonderfully warm hospitality.
Staying here is just like staying with your parents… assuming, of course, your parents are perfect.
Harvey and Betty give you as much privacy as you'd like. At the same time, though, they're always close by to attend to your needs on a familial, caring basis you just can't find in large resorts. (No nagging or guilt trips either). They give you good-sized air-conditioned rooms with ceiling fans, cable-TV, a nice private bathroom and one of the most amazingly comfortable beds I've ever slept on anywhere. There's even a pool and comfy living areas within the main house for relaxing.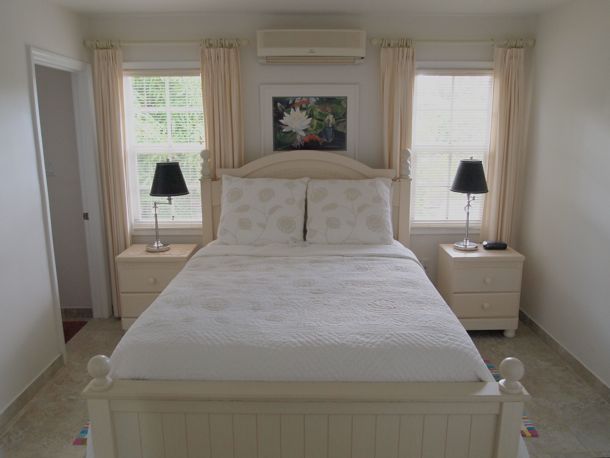 Magical Mornings at The Retreat
My favorite thing about the one night I spent here was waking up in the morning. Let's start with the breakfast, which is included with every stay. It varies daily, but rest assured, you're in for some serious Caribbean favorites. As noted on The Retreat's website:
Savory dishes include saltfish and ackee, callaloo, bammy or breadfruit complimented with sweet pairings of ripe plantain, johnny cake and delicious jams made from our mangos and sea grapes.
You can opt for omelets, scrambled eggs, bacon, cereal, etc., but you'd be missing the point. They're serving the real Caribbean here, so you might as well enjoy it all!
For me, that real Caribbean also includes sitting on The Retreat's inviting verandah and taking in the sights and sounds of nature that envelop the property, particularly in the early morning hours. The roosters and cows are joined in their chorus by a symphony of tropical birds, no doubt drawn here by the many tropical fruits and fragrant blooming flowers. It's the kind of place you'll want to sit and enjoy for hours…
Miles from the tony resorts on Seven Mile Beach in more than just geography, The Retreat at Lookout delivers a uniquely "country" Caribbean experience with all the comforts of an authentic West Indian home. A happy place, indeed!
Related Posts