Friday Happy Hour: Pure Jab Rum is Pure Carnival Wickedness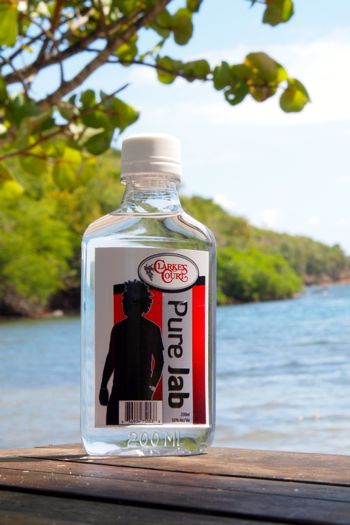 Grenada's Spicemas has long been known as one of the hottest Carnival celebrations this side of Trinidad, but apparently things were kicked up a notch or two this year thanks to this simple, innocent-looking plastic bottle, which I happened upon at the Clarkes Court Distillery yesterday.
This is Pure Jab, and it is pure wickedness!
Grenada's newest rum creation is not for the faint of heart, or those afraid to fete. In fact, according to the Clarkes Court folks with whom I met yesterday, this stuff was created expressly for Carnival jammin'. To whit:
It puts you in complete synch with the activity (of Carnival).
These are the words of Michael Curtin, a guy who wears more titles at Clarkes Court than they actually make rums, chief among them special projects manager. Michael is one of those guys who's forgotten more about how great rum is made than I'll ever know about most anything. If you ever get a chance to visit Grenada Distillers, the official name of the home of Clarkes Court, definitely try to spend a few minutes chatting with Michael. Not only will you learn a lot, but you'll also make a good friend.
Back to the Pure Jab, did I mention de ting wikkid?
Clarkes Court introduced it expressly to coincide with this year's Spicemas Carnival, drawing the name from the famed Jab Jab, a unique element to Grenada Spicemas described by SpicemasGrenada.com thusly:
Traditionally, Jab Jabs would use any available substance, including stale molasses, tar, grease or mud, to darken their skins to an extreme blackness. Sparsely dressed and accessorised with items such as broken pots and pans, cattle horns and cow chains, the intent of the Jab Jab was – and still is – to horrify and gross out onlookers.
Sounds like a bunch of good-old, dirty fun, but there's some important historical symbolism in the Jab Jab as well. Michael told me it all harkens back to the slave days, with the dramatic full-body black-out recalling the "Molasses Devil" and the broken chains meant to symbolize emancipation.
Jab Jab plays within the Black Mas celebration during Jouvert. The fun starts at around 4am, which is where Pure Jab comes in.
Remember, de ting wikkid! One sip of Pure Jab and believe me, you'll be ready to jump up, wine yoh waist, find an' grind, or take part famously in any manner of gettin' on bad. At 55% alcohol by volume, it packs no where near the fire-filled punch of Puncheon, but it will wake and warm you up well beyond any Folgers in your cup.
Cheers!
Related Posts