Dancing Friday Night Away at Presse Café, Haiti
In the broad, sometimes bawdy world of nightlife in Haiti, Friday night is the wildcard.
Wednesday's happy hour at The Best Western Premiere and Thursday's at La Reserve, Quartier Latin, and the Hotel Oloffson for the utterly uncommon Ram Vodou Rock party cater nicely to local urbanites, NGOs, foreign aid workers, and tourists in the Port-au-Prince area.
It is these same folks, though, who tend to forgo the city on Friday afternoons in favor of the sun and surf on offer in Cayes-Jacmel, La Côte des Arcadins, and other beachy corners of the country.
For those staying behind in the city, the best place to party is Presse Café. You wouldn't know this, though, if you ventured in here most any other night.
The first time I visited Presse Café was on a Monday. I found your basic small and local Caribbean city bar, complete with limited seating, even more limited lighting, and a generally quiet local bar vibe. Copies of old newspapers competed with vintage pics of jazz greats on the walls. A TV carried an international soccer match. The few patrons in attendance spoke in hushed tones, the better to hear the sports commentary. Ho-hum, not much to see here…
Everything changed, though, when I returned on a Friday several week later.
Well, most everything…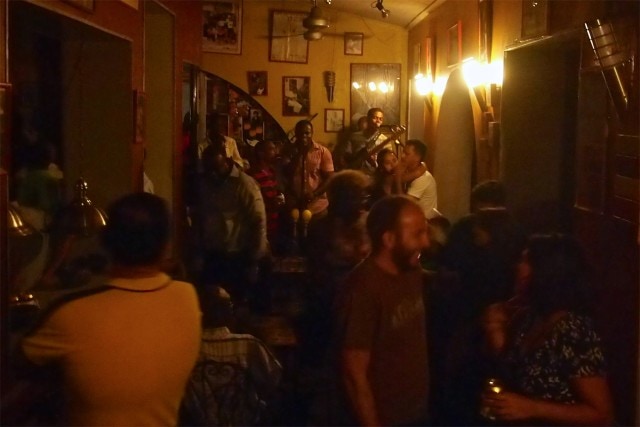 The bar was still dark and small, but unlike my previous Monday visit, Presse Café was VERY LOUD and JAM-PACKED full of people – generally locals in their 30's and 40's – all of them dancing in pairs about as tightly as two bodies could ever possibly be pressed together to the seductively scintillating sounds of JuKan'n.
This band is simply incredible.
JuKan'n specializes in classic Compas, an absolutely infectious homegrown Haitian musical genre with roots in African and European sounds stretching all the way back to the 1800s. Compas really didn't take off, though, until the 1950's and 60's, a period from which JuKan'n mines much of their set list.
The tunes may be old, but the new life breathed into them by JuKan'n fuels a timeless party with an energy one must simply feel to believe…
You do not sit or stand still when JuKan'n plays; you have to move, the sensation of the music and the wild atmosphere inside Presse Café inciting the type of Devil-may-care kind of joy you might not expect in Haiti, on a Friday night, with much of Port-au-Prince away at the beach.
Perhaps it is just those factors, though, that make Friday nights at Presse Café so special, so authentic, so sweetly in tune with the true soul of Haiti.
For me on Fridays in Port-au-Prince, the beach can always wait.
Presse Café is located at 28 Rue Rigaud in Pétion-Ville serving breakfast, lunch, dinner, and good times everyday except Sunday. The Café opens at 7:00am. Closing time Monday-Thursday and Saturday is 11:00pm. On Fridays, as you might imagine, the good times keep rolling 'til the wee hours (2:00am).
For more on Presse Café, visit them on Facebook.
Related Posts