Garage Popular, Martinique – The Best Caribbean Bar You've Never Heard Of
I'm sending two beautiful women to get you. 15 minutes. You're welcome.
This was the message that greeted me upon my arrival back to the Hotel Bakoua on a Wednesday evening in May. I was positively drained at the time, having just spent an entire day exploring Martinique's eco charms – from Coeur Bouliki to Observatoire Du Morne Des Cadets and several points in between. Sweaty, sore, and starving, all I craved at the time was a quick bite and my bed.
Chef Hot Pants, though, had other plans.
One of the most colorful characters I've befriended along my travels, Guy Ferdinand espouses a take no prisoners lifestyle that redefines joie de vivre. I'd come to experience this first hand on many occasions at his sultry restaurant in the sand, Le Petibonum. Tonight he was intent on showing me Martinique's nighttime party scene… in his own inimitable style, of course.
The surprises started with Isabelle and Karine, who, true to Guy's message, were both beautiful and waiting in the lobby at Le Bakoua soon after I re-emerged from my room. Semi-showered and noticeably snookered, I managed a nervous "bonsoir" or two before folding myself into the back of Isabelle's petit Peugeot, destination: unknown.
Their limited English and my non-existent French made for a quiet ride from Trois-Ilets, around the broad expanse of The Bay of Fort-de-France, and down into the quiet and virtually deserted downtown area of the capital city.
Down Rue de la Liberte we went, La Savane at our left. Then a quick right at Hotel L'Imperatrice onto Rue Lamartine. It was just past 8pm. Nothing appeared to be open. I began to get the sense that the ladies were just as lost as I was.
Then, we saw his legs.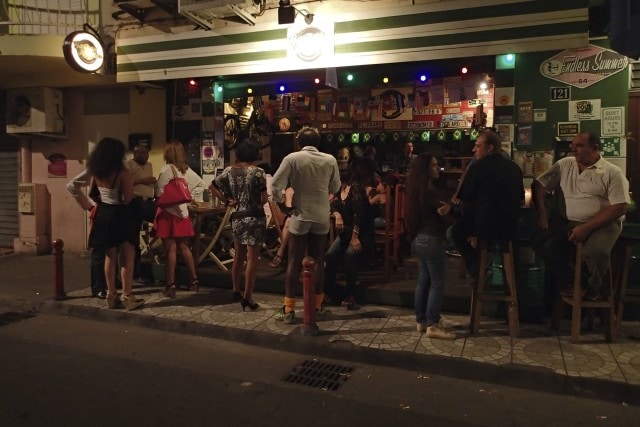 I had often wondered before if Guy stayed in costume away from Le Petibonum. I had my answer the minute we arrived at Garage Popular, the gritty little bar that would be stop #1 tonight. We seriously may not have stopped here if Guy hadn't been standing right out front in his hot pants.
That's not to say that Garage Popular isn't inviting, of course. The bar is basically a wide open garage, its broad metal doors pulled all the way up so that patrons can enjoy the bar scene from the sidewalk, if they so please. In this way, you're almost compelled to stop in.
On the other hand, though, it's very dark, as were its surrounding streets at the time we arrived, which might give you some pause.
Any personal reservations I might've had quickly vanished once I got inside, though. There, I found a jovial, mostly local, yet very multi-cultural crowd enjoying some combination of food, drinks, great music, laughs, and whatever sports happened to be on TV. Kids laughed in one corner, lovers canoodled in another as a light and easy-going vibe permeated throughout.
Behind the bar, I met the owner, a German who fell for Martinique's charms while visiting years prior and decided to stay and bless downtown Fort-de-France with his unique, garage-style watering hole.
Old hubcaps, license plates, and other car-related accoutrement adorned most every available inch of the bar, which I'm guessing measures somewhere in the neighborhood of 400 square feet or so in size.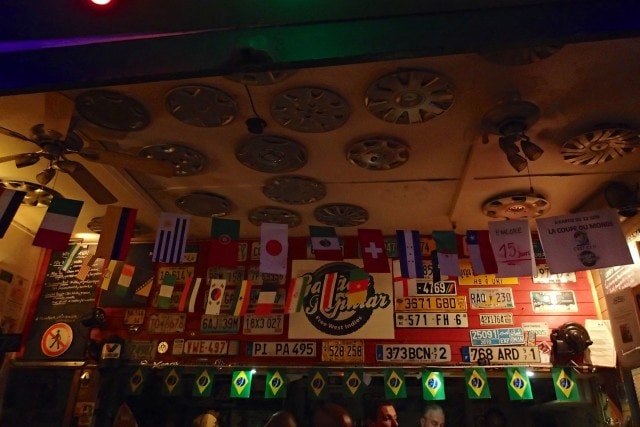 Cozy, fun, and welcoming, Garage Popular proved the perfect place to start our night of fun, especially considering the other stops to come later that night… (More on that another time.)
Garage Popular is open Monday to Friday from 12pm to 12am, and 5:30pm to midnight on Saturdays. For more on info, please check them out on Facebook.
Related Posts