My Close Encounter with Tobago's Elusive Naked Boy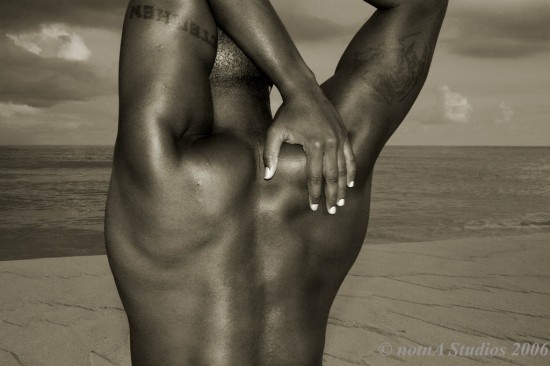 Okay, let me begin by saying it's not what you think. This is not an X-rated account of a sordid, off-the-beaten-path Caribbean adventure gone wrong. Nor did I switch teams on my last trip to Tobago – not that there's anything wrong with that.
No, this is a somewhat innocent and certainly instructional tale that illustrates how a little curiosity and openness can go a long way toward enhancing your travel experiences, and maybe even the rest of your life.
Our story begins, not surprisingly, at a bar. Specifically, the Khambi Jungle Pub pictured below, which sits on the side of the long and windy road between Scarborough and Speyside in Tobago. We stopped here precisely because the road is so windy, but also because this place features 3 of our favorite "uncommon" elements – 1) it's a bar, 2) it's part treehouse, and 3) they serve roti.
Notice how the right side of the bar stretches out over the edge of the hill? It's a long way down from there, but the deck is supported nicely by the tree that grows up through the floor. Sadly, among the Caribbean food on offer, they didn't have any roti when we stopped by, but they did have ice-cold Royal Stout and a pool table, so what's not to like, right?
While there enjoying our beers, we struck up a conversation with a local guy, who as it turns out went to high school in Fort Lauderdale just a few miles from my house. Our new friend told us about Argyle Falls and various other points of interest along our intended route, but I was more immediately interested in the dark liquid we noticed his friend drinking out of an unmarked bottle.
Me: What's in the bottle?
Dude: Naked Boy.
Me: Really? That's what it's called?
Dude: Yeah. It's de local Viagra.
Okay, now I was really intrigued, especially since this was one of those rare occasions when I was actually traveling with my wife. Not that I need any help in that, ahem, department, but you know, we at Uncommon Caribbean advocate full cultural immersion travel. I felt compelled to try it… you know, for the integrity of the site. Before I could even ask, though, our friend scared the living crap out of me by relating the story of the 1st brave gentleman to cook-up some Naked Boy.
"De drink had such a strong effect, 'im had to go to de hospital to get 'im vein cut. No more sex for him."
Yeah, check please? I left the bar without a sip (or a snip).
Later, though, I felt bad. I felt like I had let you, our faithful readers, down. I should've tried it! Steeling my nerves, I set about trying to find some.
Can you just picture my wife and I running around Tobago asking everyone where we can get some Naked Boy? It may seem funny, but most people we asked knew all about Naked Boy, and the horrific story of its origin. No one could tell us where we could score any, though, as apparently you gotta' be in good with some serious bushmen to get some.
We left Tobago, a brief encounter at an otherwise anonymous roadside bar our only glimpse at the elusive Naked Boy.
It would be another month before I ran across Naked Boy again. This time, though, I was in Martinique, where the love potion is bottled and sold in the vibrant and bustling Covered Market located in the heart of downtown Fort-de-France. There, as in many other parts of the Caribbean, the concoction is known as Bois Bande. My Dad, who lives in Tobago, calls it that as well, so don't ask me where the name Naked Boy came from.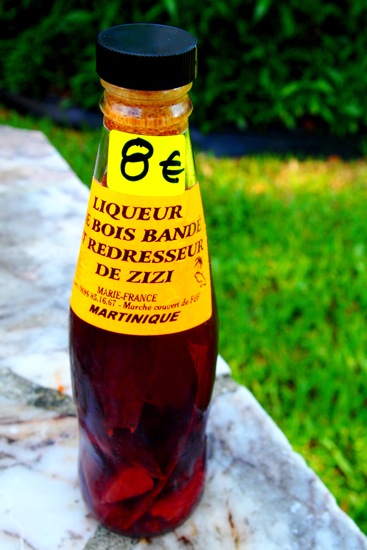 Anyway, I learned in Martinique that Bois Bande is a bona fide aphrodisiac made from the bark of a tropical tree called Richeria Grandis. The bark is mixed with other herbs and spices and made into rum or wine. Apparently, it's been used throughout the Caribbean for hundreds of years, dating back to the Carib Indians. Some even say that Viagra, Levitra and Cialis are all derived from the same Richeria Grandis tree bark.
I don't know about all that, but I do know that the bottle of Bois Bande that I bought in Martinique, which you see pictured here, is still sitting unopened in my fridge.
Yeah, I've got cold feet again, but just seeing the bottle brings back warm memories of the adventure I enjoyed learning about Naked Boy, or Bois Bande. It would've never happened if we hadn't stopped in a bar and struck up a conversation, which of course, is right in line with Uncommon Caribbean travel experiences.
Memories are nice and all, but I'm also not getting any younger. Here's hoping this stuff works when the time comes that I need it…!
Related Posts