Rhum JM VO – Exquisite Entrée To Aged Rhum Agricole
Initial forays into the world of rhum agricole can be daunting for those who previously only ever enjoyed molasses-based rums. Indeed, both spirits have a shared foundation in sweet sugarcane. The disparate paths they take from field to flagon, bottle, or flask, though, yield general distinctions in flavor and fire that sometimes give rum lovers pause. There is, however, a way to ensure that your journey from rum devotee to forever fan of rhum agricole meets with success. Step 1: Start with Rhum JM VO.
The youngest of the rhum vieux expressions in the celebrated JM portfolio, Rhum JM VO is aged just three years. Its woodsy, robust flavor, though, is that of a much older and more sophisticated spirit. This, of course, is not by accident.
Volcanic Rhum
Like everything produced by JM, Rhum JM VO benefits from the unique microclimate that surrounds its famed distillery. The location in Macouba, a small village on the northeast coast of Martinique, rests at the feet of the legendary Mt Pelée volcano. The alchemy of the area's terroir – rich volcanic soil, volcanic mineral water, jungle-like humidity – truly distinguishes Rhum J.M.
Editor's note: Get a sense for the terroir of Macouba and the passion that goes into making Rhum JM in this video…
The Two Families of Rhum JM
So too, of course, does family tradition. The former sugar plantation upon which Rhum JM sits today dates back to 1790. It wasn't until 1845, though, that rum began flowing here. The initials of the man who changed the course of the plantation's history, Jean-Marie Martin, are those that still denote the brand today.
It was another man, Gustave Crassous de Médeuil, who pioneered Rhum JM's proprietary production techniques. Gustave, who owned another estate nearby, acquired the JM Distillery in 1914, upgrading the facility and expanding production. The same handcrafted, small batch methods he implemented more than 100 years ago are still followed today.
Macouba's volcanic terroir and the old Médeuil family secrets no doubt give Rhum JM VO its surprising (for its age) sophistication. What, though, makes it a great gateway rhum agricole for lovers of molasses-based rums?
Rhum JM VO Tasting Notes
For me, it boils down to the naturally sweet, woody oak flavor. Whereas the marvelous and slightly older Rhum JM VSOP carries a tad bit more heat, has a more lasting finish, and leans more toward cognac in its flavor profile, the VO is lighter, simpler; more straightforward. The different barrel aging techniques employed in producing these rhums likely plays a part in this.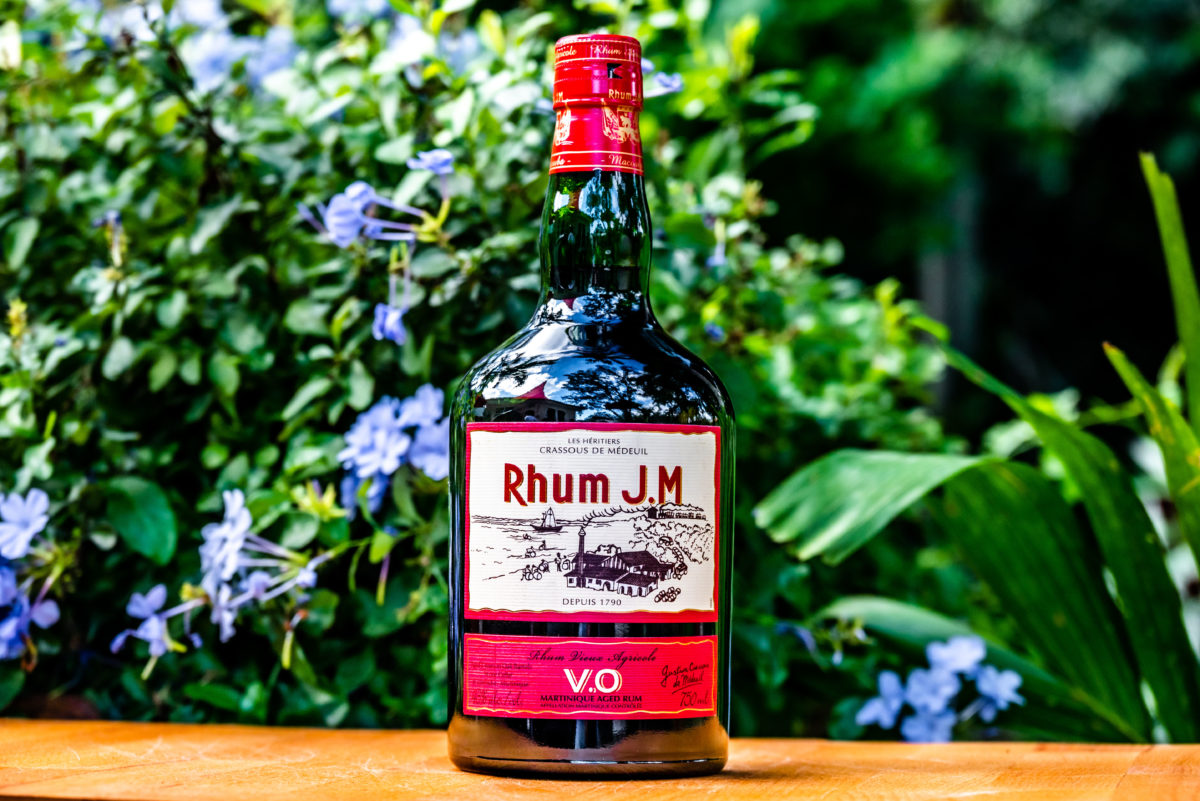 Rhum JM VO is aged a minimum of three years in new oak barrels. Some slight finishing takes place in repurposed Bourbon casks, but the lion's share of aging is done in new barrels.
The majority of Rhum JM VSOP's four-year aging process, on the other hand, is spent in ex-Bourbon casks. The finishing aging period for VSOP takes place in new oak barrels.
It's a subtle flipflop that makes a lot of difference if you're new to rhum agricole, but have a foundation of love for molasses-based rum. The woody oak flavor in Rhum JM VO will be familiar to rum lovers, even as its grassy notes distinguish it from typical rums.
Enjoyed neat, Rhum JM V.O. smacks of a more well-aged and refined Bounty Rum Premium Gold from Saint Lucia. The subtle smoke and toasted smoke flavors also evoke a bit of El Dorado 12 to me, though not nearly as sweet, of course.
No matter your molasses-based rum of choice, Rhum JM VO provides a great entry path to the wonders of rhum agricole. Don't be surprised, though, if you never go back the way you came…
Where to Buy Rhum JM VO Online
Our friends at SPIRIBAM are the exclusive importers of Rhum JM treasures in the United States. For the very best deals on Rhum JM VO, visit SPIRIBAM online and be sure to enter promo code "UCRHUM" at checkout to save 10% off your order.
Related Posts