R&R Bahamian Cocktail – Red Wine and Rum is Fun in Nassau
Red wine and rum don't pair well together, right? I mean, at least not in the same glass. Inside my house, though, it's another matter. The wife prefers the red stuff. I, of course, love rum. When we sit for a tipple at the end of the day we pair off accordingly. It's nice. It works. I would've never thought to change it. Then, last month, I sidled up to the Stir It Up bar inside the Marley Resort in Nassau.
What's the most popular drink here?
It's a question I ask at nearly every bar I visit, the better to catch the vibe of the place and learn new cocktail recipes. This time, though, the bartender's answer threw me for a loop.
What kinds of things do you like? Not just to drink, I mean in general?
Never mind that he answered my question with a question – one of my Dad's all-time top pet peeves. Dude seriously wanted to get in my head before running down the drink menu!
We have the usual rum punch and mojito options, but I prefer to make stuff from what you like.
Eli's Uncommon Mixology
His name is Andre Elijah Walkes, though everyone calls him Eli. In addition to tending bar at Stir It Up, he also manages major fetes and special events in Nassau. Ambitious, cocksure, and with a bright eye trained on his future, Eli reminded me of a lot of other young and industrious Bahamians I'd met over my many travels here.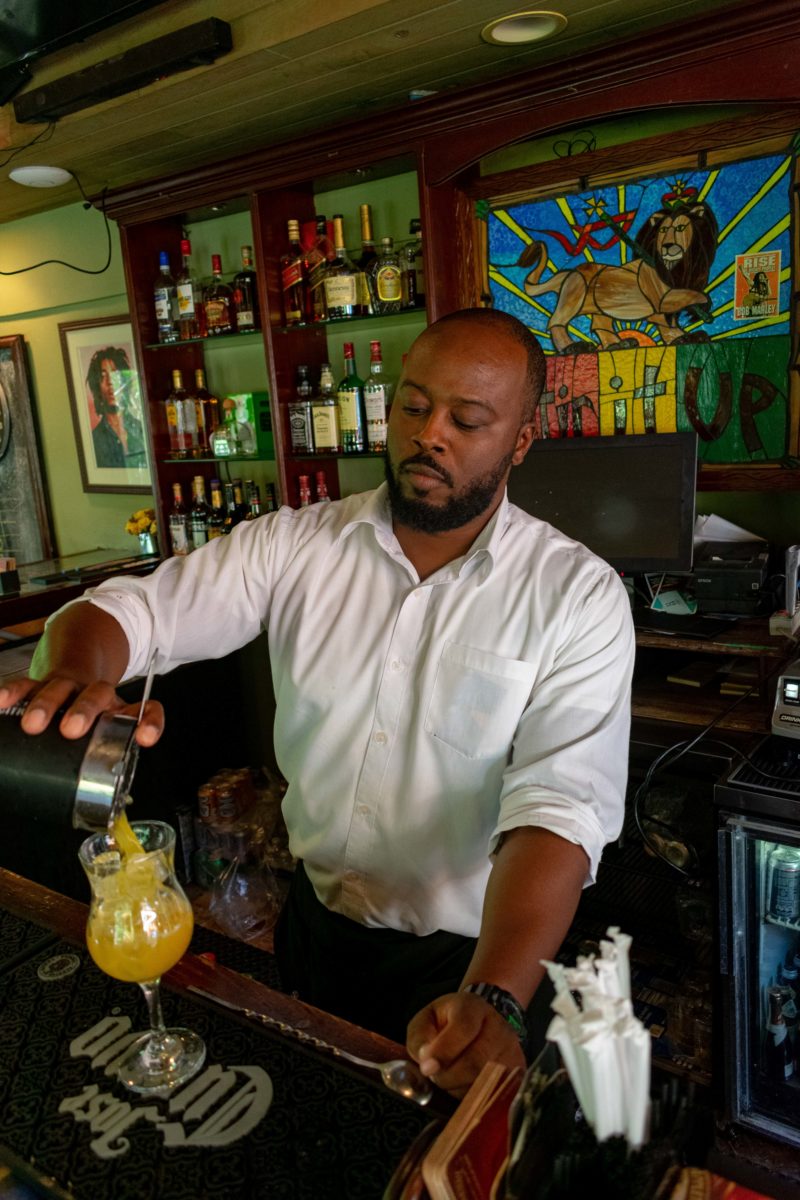 It's just this sort of zeal and inventiveness that Eli pours into his mixology. We talked for a few moments, me mentioning my love of rum, cocktails that aren't overly sweet, the wife, our kids.
Ingredients:
2oz Havana Club 7

1oz

Passion Fruit Puree

.5oz Lemon Juice
Merlot
The resulting concoction pictured above doesn't have an official name, but I'm calling it an R&R Bahamian for the red and rum inside, as well as the easy manner in which it helps you relax. Here's how you make it…
How To Make Your Own R&R Bahamian Cocktail
Add rum, passion fruit, and lemon juice to your shaker and shake away! Next, pour your mixture in a highball or tulip glass loaded with ice. Finally, top generously with red wine. Eli used a merlot for mine, which paired well with our combined choice of rum, Havana Club 7.
Cheers!
Related Posts