Arroz Con Gandules Recipe Straight From My Titi Elsa's Kitchen
Titi Elsa is not my real aunt. In a lot of ways, though, she's more than that. You know how some very special friends can be like family? The Garcia's, with whom I grew up in St. Croix, are like that to me. Grizelle Garcia has been one of my best friends since Nursery School. Her mom, Elsa, is simply one of the best people I know. The kind of person who repeatedly gives selflessly of herself; who's always ready with a hug and a hot meal whenever you might need it. More often than not, that hot meal would include Elsa's legendary Arroz con Gandules.
From Puerto Rico with Love
As noted in our special Guide to Caribbean Food, Arroz con Gandules (Rice with Pigeon Peas in English) is the national dish of Puerto Rico. If you've ever traveled there and never tasted it, then you weren't really there at all.
Originally born in San Juan, Puerto Rico, Elsa was raised in Vieques. When she moved to St. Croix in the 1960s, she brought her Arroz con Gandules Puerto Rican rice recipe with her.
Ingredients:
1/2 Pound of Ham
4 Tablespoons of Cooking Oil
1 Can of Tomato Sauce
1/2 Cup of Cooking Wine or Water
4 Tablespoons of Sofrito
1 Can of Gandules (Pigeon Peas)
2 Cups of White Rice
1 Pouch of Sazon Goya
1/4 Cup of Olives (Optional)
If ever there was a Garcia family gathering during my Crucian childhood years, you could be sure that Elsa's special dish would be served. It's a tradition that continues today, though now in South Florida where Elsa and several other Garcia households (including Grizelle's) are all close to mine. This has afforded my teenage twin boys the great benefit of having Elsa (and her Puerto Rican cooking) in their lives, just as I did in my youth.
When they were toddlers, she'd cut their hair. When they'd cry, she'd scoop them up and hug them. And if they were hungry, she'd often feed them you know what.
There's lots of love in every bite of Elsa's Arroz con Gandules. Here's how you can share some of it with your family and close circle of friends…
How to Make My Titi Elsa's Arroz con Gandules
For this easy five-step recipe, start by heating your cooking oil in a cast-iron pot and searing your ham in it.
Step two: Add all other ingredients, except for the rice. Sofrito, tomato sauce, cooking wine (or water), gandules (pigeon peas), chicken broth, sazon, and olives all go in the pot with your seared ham. Stir, cover, and let that cook at high heat for five minutes.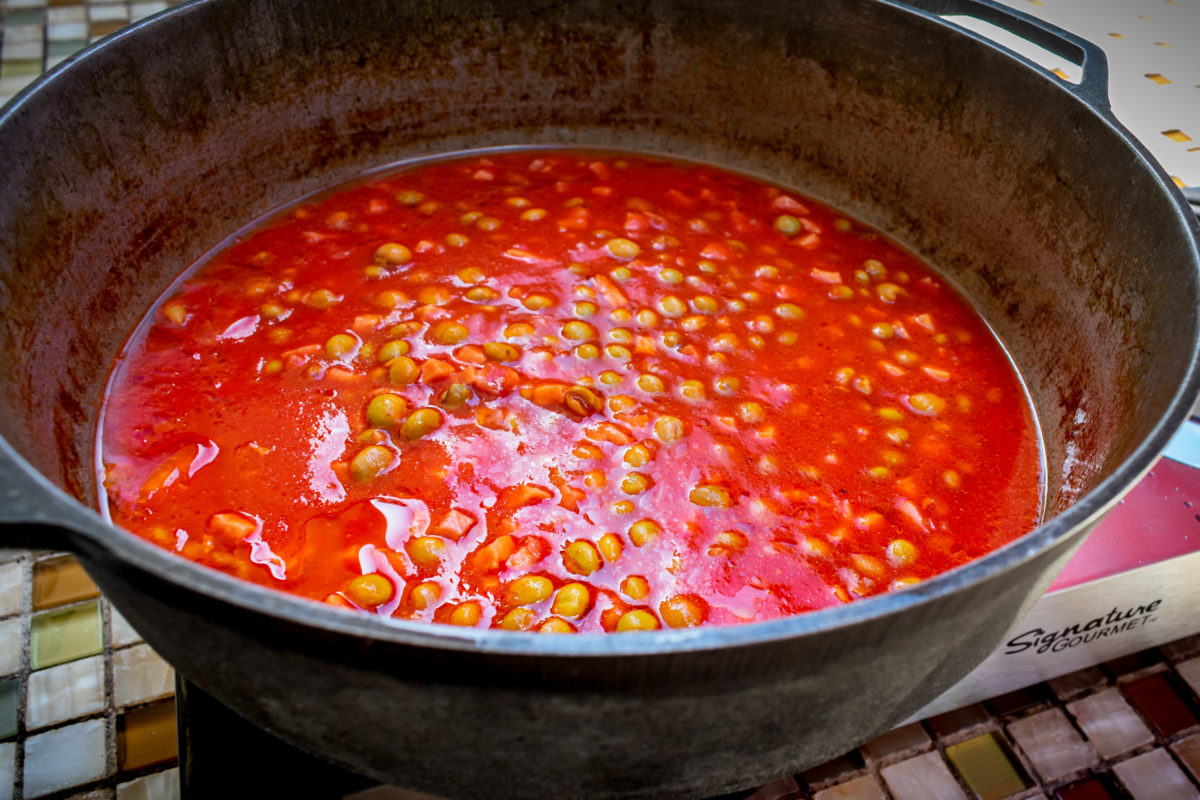 Okay, now it's time to add the rice.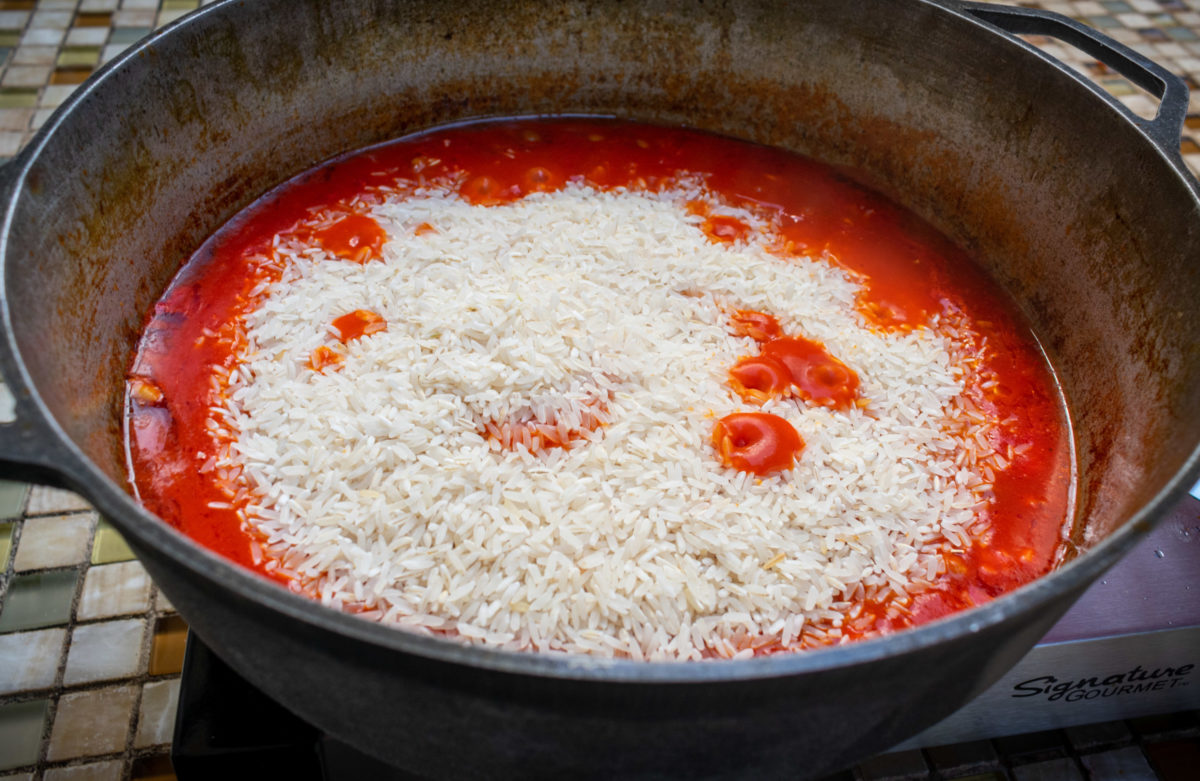 Stir again, cover, drop your heat down to low, and let the real slow cooking aspect of this recipe begin.
You'll want to check back in and stir occasionally as the liquid gets absorbed by the rice. This will help you avoid having burnt rice stuck to the bottom of your pot.
Don't rush things, though. You'll need to cook the rice on low for at least 45 minutes to achieve the nice, soft texture you're looking for.
Arroz con Gandules Tasting Notes, Tips, etc.
My Pigeon Peas and Rice can't compare with Elsa's, but I must admit it was damn tasty! I made this batch just yesterday. The recipe is supposed to feed four to six people. As of this writing at lunchtime on the following day, it's all gone! I barely got a second taste, which as any parent trying to feed their teenage kids well knows, is not a bad thing at all.
This Arroz con Gandules recipe has a wonderful balance of spices. It's not hot; just packed with rich and savory sabor boricua.
I'm not a huge fan of olives, so I left them out this time. The wife and kids, though, have made me promise to include them next time. Either way, don't feel compelled to keep 'em in there if they're not to your liking.
Also, your choice of rice can play a big role in the success of this dish. I recommend using parboiled rice. As it's already been partially boiled, parboiled rice will enable you to end up with soft, fluffy rice more easily.
¡Buen provecho!
Related Posts