Friday Happy Hour: My Tasty Love Triangle w/ Bacardi & Reserva Añeja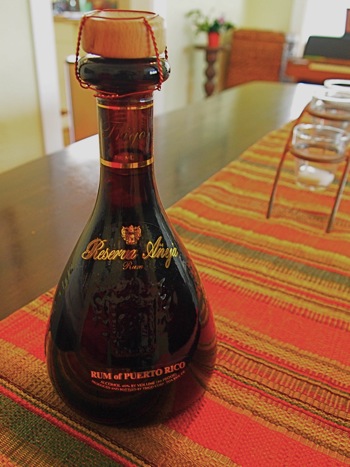 I don't like Bacardi.
There, I said it! I know a few of you have been thinking I felt this way for awhile, and now it's out in the open!
I'm not proud of it, mind you. Doesn't make me feel like any more of a man, or anything, but it had to be said.
IT HAD TO BE SAID!
Maybe it's because they're so big, so known… so EVERYWHERE.
We're all about the "uncommon", after all, and when it comes to rum, NOTHING is more common than Bacardi.
Thankfully, I've never let this one little prejudice stop me from sampling and enjoying the many other fine, and much lesser-known, Rums of Puerto Rico.
Oh, you didn't know Puerto Rico produced any other rum besides Bacardi? Not surprising considering just how much the Big "B" dominates the island's $400 million rum industry (70% is all Bacardi). Much of the remaining 30% can be attributed to Serrallés, makers of Don Q. Outside of that are a collection of small, family-owned/operated producers for whom mass production and flashy marketing take a backseat to fine craftsmanship and a staunch commitment to excellence born of long-standing family traditions. You won't typically find these special rums on the shelf at your local liquor store here in the States, but they're definitely worth hopping a flight to seek out.
As a frequent traveler to Puerto Rico, I've been enjoying several of these lesser-known fine rums for years. On my last visit to Old San Juan in September, though, I found one that was new to me: Reserva Añeja.
Some of you may remember that I'm a sucker for sexy and distinctive bottles, so of course I was instantly attracted to this head-turner at first sight. The curvy, decanter-style bottle with over-sized wood cork certainly stood out among the other plain-Jane bottles in the duty-free liquor store at the San Juan airport (excellent selection there, btw).
Occasionally, pretty packages are meant to mask inferior quality; more flash than substance. Not in this case. The rum inside actually exceeds the beauty of the bottle!
Like all Puerto Rico rums, Reserva Añeja is light with no harsh aftertaste. I found it to be very smooth and easy to drink – maybe too easy, as the bottle barely lasted a week once I got it home.
What makes Reserva Añeja so special? According to the Rums of Puerto Rico website, it's "produced in small quantities, aged in American white oak barrels for at least 10 years, and offers a unique flavor rich with woody, sweet tones and a warm, mild finish."
According to our friend, Robert Burr of the Gifted Rums Guide, "The beauty is in the aging. It's a slow game to play watching rum age, and Trigo (makers of Reserva Añeja) does it masterfully, adding an artisanal value."
Beautiful presentation, family tradition of quality, light, yet rich flavor – there can't possibly be anything not to like about Reserva Añeja, right?
Well, I do have this one tiny little problem… the source.
You see, Trigo doesn't actually distill its own rum. In fact, as the island's sugar industry waned during the latter half of the 20th Century, all continuous distilling in Puerto Rico was consolidated between two players, Bacardi in the north and Serrallés in the south.
Guess where Trigo gets the rum it blends and ages to create Reserva Añeja…?
Oh well, I love just about everything else about Puerto Rico, so I guess I'm okay with loving Bacardi a wee bit as well… so long as the love is via the roundabout route that is Reserva Añeja.
¡Salud!
Related Posts