El Batey: Stumbling Into Another Life in Old San Juan
Editor's note: My (Steve's) love for Old San Juan is well-documented here. One very conspicuous missing aspect of that love, however, is El Batey, a must-visit bar on any visit to San Juan. The reason: it's been closed the last few times I've visited the ancient city. Thankfully, the legendary dive bar was open when our new friend, Laura Albritton, and her husband were in Old San Juan recently…
After wandering Old San Juan's cobbled streets, winding our way among pink and blue colonial buildings that date back to the time of Ponce de Leon, we'd stumbled upon El Batey. This hole-in-the-wall, with its unassuming, gloomy entrance, stood on Calle Cristo just across from the lemon yellow façade of the famous El Convento Hotel.
"Come on," I urged my husband Zickie, seduced by the sound of Led Zeppelin's Robert Plant sexily rasping, "I am a traveler of both time and space" on a muffled sound system. "Let's go in. One more drink."
"All right, all right," he groaned, but the truth was, he wanted to see inside just as much as I did.
Old San Juan's grid of narrow lanes packs in plenty of places to enjoy an after-dinner libation, but El Batey looked especially seedy. The word "louche" doesn't even begin to describe it. Inside, the walls appeared to be sweating. (No, I hadn't dropped acid.) Scribbled signatures covered the smudged wall space like a net of black words, an effect that felt strangely cozy, but also kind of insane.
The floor looked sticky from spilled drinks. The fragrance, a musty eau-de-ashtray combined with damp, ancient stone. In the dim, amber light our fellow customers all looked a little unwashed. You immediately got the message: this was not a frozen cocktail with an umbrella kind of place.
"What can I get you?" the dark-haired, muscled bartender asked.
We were already flagging, so my husband ordered the standard from his teenaged Jamaican years: "Rum with tonic on the rocks." (Puerto Rican Don Q, not his patriotic favorite, Appleton V/X.) I'm more of a wimp, so I pointed to what my neighbor, a 60ish guy in a stained t-shirt, was swigging: a can of local Medalla Light. "I'll have one of those."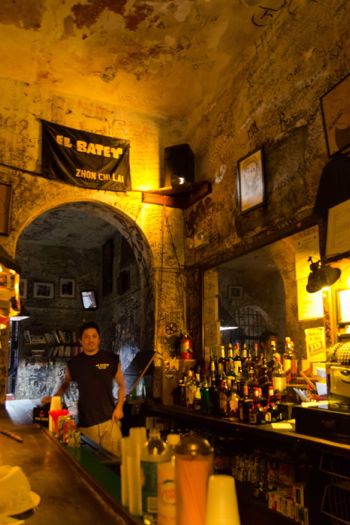 As we waited for our drinks, I whispered to my husband, "Whad'ya think?" He glanced up at the battered lamp with its trailing streamers of business cards. "Extremely cool," he whispered back. We didn't want to appear too impressed or intimidated.
Of course, El Batey doesn't have a credit card machine. All purchases are transacted via a vintage cash register that would look right at home in a Mom and Pop store, circa 1946. Drink prices – about three bucks a pop – carry on the "way back when" motif, as does the jukebox, which carries a charge of 25 cents per-tune and an eclectic selection of old-school ska, Pink Floyd, classic Sinatra, and the aforementioned Zeppelin.
A 50-something, hippie-ish American blond arrived at the end of the counter. "What's going on," she said, more of a greeting than an actual question. The bartender poured her a red wine, without being asked. There were the regulars at El Batey, who appeared to have their personal territory, and the rest of us: travelers trying to fit in like Zickie and me, and two surfer-guys, Dan and Joe – who both "work in tech" – gawping at random graffiti while attempting (and pathetically failing) to look hip.
"The Rolling Stones hung out here," Dan confided, sotto voce. The other three of us turned simultaneously, like knuckleheads, as if Keith, Mick, and the rest of the boys might suddenly saunter in. No such luck.
We could've asked that tough-looking, white-haired gent, cigar clamped between teeth, what the Stones were like, because – as my Medalla-sipping neighbor casually let slip – David Jones "has owned the joint for 40 years." But at that very second, he was too busy growling instructions at the barman.
Crack. In the back, a young Puerto Rican woman had driven her pool cue into the triangle of balls. She and her friend, who studied the green baize table for angles, were regulars, too. You could spot long-time patrons by how seriously they smoked like it was a career choice, not a hobby. Even the 50-something hippie made it look enviably glamorous.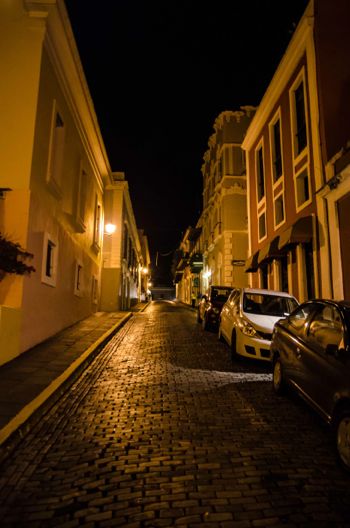 "Do you sell cigarettes?" I asked the bartender.
He nodded. "You can buy a pack."
My husband frowned unhappily. I hadn't touched a cigarette in a long, long while.
"Come on," I cajoled, "how many times will I get the chance to smoke in a place like…" I gestured wildly with my arm and promptly smacked a dodgy-looking hombre passing behind us.
"Whoops, sorry," I called. He just kept tromping toward the bathroom.
Marlboros appeared on the counter, and after the bartender obliged with a light, I took the first, dangerous inhale.
"Is it good?" Zickie asked, a little aggravated.
"Yes," I lied. "It's great. Fantastic."
For a few minutes, I nursed the illusion of being in a watering hole from my 20's: Downtown Beirut in the East Village, or a grimy Biergarten on Bangkok's Pra Athit Road. Back when I had no responsibilities, didn't even know what a 401K was.
El Batey makes you want to install yourself there permanently. Maybe write a novel. Get into a knife fight. Smoke like crazy, until your fingertips turn yellow. It's like a window into another life, if your life were a movie written by a drug-addled Hunter S. Thompson.
In the end, I could only manage one cigarette. "You want the rest of the pack?" I asked the bartender.
"Yeah," he answered, a little surprised. "Sure."
I slid the Marlboros across the bar.
"Hey, thanks," he said, briefly breaking into a smile.
We left a 10 spot tip for our meager tab, waved goodnight to the tech guys who were in it for the long haul, and breathed in the dank scent of El Batey one more time, to remember….well, not exactly the place, more like our unfettered youth.
This is Laura's first piece for Uncommon Caribbean, though I have a feeling it won't be her last.
Related Posts