Spratnet Beach Bar St Croix: 'Papajuana' Party Spot on Cane Bay
Spratnet Beach Bar St Croix isn't much to look at. I mean, the bar itself is nice enough. Bright yellows, pinks, blues, greens, purples, reds, etc. give the bar wall and its surrounding shelter a tropically festive feel.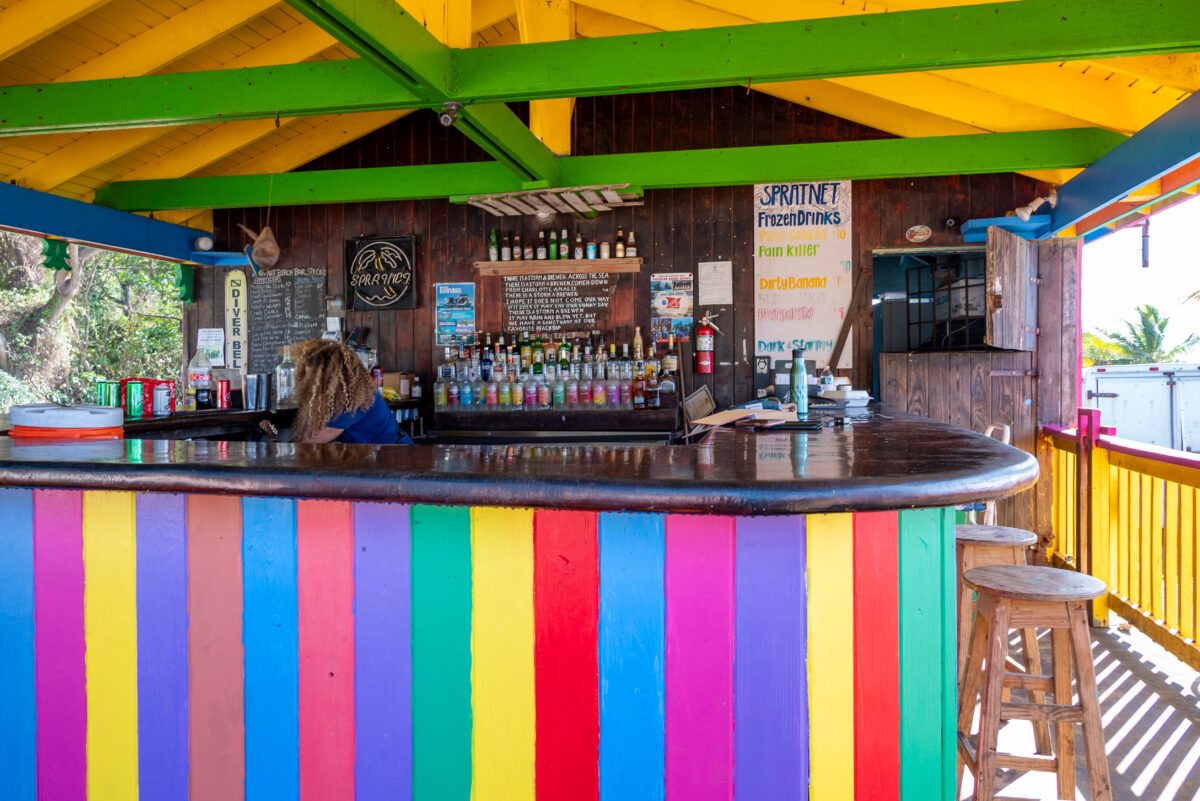 The mishmash of random chairs, faded umbrellas, and failing shade structures scattered around the bar, though, give Spratnet the feel of an abandoned gypsy camp.
Elegant, Spratnet Beach Bar St Croix is not…which, of course, is great.
St Croix's Real West Indian Beach Bar
As anyone who's done any degree of bar-hopping around our islands knows, the Caribbean's best beach bars are anything but fancy. Their hallmarks: friendly people, occasional food, good tunes, and strong booze.
Rest assured, Spratnet Beach Bar St Croix rates highly on all scores.
For me, Spratnet's specialness starts with the tunes. Every time I've happened here, the soundtrack has generally consisted of a pulse-pounding mix of dancehall, soca, reggae, and hip-hop.
It's the kind of music some might find at odds with Spratnet's peaceful beach surrounds, sure. If you're seeking a lively and distinctly West Indian beach party scene, though, it's perfect.
Spratnet Menu
As for food, the menu is a bit longer than you might expect from such a modest place…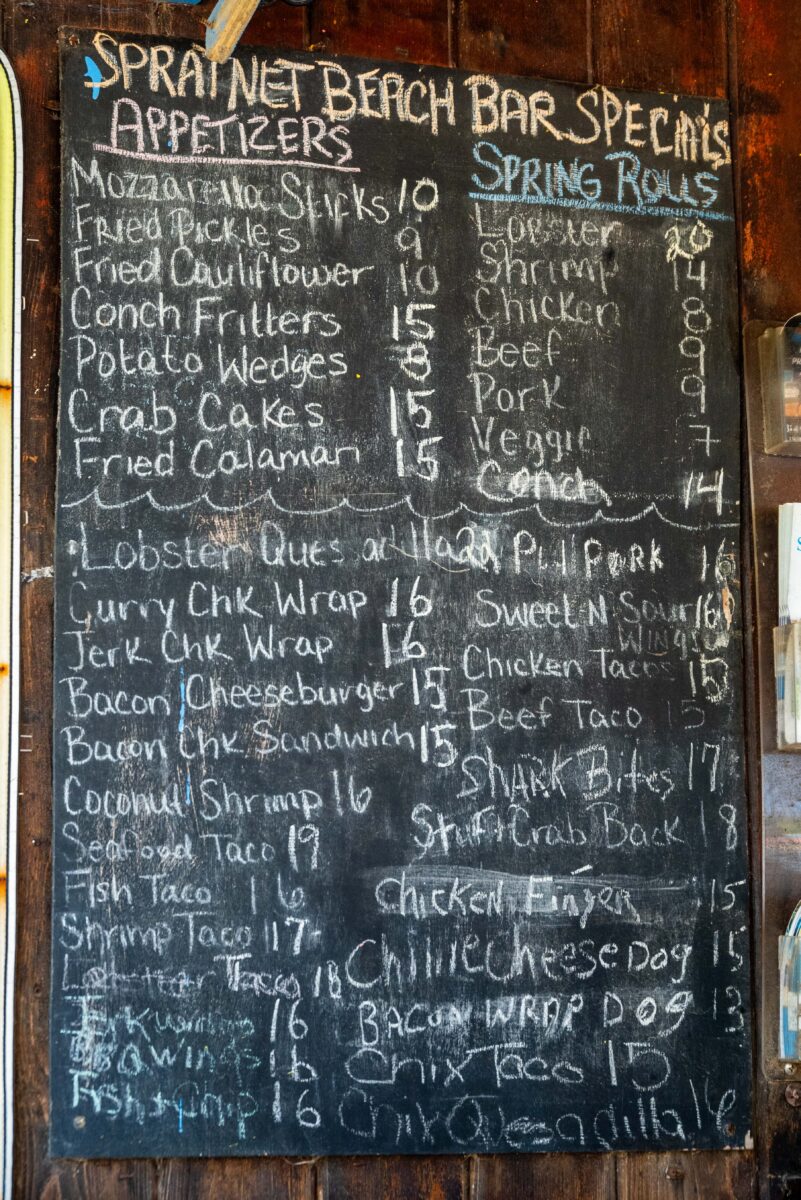 At least it was when last I visited during the summer of 2021. Chalkboard stylings hint at its flexibility according to what's in-season/available, a nice plus to me.
Another favorite thing about Spratnet is its owner, Calvin. More specifically, I love his papajuana.
What is Papajuana?
No, I didn't mean to write mamajuana. That's not a typo.
Chef Calvin's specialty liqueur is his own personal spin on the DomRep delight we've featured before. Exactly what differentiates papajuana from mamajuana, though, is a secret that Calvin hasn't been prepared to share with me just yet. I'm guessing, though, that it has something to do with bois-bande, aka: natural Caribbean Viagra.
Anyway, unlike this particular mamajuana, Calvin's papajuana isn't something that you just grab and pour. This bad boy needs a few vigorous shakes before being dispensed. You know, the better to get all the herbs, twigs, spices, and secret stuff freshly blended with the rum.
Thankfully, Calvin is more than happy to oblige…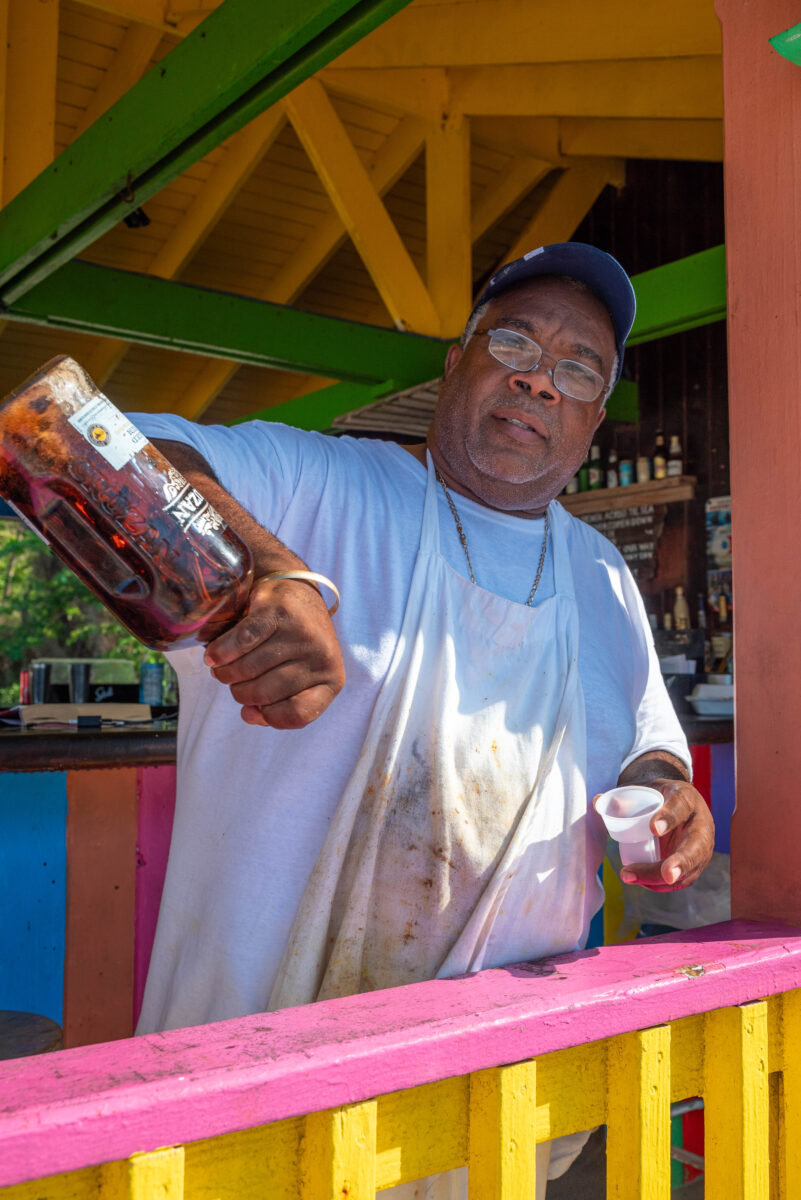 Once freshly shook, it's time to pour…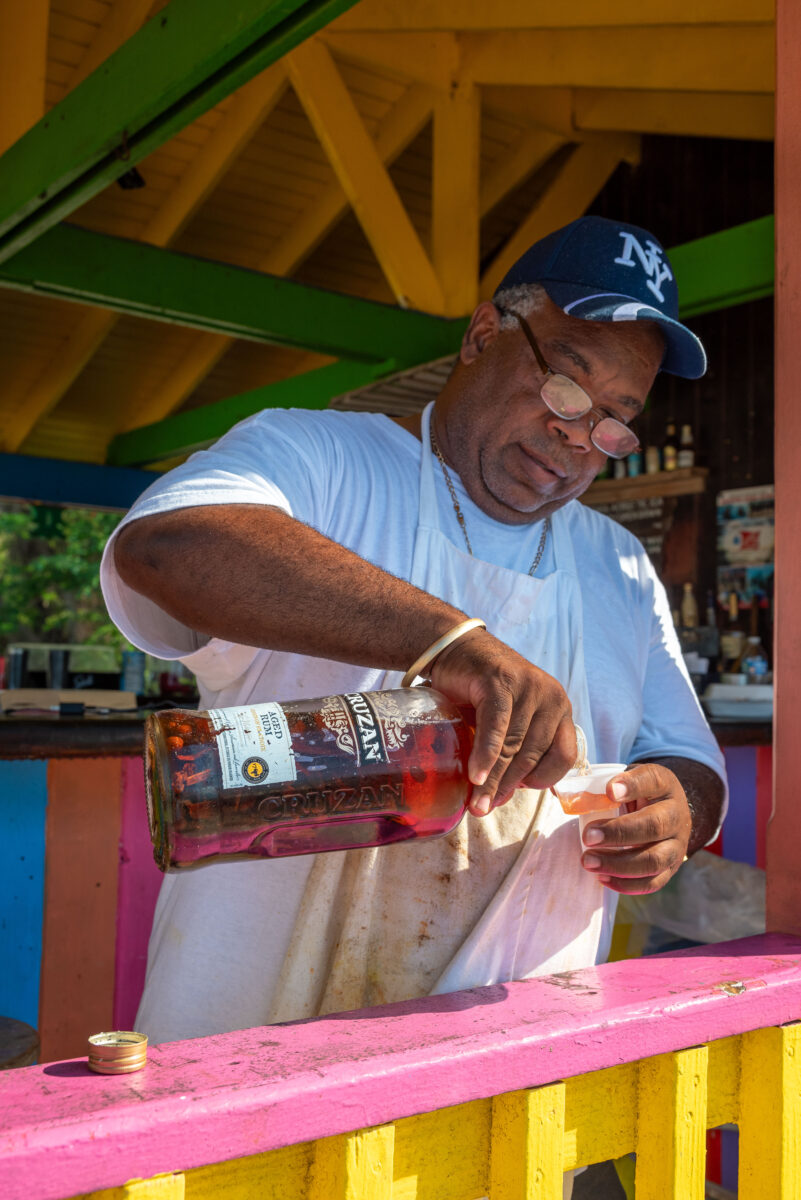 …and enjoy!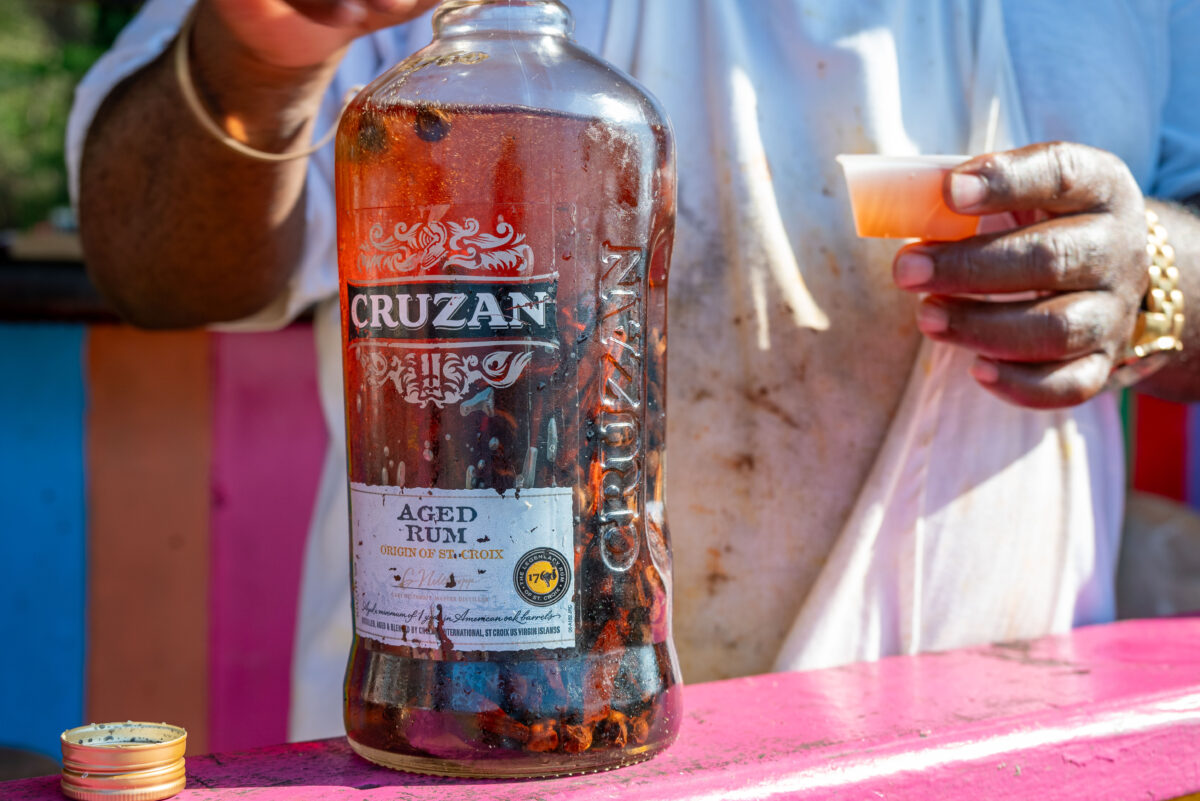 Calvin's papajuana packs a nice punch as a shot, or sipped slowly and chased either way with a beastly cold beer. That's how I like it, anyway.
However you take it, though, papajuana is a taste, much like Calvin is a person, not-to-be-missed when bar-hopping in St Croix.
How to Visit Spratnet Beach Bar St Croix
Spratnet is located at the western end of Cane Bay Beach on St Croix's windswept North Shore. It's impossible to miss if you're heading west along Cane Bay Road from Salt River, or west from the Carambola Beach Resort.
Note: The North Shore is remote by St Croix standards. Cell phone service is spotty at best. Long stretches of the seaside roads here are also distinguished by hairpin turns and blind curves. These roads top rocky bluffs high above the sea. Massive potholes are generally a given; guardrails are not. So yeah, you'll want to take extra care trekking out here…and go easy on the papajuana (or any other booze).
Related Posts