Angela Lee Finds Comfort in Cheese & Bread: Taste of the Caribbean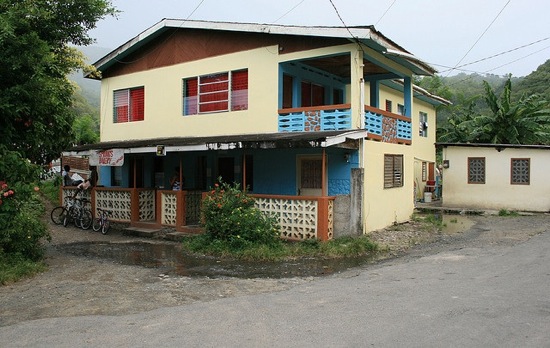 Editor's Note: Cheese & Bread was an integral part of my daily life growing up in St. Croix, and not just because it provided quick, easy and affordable nurishment. The name Cheese & Bread actually carries a double-meaning in many parts of the English-speaking Caribbean. Say it plainly, and people know you're talking about food. Say it in frustration, and people may think you're cursing. For example: "Why is the airfare to St. Croix always so expensive? Cheese & Bread, I'll never get home!" See how easily Cheese & Bread can substitute for "damn" and other curse words? This was an important side benefit giving us kids a way to express some angst without getting in trouble. As for the food, Cheese & Bread remains a snack worth discovering on your next trip to the Caribbean. Here, UC reader Angela Lee, shares her experience doing just that on two recent trips to St. Lucia.
When I think of comfort food here in the States, one of the first things I envision is grilled cheese. Nothing fancy, just bread and cheese. After traveling to St. Lucia, I learned that something so common in the States is also a big part of everyday local cuisine in the Caribbean, albeit with a twist, or in the case of St. Lucia, a handle.
I'm talking about Creole bread, which in St. Lucia is about as local as you can get.
The first time I tried it was when I stopped in at Springs Bakery (pictured above) as part of a shore excursion during a Carnival cruise in June 2010. It was my first time in St. Lucia and I was surprised to discover that the island's most popular bakery is really just a humble private home. The steaming hot bread came in a brown lunch bag; basic and simple like island life and the grilled cheese so familiar to my stateside sensibilities.
Upon first laying eyes on it, I thought Creole bread looked more like a drumstick. I remember thinking, how handy (no pun intended), bread with a built in handle for convenience! The smaller loaves didn't come with the nifty handle, but they were equally tasty just the same.

Creole bread is crispy on the outside, and doughy on the inside. The interior texture was a bit like a cross between the perfect New York bagel mixed with a touch of biscuit (I'm a New Yorker with a big heart for bagels). It's absolutely delicious on its own, but I soon learned that Creole bread can be even better when enjoyed the traditional way, with some thick slices of cheddar cheese. People also like using guava paste, but that is another topic on its own.
On my second trip to St. Lucia in January 2011, I was determined to find more Creole bread, but this time I was staying at the Bay Gardens Inn in Rodney Bay resort area, which is rather far from Springs Bakery. Staff at my hotel were doubtful I'd find some, but I was determined and hungry. So, to end my post, here are a few tips, inspired by Uncommon Caribbean, on how to find your way to the best Creole bread in the Rodney Bay area .
First, walk to the nearest major road, flag down a van with a green "M" license plate (this is the local bus in St. Lucia that is the only way to travel efficiently and cost effectively), and take it to Gros Islet, which is the nearest town.
Next, ask the locals hanging out on the corner where to get Creole bread. Make sure you emphasize "local Creole bread" and not just any bread. If they answer with something like "It's just up da' way, right past the gap" (local speak for major intersection), then you're on the right path.
The place I found using this method had no name. It was just a simple hut at the main gap somewhere between Rodney Bay and Gros Islet. If you go, you'll know it by the endless stream of locals walking out with steaming brown paper bags filled with baked goodies, and, perhaps, a Fruta juice to wash it down.
The Creole bread there wasn't quite the caliber of Springs', but it was special in its own unique way, no doubt made more so by the experience of finding it, and the comfort it provided me on the journey back to my hotel.
Related Posts