Jerome's Hot Sauce, St. Thomas' Sweet Heat: Taste of the Caribbean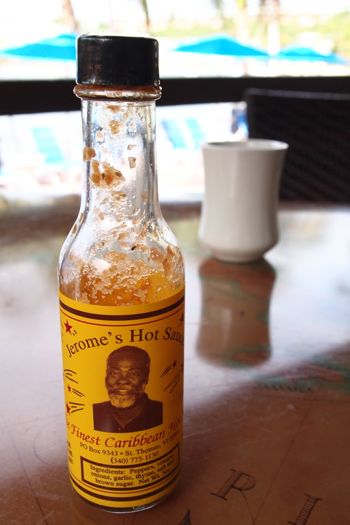 For most of us island folk, West Indian food and hot sauce go together like very few pairs of perfectly matched anythings. You can keep your stamp to a letter; your birds of a feather – we like a lil' heat in our hearty fare more than those cursory couplings.
Now, there are countless hot sauces of varying intensities and flavors produced all up and down our island chain, but, in what may come as a surprise to some of you (and most of my closest friends), my current favorite comes from St. Thomas.
That's right, I said it… St. Thomas, long the chief rival island to my home of St. Croix and one of the least uncommon enclaves in all of the Caribbean. I can just see my Crucian friends rolling their eyes, shaking their heads, sucking their teeth and asking: "What kinda' good hot sauce could possibly come from de Rock?"
Well, I'm here to say that Jerome's is some seriously good stuff! I happened upon it almost exactly one year ago while enjoying breakfast poolside at the Bolongo Bay Beach Resort. As you can see in the bottle above, Jerome's is a classic homegrown Caribbean product, as denoted by the man's phone number, address and photo featured prominently right on the label.
The message is clear: you know exactly who's behind this product, and if you have something to say about it, here's how you can reach him to speak your mind.
One guy, Dan Stefanou, who was visiting St. Thomas from Ohio a few years ago, was so impressed with Jerome's Hot Sauce that he did just that! From that call has spawned Jerome's Hot Sauce U.S., a stateside distributor that makes Jerome's flamin' flavorful sauce easily available to those of us not lucky enough to be at Bolongo right about now. (Order Jerome's Hot Sauce.)
Getting back to my Bolongo breakfast, I was instantly drawn to Jerome's label, and set about adding a few modest splashes to my scrambled eggs. Even at such a timid dose, Jerome's had me sweating and my sinuses wide open at the first bite! At the same time, though, I found the heat to be well-balanced with a tangy, semi-sweet flavor that kept drawing me back despite the flames.
Like all the best things you can eat, Jerome's Hot Sauce is rooted in a long-time tradition that's 100% homemade. The recipe has been passed down in Jerome's family for generations, with the man himself gaining initial fame in St. Thomas by mixing up batches of the stuff while working at a local restaurant. The sauce became so popular, that before long he was bottling and selling his family secret full-time.
It's a great story, and an even better product… one that I hope to learn more about by tracking down Jerome next time I'm in St. Thomas. In so doing perhaps I'll finally learn about the real soul of St. Thomas…
Related Posts