Aunt May's Bajan Pepper Sauce – The Best of Barbados in a Bottle
Confession: I've never been a big fan of Barbadian food. I mean, I'm from Saint Croix. My ancestral roots run deep in Trinidad. The Caribbean destination I frequent the most is Martinique. To be sure, I know from good West Indian cuisine! Over half-a-dozen Bim escapes, I don't recall ever really finding any. Not one truly remarkable, authentically local dining experience. Recently, though, I think I discovered why. The big missing ingredient: Aunt May's Bajan Pepper Sauce.
Taste Bud Travel to Barbados
The favorite pepper sauce among Barbadian friends we surveyed, Aunt May's adds life to most any dish. As noted on the Aunt May website:
Its fiery blend of seasonings ignites your taste buds and transports you to the warm shores of an island paradise.
Specifically, Aunt May's transports you to the Parish of Saint Michael in southwest Barbados. The blend was originally crafted there 30+ years ago. Then as now, careful consideration is made to employ ingredients exclusive to the region. This ensures you enjoy a true taste of Saint Michael with every bite of anything that you sprinkle it on.
You might not want to sprinkle it too liberally, though…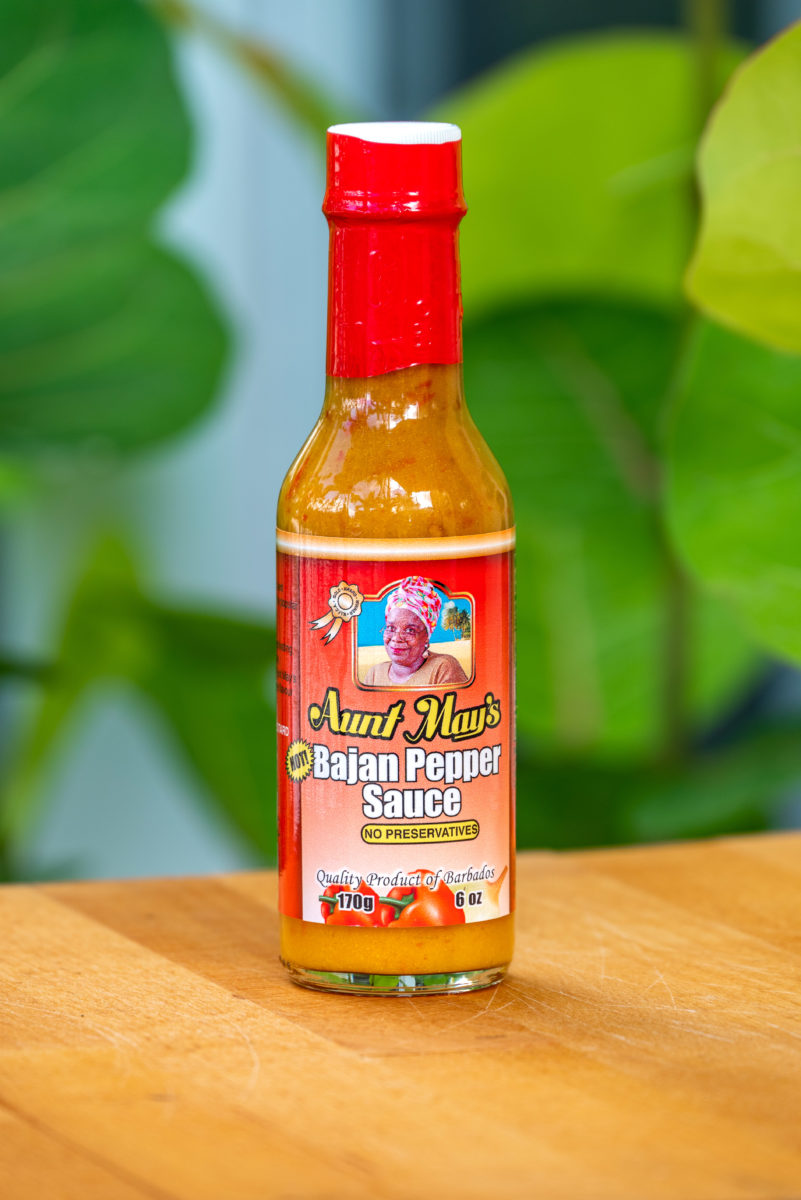 Aunt May's Bajan Pepper Sauce Balance
Aunt May's isn't the hottest pepper sauce I've ever tried. It definitely isn't Scorpion Pepper Sauce or this homemade magic potion I picked up at the New Market in Dominica.
At the same time, though, it does pack a punch. Not one that overwhelms at the expense of flavor, however. Instead, Aunt May's is well-balanced, offering just the right amount of heat to elevate the tamer flavors in its mix.
For a soft mouth like mine (I can't take too much pepper!), it's pretty close to perfect.
Also great: this bottle of Barbados perfection is readily available in the USA. Aunt May's son recently established nationwide distribution via the Aunt May's website. The brand is also widely available at West Indian grocery stores (I buy mine at Bedessee's) and Amazon.com.
Personally, I can't wait to pick up a bottle and put it to good use when next I'm in Barbados. Who knows, maybe Aunt May's will finally make me fall in love with Bajan food!
To be continued…
Related Posts