Miss Anna's Hot Pepper Sauce – Real Crucian Flavor From St. Lucia: Taste of the Caribbean
Cruzan Rum, Sonya's original hook bracelets, scratch bands, Armstrong's ice cream – we Crucians are rightfully quite proud of all the special home-grown treasures that make our little island so unique. Also on the list: Miss Anna's Hot Pepper Sauce!
The iconic white-labeled bottle can be found in every home, restaurant, roadside shack, or roach coach where good Crucian food is served. As noted right on the label, the sauce carries on an old family recipe dating back more than 100 years, the longevity further engendering local pride.
What it doesn't say, though, is where the beloved recipe dates back to.
The answer: St. Lucia.
Now I'm sure that a handful of my fellow Crucians (especially those pushing the "ancestral native Virgin Islander" agenda) may have had a problem with this over the years. Miss Anna's, however, has been so great a fixture of Crucian cuisine for so long, and is ingrained so deeply in the local culture that any negative feelings associated with her hot sauce these days must surely be confined to those complaining of scorched tongues!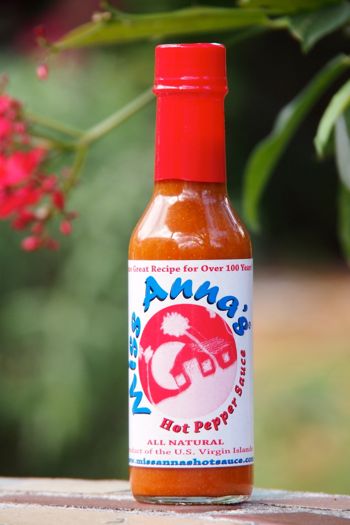 The recipe for Miss Anna's was concocted by her grandfather, a St. Lucian fisherman who was obviously also quite gifted in the kitchen. (That's a rendering of his old cabin right on the label of every bottle of Miss Anna's.) Grandpa started making his pepper sauce for his own personal use, but no doubt he shared some with a friend or two along the way as word of its unique combo of heat and rich flavor soon spread around the island.
Miss Anna's Grandpa continued making his special pepper sauce for years, eventually passing the recipe down to Miss Anna's mother, who carried on the tradition in St. Lucia. Miss Anna, in turn, learned from her mother, taking the recipe with her when she relocated to St. Croix more than 30 years ago. It was here that the pepper sauce took off, becoming a more formal enterprise with distribution throughout the Virgin Islands (U.S. and British), as well as several states within the U.S. mainland.
The secret to the success of Miss Anna's is its late-kick. Unlike other pepper sauces that might burn you the minute they hit your lips, Miss Anna's comes on more gradually, appeasing your taste buds with tangy mustard, curry, and garlic flavors. The heat, supplied by habanero peppers, comes on a beat or two later, elevating the entire taste experience without burning your mouth out too much.
Especially good on eggs, beans and rice, macaroni pie, any fish or seafood meal, Miss Anna's is the one pepper sauce to top all others in my very biased Crucian opinion. Look for it most anywhere in the Virgin Islands, or order a bottle today!
Related Posts