Jungle Bay Resort & Spa: Checking Into the Surreal Dominica
Welcome to the jungle.
Such a greeting might come off as droll or corny elsewhere, but at Jungle Bay Resort & Spa in Dominica, it more than fits. It's also exactly the initial greeting I received upon arriving here on a Friday afternoon this past February.
I'd spent the day adventuring around The Nature Island, discovering the sublime sulfur springs at Ti Kwen Glocho after sampling a wide, wild, and politically-charged assortment of bush rums at The Islet View Bar. (More on that another time).
I was well beyond tired, as most any even semi-active visitor to Dominica most assuredly finds him/herself at the close of every day here. There is just so much to see, do, consume, and experience in Dominica that a typical night's entertainment rarely includes anything beyond a nice meal and melting into a comfy bed to the sweet sounds of nature all around you.
Jungle Bay delivered for me on both accounts during my first night there, though not completely as I expected…
For some guests it's difficult getting used to the silence on the first night. Tonight, I promise, you'll sleep like a log.
So said Sam Raphael, the man behind Jungle Bay. A native of Dominica raised on my home island of St. Croix, Sam conceived and built Jungle Bay to be the ultimate alternative to traditional mass market tourism in the Caribbean.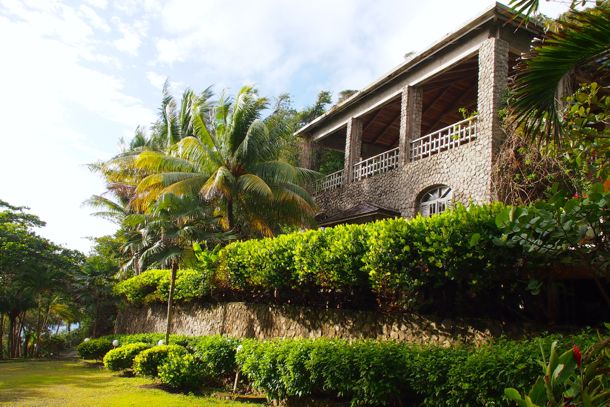 His inspiration's roots can be traced back to a fifth-grade trip to the Cinnamon Bay Campgrounds in St. John. The combination of environmental conservation and tourism Sam experienced at Cinnamon Bay left an indelible impression on the then 11-year-old; one that he and his wife, Glenda, put into practice (and then some) at Jungle Bay nearly 30 years later. As noted on the Jungle Bay website…
…the focus is on enjoyable, nature-based activities and wellness of guests with quality service…
That means a resort activities schedule that's big on yoga and meditation, birdwatching, nature hikes, and community excursions that provide guests with a uniquely authentic look at Dominica's culture, festivals, and daily life.
Sustainable links to the local community extend to all corners of Jungle Bay… literally.
All 35 cottages at Jungle Bay are made of wood sourced locally. Same goes for all the comfy furniture found inside each unit.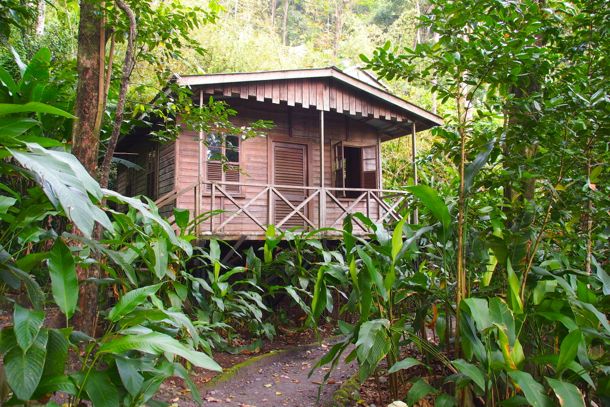 Each cottage is also elevated, some higher than others. In mine, nicknamed "Breadfruit," I felt like I was perched up in a treehouse set atop one of the soaring Cedar, Gomier, or Galba trees that abound throughout the resort. The view, spectacular…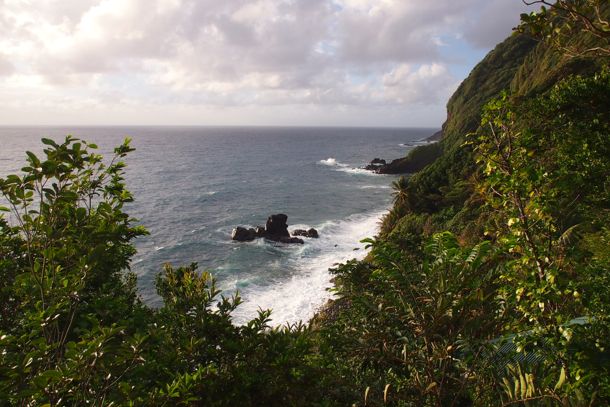 Notice how you can't really see any other cottages? That's by design for privacy, of course, as all of the cottages at Jungle Bay are set so seamlessly within the lush, tropical surroundings, it's like they were always meant to be there.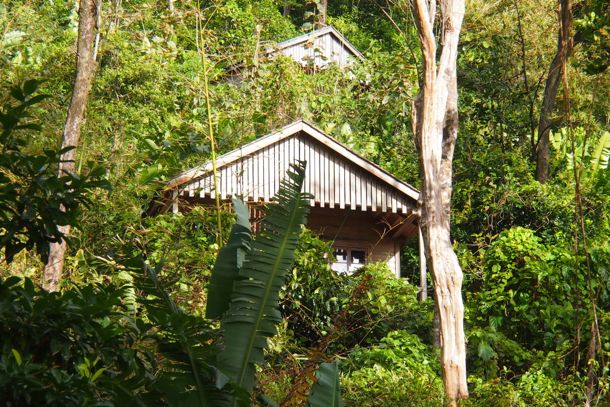 Even the path up to my cottage was more akin to a rustic hiking trail than the paved and orderly walkways I see at most other hotel properties…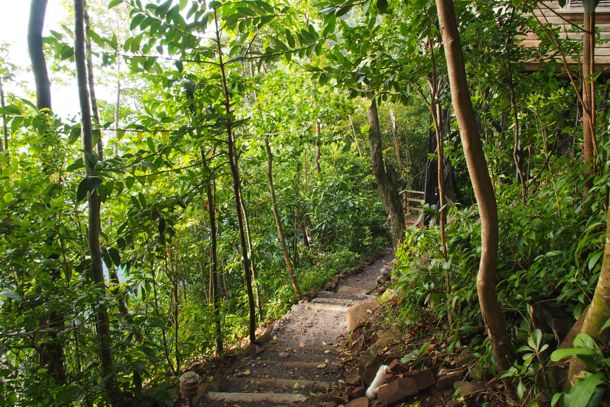 As indicated by the inclusion of the words "resort" and "spa" in the Jungle Bay name, however, you don't so much rough it here as you relax and luxuriate in nature's splendor. The on-site pool pictured at the head of this post helps with this, of course, as does the cozy Spa du Soleil, where I can personally vouch for the healing power of the signature Jungle Bay Massage.
The expert therapists employ a unique combination of local organic oils – coconut, castor, and bay essential oil – and firm circular strokes to ease away all the aches and pains of adventuring. Truly amazing!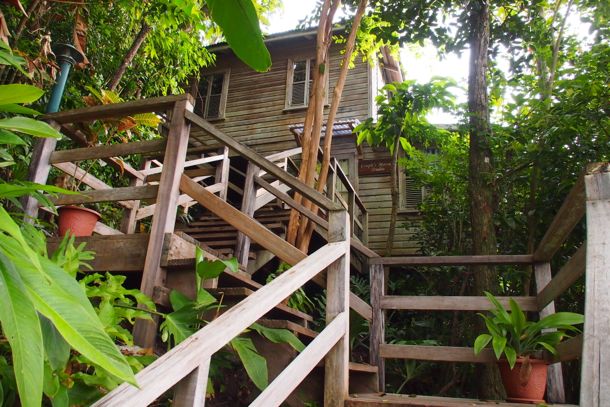 Also amazing, the food at Jungle Bay's on-site restaurant, The Pavilion. Everything on the menu is sourced locally, of course, so you can expect ingredients that are fresh, seasonal, and 100% organic.
If you have special dietary needs you can also expect the chefs at Jungle Bay to keep you well-fed too. Gluten-free, lactose-free, vegan, whatever – they've got you covered.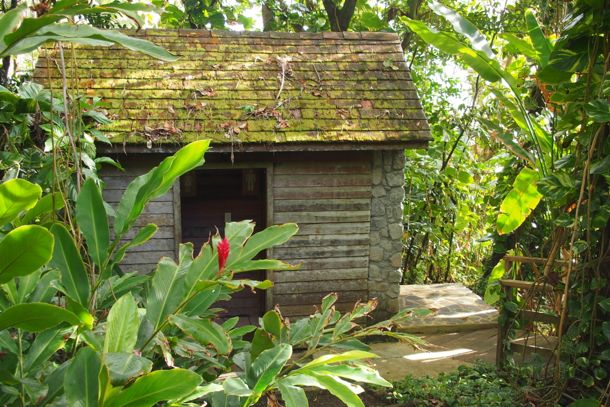 Aside from its unique location and fantastic staff, the best thing about Jungle Bay to me is this place right here…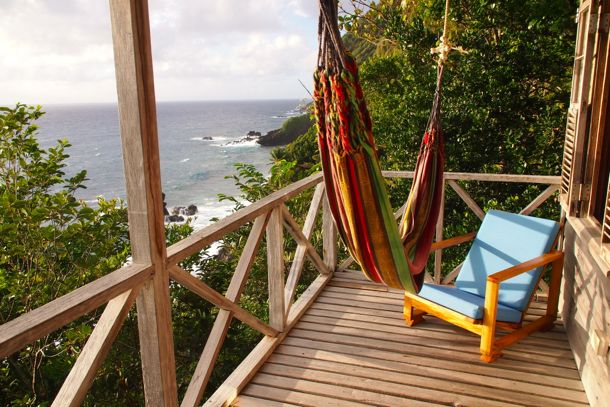 This is the balcony I enjoyed during my stay in the Breadfruit Cottage at Jungle Bay. Despite the call of adventure that sounds every day all throughout Dominica, I never wanted to leave this spot. The view and the breeze – a persistently stiff, cool, steady gust off the Atlantic that kept mosquitoes away from my perch – were simply too sweet.
It was here, in that hammock, that I passed out under the stars on my second night at Jungle Bay… like a log, just as Sam had promised.
For rates, reservations, and more info on the Garden of Eden that is Jungle Bay, visit the property's website.
Related Posts