Uncommon Photo-Op: Dominica Carnival Grand Opening Parade
Having experienced (and survived) the pinnacle of all the world's many wondrously wicked Carnival celebrations, you might think I'd have a bit of an "above it all" attitude toward other such annual fêtes held in smaller islands. After all, as I confirmed last year…
1) There truly is nothing like Trinidad Carnival.
2) It really is "The Greatest Show on Earth," primarily because anyone and everyone is a star.
3) Every man and woman with an even an ounce of West Indian blood coursing through their veins really should cross the Savannah Stage at least once in their lifetime to truly appreciate our shared heritage.
Yes, Trinidad Carnival really is THAT great, but that doesn't mean you should skip Carnival on smaller islands like Dominica… especially if you prefer fêting in a more intimate, down-to-earth setting…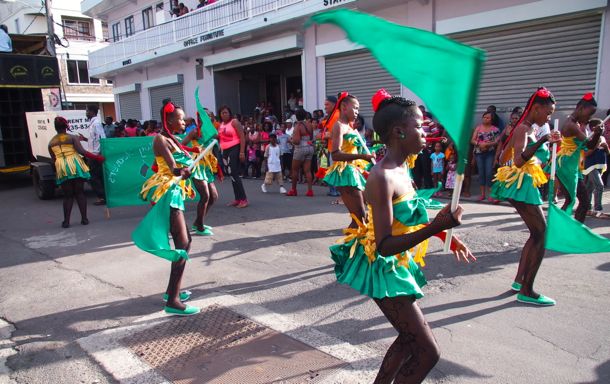 This was the "Grand Opening Parade," the official kick-off to Dominica Carnival 2014, a lively though reasonably restrained sort of practice run ahead of the bigger celebrations to come about a month later.
The day's festivities had a distinctly family/community feel for the most part, heavy on beauty queens waving from makeshift thrones perched atop passing flatbed trucks, cheerleaders, young majorettes, and even younger kids performing in the streets for throngs of locals and visitors alike.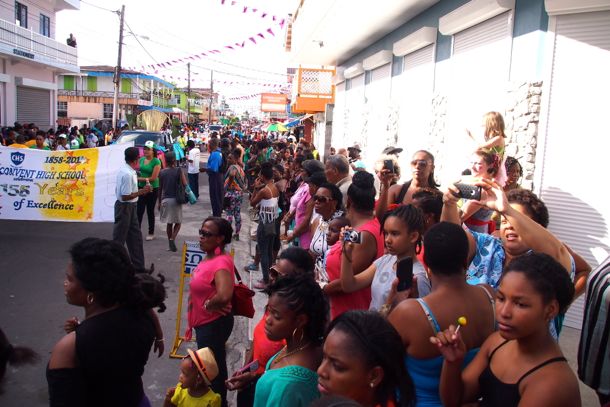 This being Carnival, though, you also had your fair share of sexy adults getting on bad, or at least sporting outfits suggesting wonderfully wicked intentions…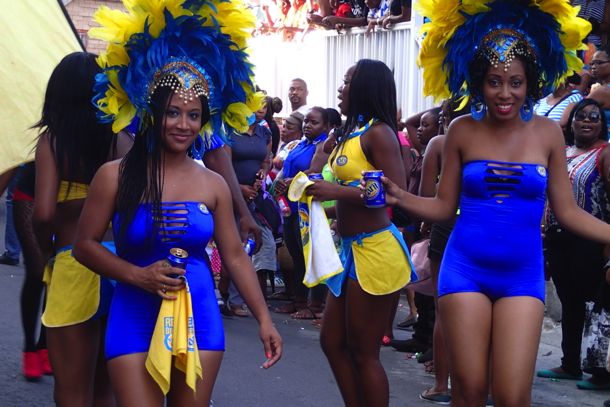 Beers weren't hard to come by either, especially if you had a hankering for Carib…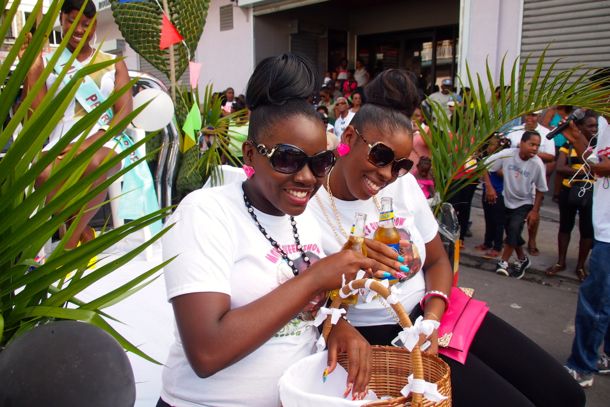 The costumed revelers were the stars of the show, though. These "White Devils," in particular, were very popular with numerous spectators jumping into the street to dance and pose with them for photos.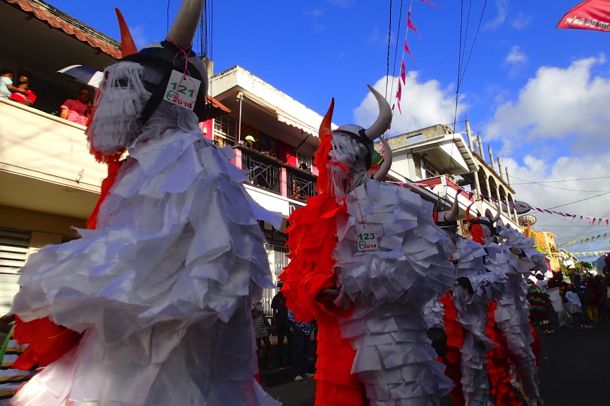 My favorites: a troupe of young Mocko Jumbies known as "Blackies." All dressed in black with devil horns and bull whips that they cracked along the street as they went (occasionally a bit too close for the comfort of some spectators), this very lively and visually striking group took the streets by storm, scattering laughing onlookers as they went.
The look on this particular Jumbie's face spoke volumes about the day for me – her casual bubble and devilishly smiling eyes emblematic of a light and relaxed celebration of a very special place.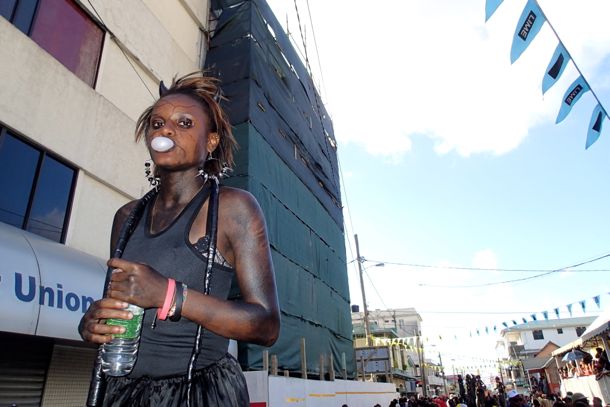 Dominica Carnival is held annually during the pre-Lenten period, just like the big festivities in Trinidad (and elsewhere). For future Carnival dates and more information, visit Dominica online.
Related Posts