Loving Exuma Point Beach Bar & Grill: Taste of the Caribbean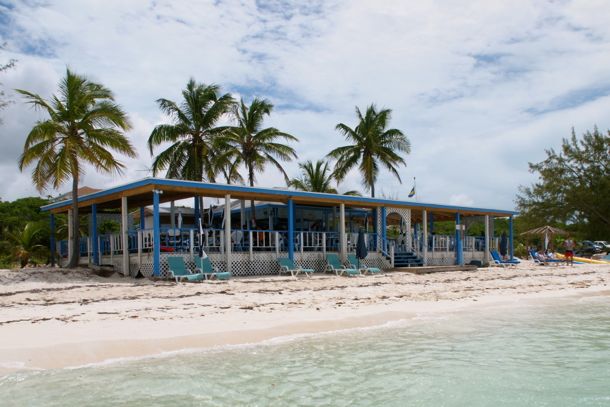 It doesn't take much to open a beach bar in the Caribbean. This assumes, of course, that you have ready access to beachfront property and the ability to crack open a beer, but really, what else is there? Some wood? A few nails and other construction materials? Maybe some galvanize for your roof, a few chairs, etc.
To create a truly special place, though, a legendary bar the likes of Sunshine's in Nevis or Billy Joe's in Grand Bahama Island, that takes a good bit more. Passion, love, pride: I doubt that many bars survive long-term without 'em.
That's why I feel so good about the future for Exuma Point. It's only been open five years, but the love these folks put into welcoming you to their little corner of paradise is sure to keep the good vibes flowing here for many years to come.
Exuma Point was the first stop on my current weekend visit to Great Exuma. I'm here as a guest of the ultra-luxurious Grand Isle Resort & Spa, probably the swankiest place I've ever been lucky enough to hang my hat. My two-bedroom penthouse suite covers a whopping 2,600 square feet and is filled with every comfort and convenience you could ever ask for, the whole place artfully decorated just the way most of us would want our own homes if money was not an option.
To be sure, this is the kind of place that usually likes to keep its patrons on-property, the better to control the guest experience and feed their own concessions.
Not Grand Isle.
The management and staff I've met here are warm and down to earth in a way that flies in the face of the elite trappings and style here. They're big on showcasing authentic local experiences, with Exuma Point right at the top of the list.
I arrived here by boat as part of an all-day island-hopping excursion through the northern Exuma Islands available through Grand Isle. You definitely want to fuel-up on some good eats before making a trek like this, which is exactly where Exuma Point comes in.
The menu here is very local, with fried fish, rice and crab, peas and rice, steamed vegetables, and macaroni pie garnering most of my attention. Of course, the usual Bahamian conch favorites were available as well, along with salad, fried and BBQ chicken, spare ribs, and on and on…
The all-you-can-eat buffet will only run you $20, leaving you more money for the special treats behind the bar. If you go, check with my friend, DeMarco. He's the young, cocksure bartender with a serious knack for mixing Bahama Mama's.
His secret:
It's all in my hands.
Once you get one of his drinks in your hands, you'll know exactly what he means.
Even with the strong drinks, though, it bears noting that Exuma Point is very much a family place. My boat had four kids under 10 aboard, all of whom felt right at home here. The minute we cut the engines, they made a beeline for the swings and other playground equipment on-hand at the bar, leaving the grown-ups to chill and get settled under DeMarco's fine direction.
The family vibe at Exuma Point is no accident. Maryann, who co-owns the place with her husband Elvis, laid it out for me like this:
We imagined a wonderful Bahamian experience where people could come, bring their families and share the day with us.
Maryann works with the local Government as a clerical assistant. Elvis's day job is with the Ministry of Health. Exuma Point is their passion. They only open on weekends, holidays and by appointment for special events, so you just know they wouldn't do it if they didn't love it.
You taste it in their food and drinks. You see it in their smiles. You feel it in their warm hugs and genuine affection. It's like one big family reunion, each and every weekend… one I'm sure I'll never forget.
Exuma Point Beach Bar & Grill is located in Rolleville, Exuma, about a five-mile drive north of the Grand Isle Resort & Spa. If you're going by boat, it's directly across from Black Cay at N23 40.90 W75 59-46. They open Saturdays and Sundays starting at 12:30 pm. Call Tel: 242-345-6244 for more info, and if you go, be sure to give Maryann a big hug from me!
Related Posts