Pointe des Chateaux Surprise Lunch in a Remote Corner of Guadeloupe
Editor's note: Please join us in welcoming back guest contributor, Laura Albritton! Long-time UC readers may remember Laura's earlier posts profiling her uncommon discoveries in Jamaica, Bimini, Old San Juan, and Guadeloupe. Recently, she returned to the Guadeloupe Islands. Specifically, she ventured all the way out to the remote Pointe des Chateaux. There, she enjoyed a tasty and very unexpected surprise…
Pointe des Chateaux in Guadeloupe is a remote, rocky place. Left natural and undeveloped, this skinny outcropping of land extends far into the ocean. It's the easternmost point on Grande Terre, one of the islands that makes up the stunning Guadeloupe archipelago in the French West Indies. A fabled attraction, I'd missed the chance to visit it on my previous trips. This time, though, I was determined to get there.
End of the Earth in Grande Terre
Immediately upon arrival, I was struck by the austere beauty of the seascape. The scene was very much unlike famed Grande Terre beaches like Plage de Caravelle. No calm coves of turquoise water and soft, pristine sand here. Instead, Pointe des Chateaux is dramatically rugged, with cliffs that drop to a tumultuous sea.
(Read more about Guadeloupe beaches in Grande Terre and elsewhere throughout the archipelago.)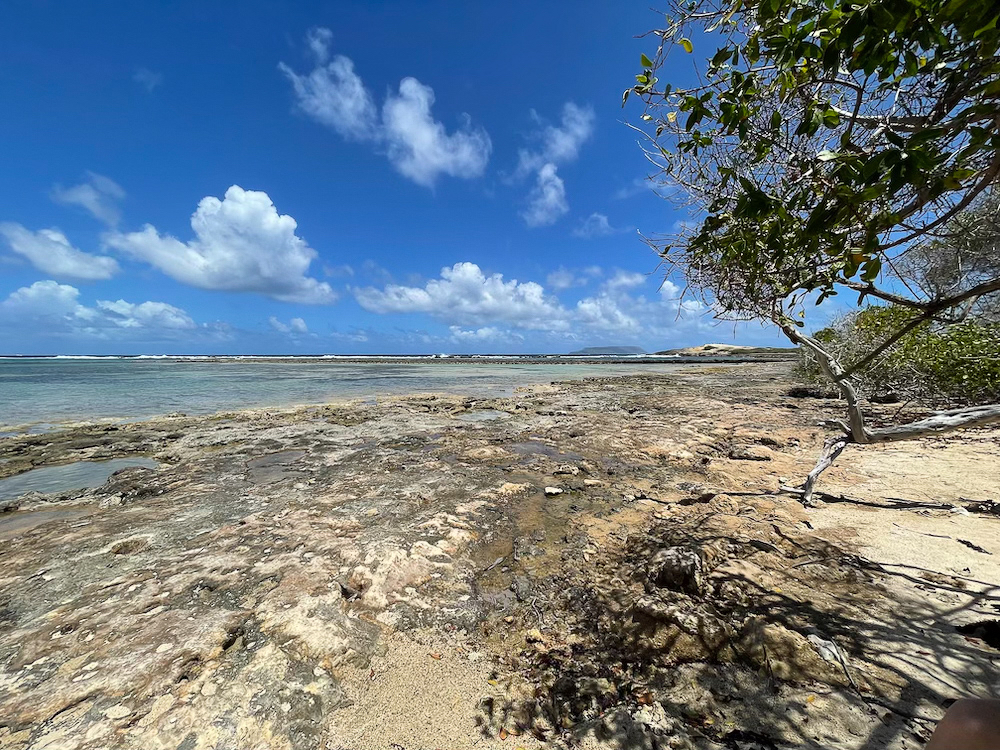 As my husband, Zickie, and I carefully climbed the uneven path, the wind blew my hair in 10 different directions. At the top, the two of us stood silently.
We marveled at towering rocks bearing the scars of centuries of erosion. Waves crashed against the cliff-face in a spray of white. A solitary white cross rose over the headland; the lone symbol of civilization in a decidedly wild, untamed place.
Or, at least so it seemed…
Pointe des Chateaux Untimely Hunger Pangs
After taking photos, we headed back down from the lookout point. Suddenly, my stomach began to growl. This is generally a welcome development in Guadeloupe, where you find great food everywhere.
Only problem, though, was that we were far from everywhere.
The closest major town, Saint-François, was nearly 10 miles away. Stopping in at one of the roadside joints we'd passed along the way would also take us some time. Assuming any of them were open, of course.
Why does hunger always seem to strike when it's least convenient?
Surprise Food Truck Salvation
As Zickie and I debated lunch options, I spotted a little food truck, perched along a stony beach section of Pointe des Chateaux. The server smiled and motioned us over to inspect the chalkboard menu.
Tartare de dorade and brochette de poulet were among a healthy list of options that gave me pause. I wondered…
Could this tiny kitchen actually produce such culinary feats?
Hunger getting the better of us, we decided to see for ourselves.
Menu Musings
The welcoming server explained that the "chevre burger" was not, as I'd assumed, a goat hamburger, but a hamburger topped with a dollop of warm goat cheese. Vive le fromage!
The weather was warm, though, so I decided to go with the Kreyol salad, which included accras and rillet de marlin.
Accras, or acras, are a type of fried fish ball. They're generally much lighter than hush puppies and taste faintly of fish, or in some cases shrimp. My husband Zickie and I fancy ourselves connoisseurs of accras, after sampling a slew of them in Guadeloupe and Martinique. I was curious how these would measure up.
Soon, other diners started trickling to the tables in the sand. With doubts still swirling about my head, I thought…
Even if the food isn't great, it's an awesome experience just to be here with this view.
Digging in (and all of it)
Then lunch came. First up, the accras.
My teeth crunched into an exquisitely light, puffy orb. The taste and the texture were perfect, as if you'd married fried Jamaican festival with a delicate taste of the sea.
When Zickie asked to try one, I almost refused. Then I apologized and offered to share a half. (But only a half!) They were genuinely exceptional.
Likewise, his brochette de poulet consisted of the most succulent, well-seasoned chicken. The salad dressing, greens, grated cabbage, and carrots also tasted fantastically fresh and clean.
The quality of the produce in Guadeloupe always surprises me. But I digress.
Marlin paté, fried savory plantains, slices of freshly baked baguette… What's not to love? Even Zickie's French fries proved irresistible.
We savored our meal, not wanting to rush through the experience. We enjoyed watching other hesitant travelers walk up, read the menu, then sit down. Like us, they didn't realize they were in for a real treat.
Chez Man Michel's Pointe des Chateaux Connection
Finally, we rose from the table to thank the chef. As it turned out, the food truck is an offshoot of Chez Man Michel, a popular restaurant located nearby.
We wanted to stay and chat, but both the server and chef were hustling to keep their clients happy. So we asked if we could take photos and afterwards, waved au revoir.
Zickie and I ambled toward a sandy beach nearby. It was too rough and windy to stay, but others – including a couple of nudists – lounged on the sand. With giggles and full bellies, we left them to their sunbathing.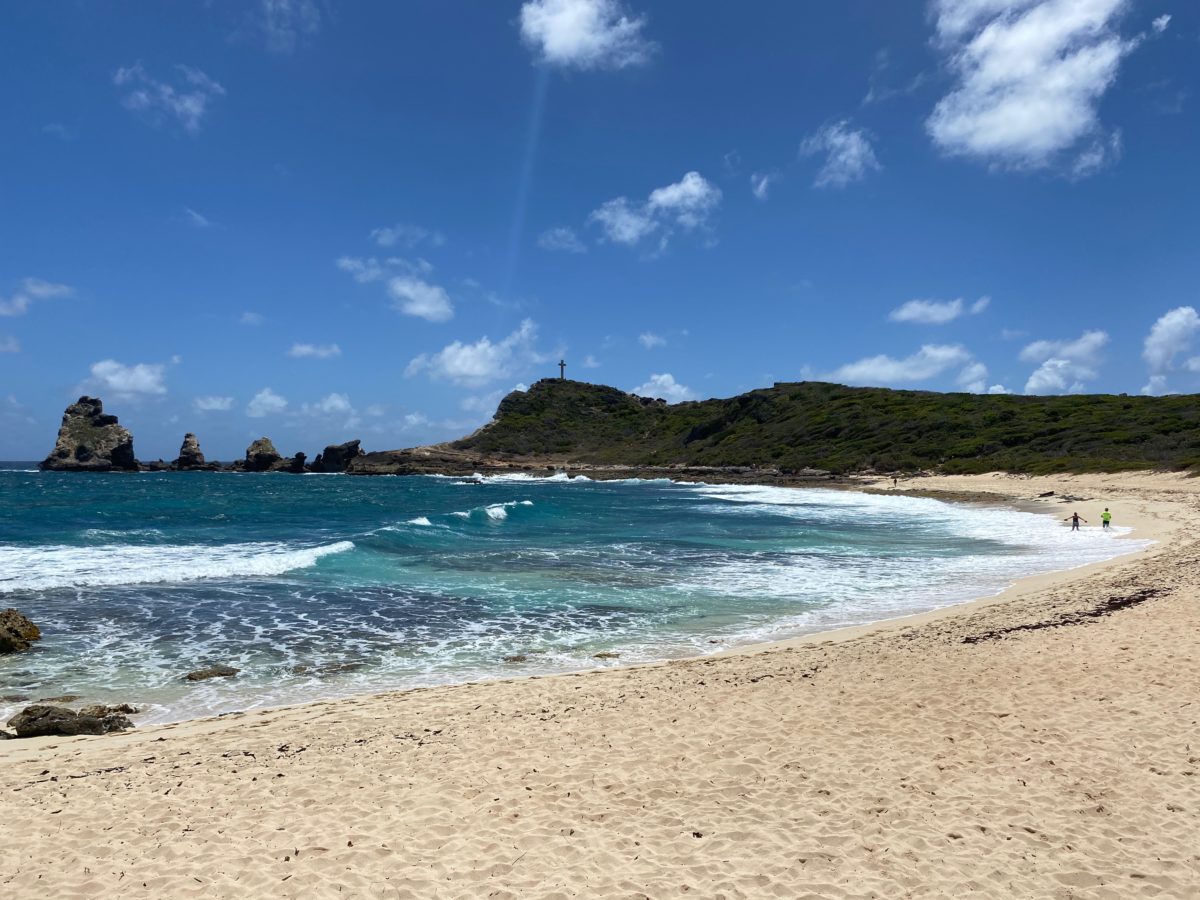 Once again, I'd discovered the pleasure of traveling "loose" – without a set schedule, plans, or obligations. Letting the Caribbean show you its little treasures through pure serendipity.
Visiting Pointe des Chateaux
As remote as it is, Pointe des Chateaux isn't all that difficult to find. From Saint-François in northeast Grande Terre, just head east along highway D118. Once you reach the literal end of the road, you're there.
Laura Albritton
is the author of five books, including
Historic Lighthouses of the Florida Keys
. With Magic Kumquat Productions, she recently wrote and produced a film,
Adventures in History
. Laura is currently at work as the writer on a public television documentary.
Visit Laura's website
to stay up-to-date on all of her amazing projects.
*All photos courtesy our great friend and Laura's husband, Zickie Allgrove.
Related Posts