Friday Happy Hour: Jahva Imperial Coffee Stout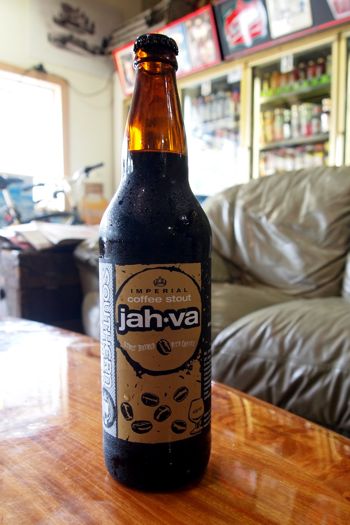 To the list of dynamic duos of the culinary world – peanut butter and jelly, Oreos and milk, roti and Sorrel Shandy Carib – I humbly submit a unique combo that's right up my alley: beer and coffee.
Oh, and not just any coffee, mind you… I'm talking Blue Mountain Coffee from Jamaica, among the most robust, flavorful coffee around.
My friends and family all know that I'm a Dunkin' Donuts iced-coffee junkie. It's quick, convenient and readily available at the DD just a few blocks from my South Florida home. Given the choice, though, I'd always opt for Jamaican Blue Mountain Coffee. The flavor is just so bold, so strong, so uniquely Jamaican. The mere scent of the stuff takes me back to past visits to Kingston, MoBay, Negril and Ocho Rios.
As for the other half of my new favorite flavor pairing, well, it's no secret to anyone who reads this blog with any regularity that I love beer. We've published 24 beer posts in the past 16 months… not a one of them produced by my bro/partner in Uncommon Caribbean crime, Patrick. I'm not sure why. Maybe he's just waiting to find something truly special to feature in his own unique way.
I'm guessing, though, that if he had found the stout stuff pictured here first, he'd be writing this post right now!
The brew is called Jahva Imperial Coffee Stout, with the "Jah" in the name being an obvious nod to Jamaica's revered rastafarian aesthetic. Jahva is brewed by the Southern Tier Brewing Company. The company is based in Lakewood, NY, which judging by its location in the southwestern corner of The Empire State and its tiny population of about 3,200 people. is about as 180-degrees from my usual address in MoBay as you can get.
Still, to me, this stout has plenty of irie island spirit, especially for anyone who really appreciates strong, hearty and extremely flavorful beer.
I found Jahva at The Riverside Market Cafe here in Fort Lauderdale. Like a lot of the Caribbean-based places we write about, Riverside is located off-the-beaten-path, tucked in a small corner of a residential neighborhood called Sailboat Bend. Luckily for me, my beer snob connoisseur neighbor, Brett (remember him?), turned me on to the place a few weeks ago. For anyone who loves beer, this place is just a few rungs short of heaven. They stock hundreds of different craft beers from all over the place (here's the list), but this isn't a bar. No, Riverside is more of a warm, laid-back meeting place. The kind of place where you can chill with your feet up on the worn and weathered couches, your dog by your side, an exotic brew coolin' your pressure.
Like Riverside itself, Jahva puts you at ease. It weighs in at a whoppin' 11% alcohol by volume with that rich Jamaican coffee flavor mixing with caramel, chocolate and black malts, plus roasted barley, cascade and columbus hops to create a wonderfully soothing stout best savored very cold. Earthy, dark, amazing!
Jahva's thick, rich flavor makes it an ideal choice for rainy afternoons like the one we're enduring in Fort Lauderdale right now, so look for me at Riverside at about 6pm tonight. First one's on me…
Cheers!
Related Posts